Student Employment
Student Employment
We have completed our search for student workers as of November 15th, 2023. We are not currently hiring for any student worker positions at this time. However, we welcome you to submit your application, and we will add you to our candidate list for consideration when future positions become available. Thank you for your interest in working with us!
If you do decide to apply please remember the eligibility requirements are as follows: you must currently be maintaining Satisfactory Academic Progress (SAP), registered for at least 6 credits in the semester, and have FAFSA on file and complete. If you have any questions or concerns about the eligibility criteria, please don't hesitate to contact us for clarification.
Art Dept. student workers should be good at working independently and have excellent organization and communication skills. We look forward to receiving your application!
You may also submit your availability using our Availability Form. Submit the completed form by emailing [email protected]. Save the file as "Availability Form - Your Name" before sending.
Feel free to attach a copy of your class schedule and the completed Availability Form.
Current Exhibitions
Knight Art Exhibition: Quatrain. A capstone exhibition of student work.
Exhibition Dates: November 8th to 21th, Reception: 5-7 pm, Tuesday November 14th
The Knight Campus Art Gallery is located at 400 East Ave. Warwick, RI 02886 Room 3500, on the third floor of the round building (Enter the library on the forth floor and go down the stairs to right.)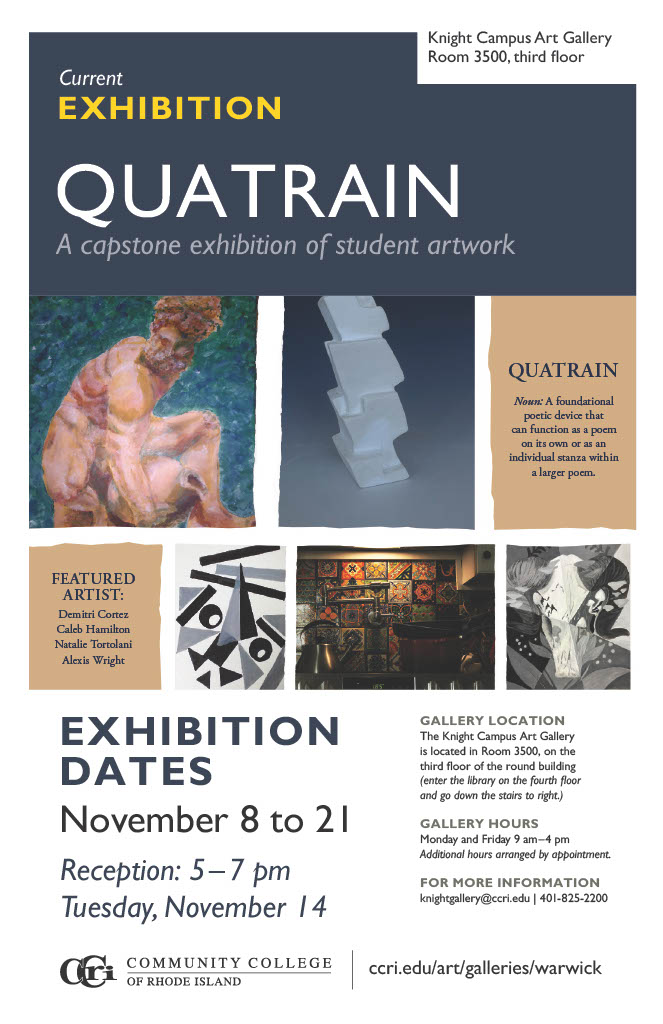 Flanagan Art Exhibition: Gag Reflex by Joshua Brinlee
Exhibition Dates: November 20th to December 8th
The Flanagan Campus Art Gallery is located at 1762 Louisquisset Pike Lincoln, RI 02865 Room 1527, on the first floor.
Areas of Study