Transparency in Course Design for Student Success
Welcome to the TILT Higher Ed

Create Clear Instructions for Any Assignment!

Do you have an assignment where students never quite get it right? Do students constantly ask you to repeat the assignment instructions over and over again? Well, Transparency Framework is here to rescue your assignment instructions!
This is an at-your-own-pace research-based workshop that is perfect for instructors looking to increase student performance and success. Learn more below.

It is applicable to all course modalities and pedagogies. This course is offering 12 Knight points!

Upcoming Dates
Transparency in Learning and Teaching in Higher Education (TILT Higher Ed) incorporates components of transparency into instruction and course design as an evidence-based practice that can help instructors increase student success by scaffolding learning experiences. Building with transparency around the purpose, tasks, and success criteria in course assignments helps instructors to:
Facilitate student learning and skill development; and

Grow students' sense of belonging which increases student confidence, persistence, and success.
Why Take this Course?
TILT Higher Ed is a research project that over the years has involved more than 25,000 students in hundreds of courses at more than 40 institutions. The project has identified a simple, replicable teaching intervention that enhances students' academic success, especially for first-generation, low-income, and historically-minoritized students.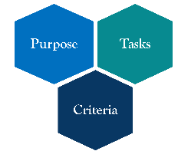 The transparency framework developed by TILT Higher Ed helps instructors to incorporate elements of transparency in their assignment design. The model is simple and replicable. There are three components: Purpose, Tasks, Criteria. TILT Higher Ed even provides a template to guide instructors through the critical inquiry into their assignment design.
Want to Learn More About TILT Framework?
CCRI offers instructors an opportunity to learn more about the principles of transparency in course design and apply the TILT framework to one of their assignments while working closely with one of the CCRI instructional designers. If you are interested in receiving a higher level of guidance in utilizing TILT framework in your course and assignment design, we encourage you to sign up for an Instructional Design Consult