Curbside Pick Up
What is Curbside Pick Up?
It's a service that the CCRI Library is offering while the library and college buildings have limited access. You may request library materials to borrow and pick them up at the college later at an appointed time.
How do I let the library know what items I would like to borrow?
You may place your own hold requests after searching the library catalog and finding the item you need. You can find the catalog search box on the Library homepage.
Can I use the Curbside Pick Up service if I don't have a library card?
No, you must activate your CCRI ID as your library card. Please use this online form if you need to activate your library card.
OK, I have activated my CCRI ID with the library, now what?
In order to request library items you will also need to set up your My Library Account.
Once set up, you will be able to place holds for library books and DVDs.
What if I am having issues using My Library Account, how can I request books?
You may send a request through the Library Curbside Pick Up Request Form
Can I place holds for items held by other libraries?
You can place holds on HELIN library items as well as CCRI items. Delivery times may vary between libraries.
When can I pick up my library items?
Curbside appointments require at least one day's notice. Please allow several days for items to arrive from another CCRI campus or HELIN library.

Once the items are ready for pick up, you will receive an email (from OCLC) to let you know that your hold is ready. In the email, there will be a link to schedule your curbside pick up. Select the appropriate CCRI Library campus location and schedule your pick up time.

The Warwick, Lincoln & Providence campuses will offer curbside appointments Monday thru Friday between 9:00 am and 3:00 pm.
The Newport campus will offer curbside appointments Monday thru Thursday between 12:00 pm and 4:00 pm.
What is the procedure to pick up my items?
Warwick Campus
Arrive at campus at the scheduled time
Proceed through the roundabout to the main parking area. Continue to the back of the Round Building. Park in the designated pick up parking space.
Call 401-825-2214
Your materials will be brought out to your vehicle
Lincoln Campus
Arrive at the campus at the scheduled time
Park in any available spot in the student parking area
Proceed to entrance A.
Call

401-333-7125

Someone will bring your materials out and place them on the bench outside the entrance.
Providence Campus
Arrive at the campus at the scheduled time
Park in any available spot in the student parking area
Call

401-455-6078
Newport Campus
Arrive at the campus at the scheduled time
Park in any available spot near the main entrance
Call

401-851-1696
I have library materials I need to return. Can I return them when I am picking up materials?
In order to maintain safety, you should return library materials in the outside book return. To ensure safety, materials being returned will be quarantined and will not be checked in for 72 hours.
Where are the book returns at each campus?
Warwick - Rear of Round Building near the entrance to the Music Studios - Ground Floor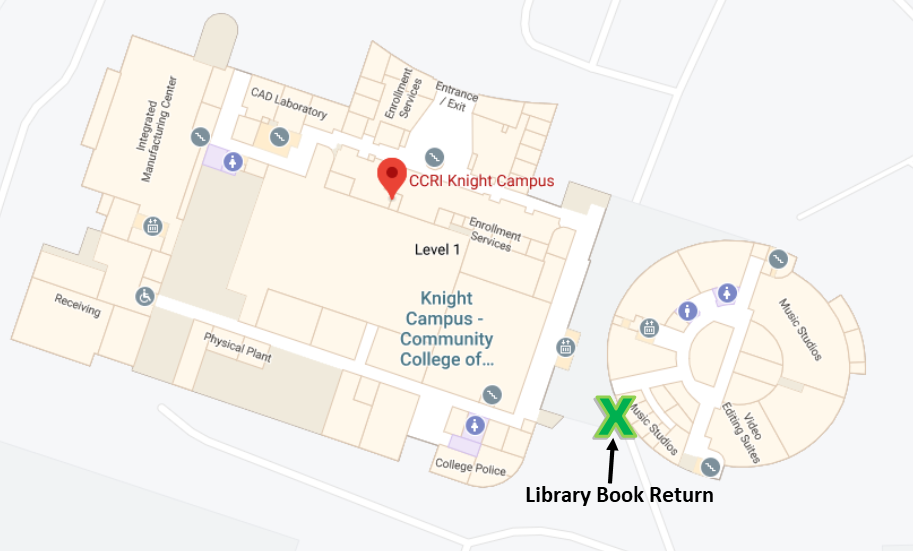 Lincoln - Near entrance C; it is a brown mailbox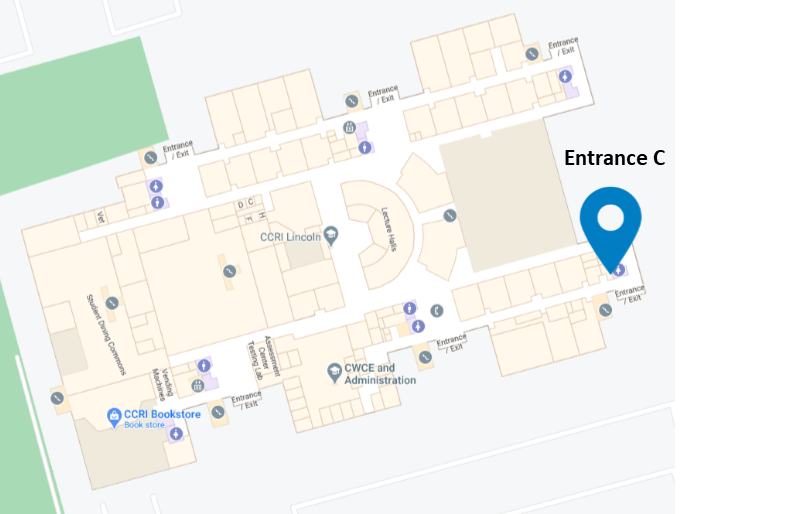 Providence - Located outside the Library on the second floor.
Newport - In the Lobby to the left of the Security Kiosk
How do I schedule a time to drop off a laptop or iPad?
Library laptops and iPads cannot be put into the drop boxes. Please schedule a time to drop them off at the campus that the device was borrowed from. https://ccri.libcal.com/reserve/spaces/techdrop