Prior Learning Assessment FAQs
Am I eligible for prior learning credit?
You must be currently registered and accepted into a degree program at CCRI to earn Credit for Prior Learning, and the prior learning must be used toward credits in your program of study.
What if I have credits from another college or university?
If you have credits from other accredited colleges and universities, these credits might be transferable to CCRI. Have official copies of your transcripts forwarded to the Office of Enrollment Services: [email protected] or 401-825-2003. Credits from other institutions are subject to the CCRI's transfer of credit policy.
How many credits can I earn?
The number of credits you receive from sources other than the Community College of Rhode Island is limited to half the number of credits for your degree program. The New England Association of Schools and Colleges (NESASC), the accreditation agency authorized by the U.S. Department of Education to oversee CCRI, requires that all students graduating from CCRI complete at least 25% of their program at the college.
Are these credits transferable?
We at CCRI want to advise students in accordance with the new CCRI Policy on Prior Learning that stipulates we operate in the "Best Long-Term Interest" of the student. What this means is that we will advise students, when there are multiple ways of earning credit for the same course, that they earn the credits such that the credits will transfer with the broadest range of institutions across the United States.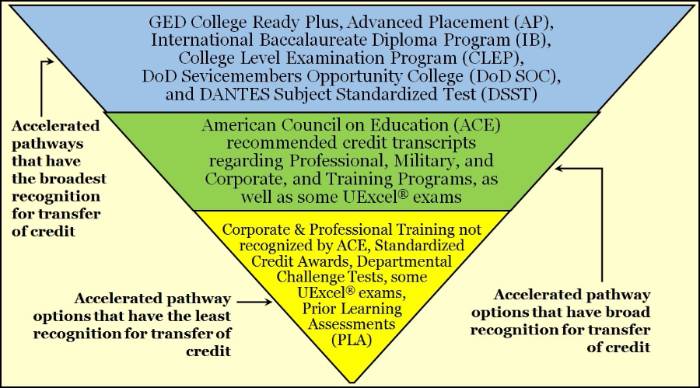 As can be seen in the image above, there are ways of earning prior learning credit with the broadest level of recognition by institutions across the US (the top blue layer of the triangle). The middle level (the green layer) represents those methods of earning prior learning that still have a broad level of recognition across the US, but may not be accepted by most colleges or universities. The lowest level (the yellow layer) has the least recognition across the US.
Rhode Island institutions such as Rhode Island College and the University of Rhode Island recognize CCRI's awarding of prior learning credit, but may have some stipulations regarding how and where these credits transfer as credits.
If you are planning to transfer to another institution, please review that institution's degree requirements and transfer of credit policies. If you have questions about transfer requirements or how to find them, don't hesitate to contact Advising and Counseling for more information: [email protected] or 401-825-2301.
What are the fees?
Fees vary depending on the option you choose.
As of April 2022, fees associated with Credit for Prior Learning are as follows
| Type | Fee |
| --- | --- |
| Standardized Credit Award | $25 Posting Fee |
| Portfolio Assessment | Posting Fee is equivalent to One Credit Hour (https://www.ccri.edu/bursar/tuitionfees/) |
| Departmental Challenge Exam | Posting Fee is equivalent to One Credit Hour (https://www.ccri.edu/bursar/tuitionfees/) |
| CLEP | $89 Registration Fee (paid to College Board), $30 Testing Center Fee (paid to CCRI)* |
| DSST | $80 Registration Fee (paid to Dantes), $30 Testing Center Fee (paid to CCRI)* |
*Testing fees are waived with a valid military ID
How do I begin the process of Credit for Prior Learning?
To guide your exploration of your Credit for Prior Learning options, please first review Steps 1-3 (on the right navigation) and then submit an interest form. A CPL Coordinator will review your interest form in order to help you determine your options and will follow up with you accordingly.
You may also use the button below to schedule a call.