Theatre News & Events
CCRI Production of The Receptionist selected to appear at KCACTF Regional Festival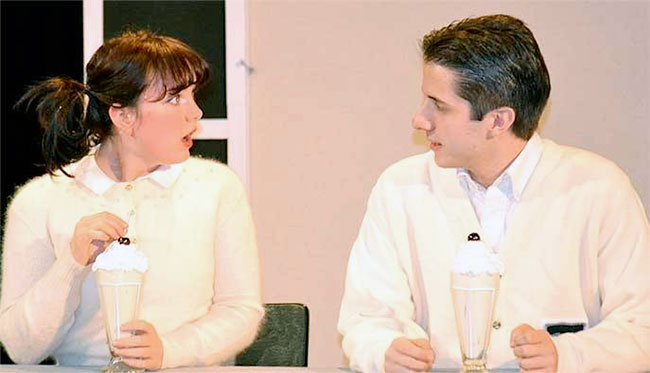 The CCRI Players' production of "The Receptionist," an office comedy with a dark side and a timely message, is in the running for national honors. The CCRI students were selected to restage their play in the Kennedy Center American College Theater Festival (KCACTF) Region 1 competition, beating out shows performed all over New England and New York.
They will perform in Hyannis, Mass. In the black box theatre of Cape Cod Community College (the host school of the festival), on Jan. 31 and Feb. 1, 2013 at 1:00 pm for a chance to go on to the KCACTF National Festival. Before they leave, they will stage two special encore performances of "The Receptionist" at CCRI's Flanagan Campus on Jan. 26 at 2:00 and 7:30 p.m. Admission costs $10 and will help fund the students' trip to the festival.
"This is as if CCRI is in the Sweet 16 looking to go to the Final Four," said CCRI Assistant Performing Arts Professor Luke Sutherland, who directed "The Receptionist."
He added that only five shows were picked to go to the Regional Festival in Hyannis out of about 60 that were in the running.
CCRI has not had this honor in about 20 years, Sutherland said, although individual actors and actresses have been honored for their work more recently.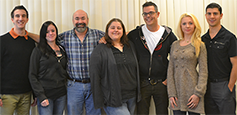 CCRI Student Erin Archer won the Irene Ryan Acting Audition Award at last year's KCACTF. This year, she plays the lead role in "The Receptionist" (the titular office assistant named Beverly) and has the privilege of competing with her fellow drama students.
"I'm excited that I get to perform in this play one more time with Alex [Rotella], Nick [Viau] and Brittney [Boudreau]," she said. "I love all of them and I'm glad we get to bring this production to the festival and show it to the rest of the region."
Sutherland said that the KCACTF judge who viewed the original run of "The Receptionist" (Oct. 18 to 21, 2012) selected it to advance to the Regional Festival for three reasons: it was a timely selection for the students to perform, it had a strong cast with great performances and it had good set design.
"We have a strong script, a strong cast and crew, and students that are really dedicated," Sutherland said. "That's what it takes."
The CCRI Players will spend four days in Hyannis performing their play, watching the shows of their competitors and attending workshops on acting, set design and more. Only four productions will be chosen out of eight regions to go on to the National Festival in Washington, D.C.
The show they will perform at CCRI before leaving will serve both as an encore for the CCRI community and a chance to rehearse the stringent demands of the theater festival. In Hyannis, the students will have five hours to load in all of their equipment, set up the stage, don their costumes and make-up, perform the play, and leave no trace of it to make room for the next production. The CCRI show will serve as a dry run and their one chance to simulate these conditions.
Both Sutherland and Archer said the show's cast benefitted tremendously from a visit to CCRI last fall by Adam Bock, the award-winning playwright who wrote "The Receptionist." Bock met with the cast and crew and helped them better understand their characters.
"He gave us a lot of insight into what he was feeling while he was writing the play and he helped us to shape a better show," Archer said. "Nothing helps more than talking to the playwright."
She added, "I'm thrilled that we're going to the festival and taking the whole show there. I think it will be wonderful."
The cast includes Providence resident Erin Archer as Beverly Wilkins; Brittany Boudreau of Woonsocket as Lorraine Taylor; and Cranston natives Alexander Rotella as Martin Dart and Nick Viau as Mr. Raymond. Understudy was for Beverly was Kerri Schiff of Providence completing the cast.
For the first time in CCRI Theatre program history, three of four major design elements were created by student designers in the Associate of Fine Arts technical track under the mentorship of Sutherland. Scenic design is provided by Branigan Duguay of Warwick, lighting design by Laura Ducharm of Woonsocket and sound design by Kaisey Caputo of Johnston. Makeup is by Krystal Terilli of West Warwick. Professor Jeffery Butterworth designed costumes.
CCRI Theatre and the Kennedy Center American College Theatre Festival
CCRI Theatre students and faculty had a solid showing in their annual pilgrimage to the KCACTF Region I Festival 44 in Fitchburg, MA. Four teams of CCRI actors competed in the Irene Ryan acting competition at the festival this year. The nominees were 2011 Irene Ryan winner Erin Archer(Cephalopod), Laura Minadeo(Various Kinds Of Truth), Sam Pike(Dracula), and Alexander Rotella(tick, tick...BOOM!). Edward Warren(CCRI '12) a Performance Track graduate, was selected to perform in Searchers, one of the eight featured, student written, ten minute one act plays. Warren was directed by Linda Murphy Sutherland (CCRI '91), Associate Director of Academic Programs for Emerson College's Department of Professional Studies.
Technical Track major Branigan Duguay was invited to work as a KCACTF Region I technical scholarship support crew, under the technical direction of James Dougherty of the University of Vermont, in the Dukakis Center for the duration of the festival. In addition to this honor, Duguay won a Certificate of Merit in the Tech Olympics for "Fastest & Most Accurate Prop Table Assembly."
Assistant Professor Ted Clement (CCRI '98), has been CCRI's Irene Ryan acting coach for five years. This year he served his second year as Hospitality Coordinator at the festival. In the fall of 2011, Clement was appointed Region I Respondents Chair, and as of this January, has begun a three year term on the Region I Play Selection Team, the team that selects and invites the best college/university productions to be presented at the regional festival.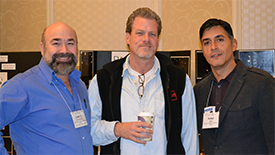 After a three year term as Vice Co-Chair, Assistant Professor Luke Sutherland completed his first year as Region I Co-Chair of Design, Technology and Management. Prior to the Region I festival, he traveled to Ames, Iowa, in Region V, as a KCACTF National Design, Technology and Management Respondent. He critiqued and responded to the KCACTF Region V student design entries hosted by Iowa State University. At the Region V festival, Professor Sutherland presented a two-part workshop for scenic design students and faculty titled "Developing Your Scenic Design with a Thumbnail Model."