CCRI community comes together to design and donate masks to healthcare workers
CCRI community comes together to design and donate masks to healthcare workers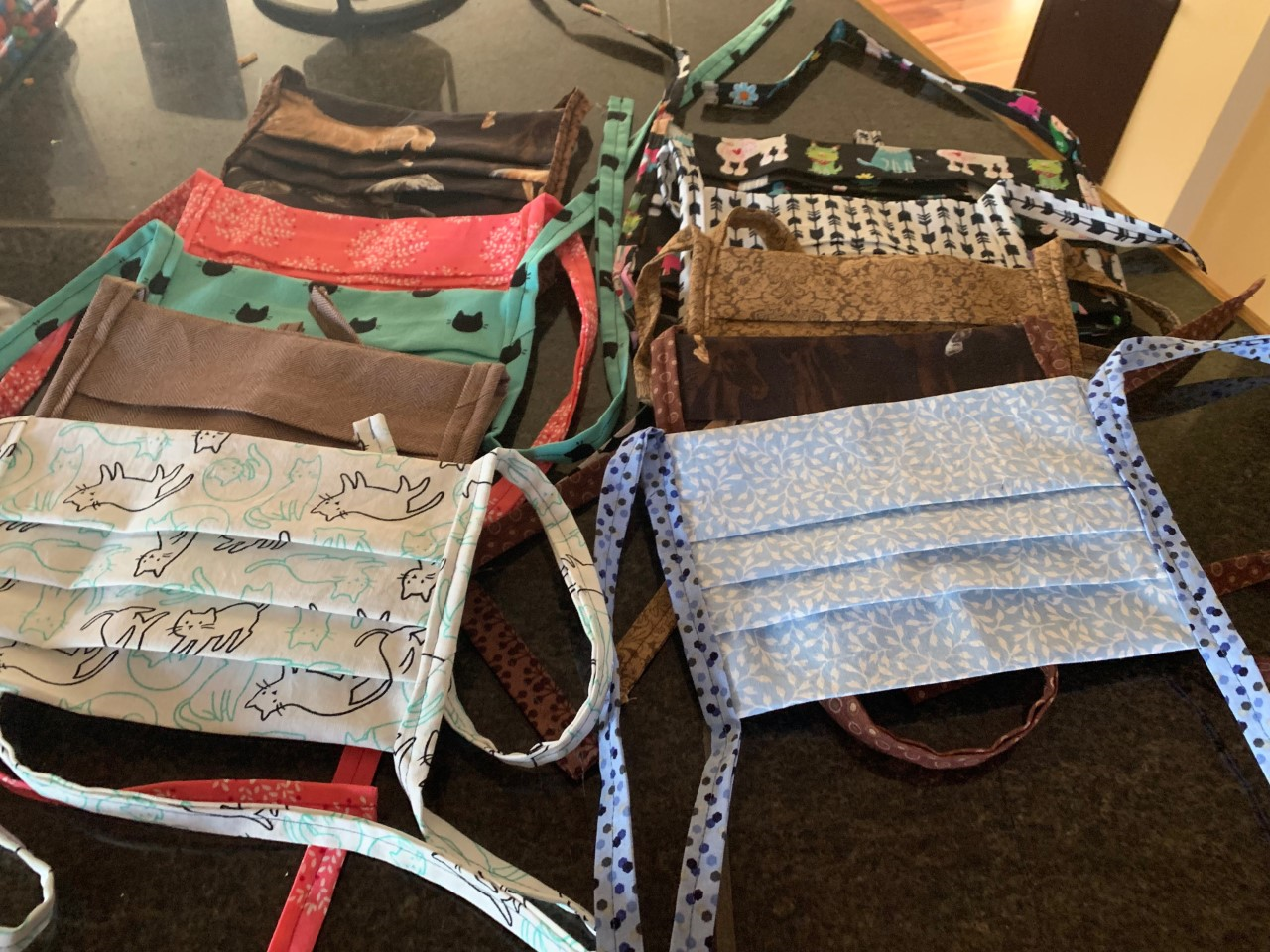 March 31, 2020
With a husband who works as a nurse at The Miriam Hospital in Providence, Enrollment Services Representative Dawn Barlow fully understands the dangers of coronavirus and the need to stop the spread of the global pandemic.
In addition to keeping her family safe, Barlow wanted to come up with a way that she, too, could help out. With more than 160,000 cases in the United States, there has been a recent shortage of medical supplies among healthcare professionals, including surgical masks.
Through the power of social media, Barlow has enlisted the help of family, friends and colleagues to craft and donate protective masks to staffers at The Miriam. Since she launched the initiative two weeks ago, Barlow has collected more than 400 masks. CCRI colleague and Chemistry Department Technical Staff Assistant Jocelyn Bluto has made more than 25 of her own since connecting with Barlow on Facebook.
Barlow hopes to solicit more volunteers, even those who cannot sew; they can be useful either by donating the material to make masks or going as far as pre-cutting the fabric for those who actually put them together. The goal is to also spread this initiative to more hospitals in Rhode Island.
"Something like this really shows our healthcare providers that we do care," Barlow said. "We could be their patients one day, so we want to take care of them and make sure they go home safely to their own families."
The COVID-19 pandemic has hit close to home for Barlow on a number of levels. In addition to her husband's responsibilities at Miriam, she has family in Italy, which has reported more than 100,000 positive cases. So far, she says, her family is safe, but she also acknowledges that no one is completely out of the woods yet. As the number of positive cases increases in Rhode Island, her husband will eventually move from the Emergency Room to the Intensive Care Unit at The Miriam.
"It is a little nerve-wracking," she said, "and you go through moments where the fear takes a stronger hold than you are comfortable with, but there is a lot of great information out there and a lot of good medical professionals putting time into studying this."
The philosophy behind the masks, Barlow said, is that "something is better than nothing." The masks aren't specifically designed to be worn as the only means of protection, but rather as a protective barrier in addition to a more traditional, disposable surgical mask. The hand-crafted masks can be washed and sanitized, which Barlow hopes can prolong the lifespan of the disposable masks, thereby assisting in some small way in reducing the worldwide shortage.
"We're making as many as we can," Barlow said. "As far as what it all means, we really don't know yet. There are little bits of information here and there on how disposables are being sterilized, and when this is all said and done, we'll have a lot of new information that can be used in the event of a future outbreak."
Bluto, who has worked at the Knight Campus since 1994, had no previous sewing experience until she began hand-making her masks earlier this month. She connected with Barlow online – at the time, the two didn't even realize they were colleagues at CCRI – and wanted to offer her assistance in any way possible, so she began watching online tutorials to learn how to sew. She had a decent supply of fabric at home from some previous projects she had planned to work on and soon began making custom masks with a small pocket in the back, which healthcare professionals can utilize by inserting a more common disposable mask.
Bluto's designs range from animal prints to seasonal designs. She said it takes her 25 minutes to make each mask, from cutting the fabric to the actual sewing.
"This is just a really cool project," Bluto said. "For one, it allows me to do something beneficial that can help others, plus I've had the chance to meet Dawn and now have her as a new contact at CCRI, which is amazing. This will hopefully encourage others to get involved and continue bringing people together. As a nation, I think we're all pulling together to figure this out."
With her father having worked as a general practitioner for a number of years, Bluto can relate to what Barlow is going through at home. Bluto remembers her father working in the medical field during the AIDS outbreak in the early 1980s and sees similarities between that and COVID-19 based on the fear and uncertainty when the viruses initially surfaced.
"At the time, we really didn't know a lot about AIDS," Bluto recalled, "but people were dying and it was on everyone's mind, from not knowing where it came from, to who it was attacking or who was going to be affected. It was a scary time. I think one of the differences now is progress and awareness is coming along a lot faster with coronavirus than it did with AIDS."
The COVID-19 pandemic continues to grip the entire world, but Bluto and Barlow are confident new information released daily will assist in limiting the spread of the virus. They will also continue to do their part in making sure healthcare professionals are safe as they put their lives at risk to treat those affected by this disease.
"I know the masks we're providing so far is just a drop in the bucket, but it's a great start," Barlow said. "There are things people can do to help, even if it's just donating the material to people who can sew. It's thrilling to see such positive feedback. CCRI is such a great community and I wouldn't be surprised if more people jump on board. We're just figuring this out as we go along, but with a little bit of organization, we can provide a lot of support to our healthcare community."
If you would like to assist, please contact Dawn Barlow via email at [email protected].
Latest News
Upcoming Events