Motivated by her love of academia, Coventry native excels as Promise scholar
Motivated by her love of academia, Coventry native excels as Promise scholar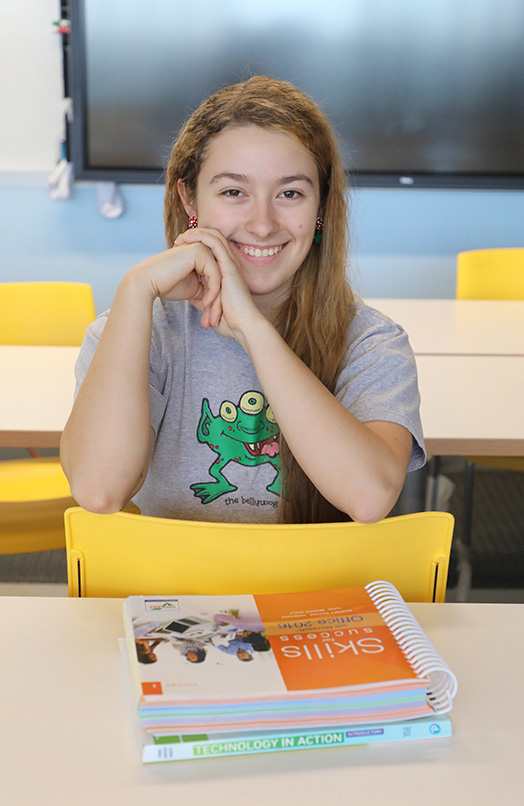 Jan. 23, 2020
Never one to shy away from a good book or a challenging course load, 18-year-old Cara Burgess often jokes with her parents that she might still take college classes when she's in her 30s. Not out of necessity, but to satisfy the constant hunger for knowledge that has driven her to succeed throughout her life.
Such is the mindset of a lifelong learner. Quiet on the surface, but laser-focused in the classroom, Burgess has discovered her passion for academia at the Community College of Rhode Island, both as a Running Start student in 2019 and now a first-year Rhode Island Promise scholar.
The Cybersecurity major breezed through seven courses in her first semester with straight A's and is now preparing for an equally-challenging workload this spring, utilizing her Promise scholarship to learn as much as she can over the next two years.
Burgess sees herself segueing into a number of careers once she enters the workforce – anything from cybersecurity to biotechnology – but her short-term goal is to transfer to the University of Rhode Island so she can continue her education and tackle a new set of challenges.
"I love learning," Burgess said. "The more I learn, the better the opportunities.
"Rhode Island Promise has been a dream come true for me."
Growing up in a house with two younger brothers and an older half-sister, Burgess always found ways to keep herself occupied, mostly by reading. Willing to try anything at least once, she participated in hockey, sailing and karate, and even joined the Girl Scouts.
She also spends free time making custom jewelry at home – mostly earrings and necklaces – and sells them on weekends at local craft fairs. Still, learning remains her passion.
She exceled in school, but felt the academic structure limited her ability to thrive. She was homeschooled in eighth grade before attending Coventry High School, where the faculty helped rekindle her love for learning in a classroom setting.
As Burgess' grades soared, family friend Yamel Chinchilla, also the Assistant Director of Admissions at CCRI, encouraged Burgess to apply for the college's Running Start program, which allows qualifying high-school seniors to take college-level courses on campus during their senior year. Burgess jumped at the opportunity.
"It was an easy decision for me," she said. "The program was wonderful. I got an idea of what the college experience is like and it forced me to think outside the box and work even harder. I loved the challenge."
Coming out of high school, Burgess fielded offers from several elite universities and colleges, but chose to enroll at CCRI as a Rhode Island Promise scholar. The college's diverse course load was a major selling point. She had also grown accustomed to the curriculum and appreciated the value of the education she received through Running Start. The opportunity to remain at CCRI and pick the classes she wanted was the logical choice as she continued to narrow down her field of study.
Outside of books and art, a trait she inherited from her grandmother, an accomplished painter, nothing can supplant Burgess' love for learning. With Running Start and Rhode Island Promise, CCRI has given her the unique opportunity to live her dream through its wide variety of programs. There's no reason the journey has to end once she earns her degree; Burgess may never grow tired of exploring new paths in the classroom.
"I just want to continue taking classes for different areas of study and learn all I can. It's what I love most," Burgess said. "CCRI has been the perfect fit for me."
Latest News
Upcoming Events