Landscape art meets digital design in season-opening CCRI Art Gallery exhibit
Landscape art meets digital design in season-opening CCRI Art Gallery exhibit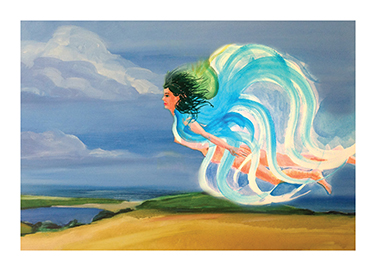 Sept. 18, 2019
The Community College of Rhode Island's Knight Campus Art Gallery hosts its first exhibition of the fall semester beginning today with, "On Earth: Paintings & Cross Over Images," by renowned artist Susan Nichter.
The month-long exhibition is free and open to the public.
Nichter, a professor at Suffolk University in Boston, teaches studio classes ranging from drawing to installation courses in the college's Art & Design Department. She is also a former Wellesley College and Rhode Island School of Design professor. Nichter's work has been displayed nationally and internationally with exhibits throughout New England, New York, Canada and Italy.
Among her more notable displays are public works projects at the Business Improvement District in downtown Boston and The Dean Center for Tick Borne Illness at Spaulding Rehabilitation Hospital in Charlestown, MA. She previously taught a study abroad program in Prague, Czech Republic in 2010 and 2012 in addition to seminars in Rome and Milan as a Fulbright scholar. In the summer, Nichter teaches a landscape painting course on Martha's Vineyard.
"On Earth: Paintings & Cross Over Images," blends her landscape work with computer design to create fantasy art. The exhibit, Nichter says, "combines mediums that physically could not work together without digital intervention."
"Landscape paintings are actually a side project, one that I only do for two weeks out of the year," Nichter said. "My narratives span years and range in subject matter from the balancing act of motherhood and career."
Assistant Professor of Art and Knight Campus Art Gallery Director Daniel O'Neill says the exhibition can be a valuable teaching tool for students in various programs, from Painting and Drawing to Digital Art and Graphic Design.
"We want our students to see examples of professional artists reacting to the same prompts and challenges we present to them in the classroom," O'Neill said.
The Knight Campus Art Gallery will host three exhibitions this fall, concluding with a student-run show at the end of the semester in which students from all areas of study within the Art Department – from Ceramics to Video Art – will have an opportunity to display their work.
"Many of our shows are very interactive," O'Neill said. "We've had video artists who've come to work with students in the Performing Arts Department who went on to become actors in the projects they were making. We try to bring in artists, or groups of artists, whose artwork can be an inspiration to our students."
Latest News
Upcoming Events