Former retail employee overcomes obstacles to earn scholarship
Former retail employee overcomes obstacles to earn scholarship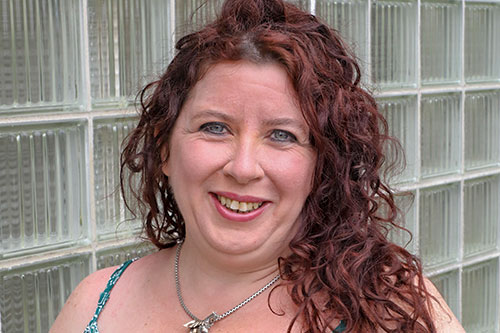 June 28, 2019
While working in the retail industry for more than a decade, Juanita Meunier dreamt of one day returning to school to continue her education and create a better life for her and her family, but something always stood in her way.
Once she cleared those hurdles, the 44-year-old Chepachet native flourished and is now beginning to realize her full potential at the Community College of Rhode Island.
When the youngest of her four children turned four, Meunier enrolled at CCRI and completed her first full year this past semester with a 4.0 grade point average, becoming one of only 12 recipients in the United States to earn the Dr. Andrew V. Stevenson International Merit Scholarship from Kappa Beta Delta, the international honor society for associate degree business schools.
According to CCRI business professor and Kappa Beta Delta advisor Joanne Orabone, Meunier is the first CCRI student to earn the $1,000 scholarship in the three years she's sat on the board and the first in recent memory. The scholarship, which is considered by Kappa Beta Delta as the highest honor any member can receive, will allow Meunier to increase her course load in the winter and attend conferences to help sharpen her skills.
"I was shocked," Meunier said. "I wasn't expecting it at all."
Having dropped out of high school as a teenager when she became pregnant with her first child, Meunier never envisioned a future in which she'd return to school in her 40s, never mind earn a prestigious scholarship. When times were tough, or she couldn't see that light at the end of the tunnel, Meunier relied on the belief that she, too, could eventually achieve her goals, even with so many obstacles to overcome. Next spring, she'll become the first in her family to graduate college with an associate degree in finance before pursuing her bachelor's in E-commerce Management Information Systems. She plans on earning her MBA as well and hopes to land a career in accounting, preferably working for a non-profit organization.
"I was always hopeful," she said. "You always have to have hope that you will meet all your goals. I just had to take a long, crooked path to get here."
After completing her GED, Meunier began working in retail, climbing the ladder over the next decade to earn a management position. In 2011, she shattered her ankle and suffered a broken leg in a bicycle accident, which required multiple surgeries and left her confined to a wheelchair for the next three years. Shortly thereafter, Meunier gave birth to her fourth child, but still dreamt of returning to CCRI, so she waited until her daughter was old enough before enrolling in the college's business administration program last summer.
The college lifestyle brought her out of her shell. She wanted to fully embrace the experience, so she joined DECA, a nationwide organization for students with interests in marketing, entrepreneurship and finance, and became the vice president of the local Knight Chapter, winning two awards at regional role-playing competitions. Meunier also exceled in the classroom and was invited to join both the Phi Theta Kappa and Kappa Beta Delta Honors Societies. The former named her vice president while the latter awarded her the scholarship thanks in large part to Orabone, who nudged Meunier to apply toward the end of the semester. The application process included a biographic essay, a faculty recommendation and a separate essay on Meunier's goals.
"She just took this opportunity and ran with it," Orabone said. "She's very positive and upbeat, and she's always looking to do more. She just loves learning, and she's able to figure out a way to balance it all while still doing a great job. It's not like something slides off; she has the time management down to a science."
In addition to her studies, Meunier is an active member of the college's Emerging Leaders program and is participating in both the college's Honors Program and a work-study program in CCRI's accounts payable department. Her 18-year-old daughter – the second-oldest of her four children – recently graduated high school and is narrowing down her choices for college. Though she's thankful for the experiences that have helped shape her into who she is today, Meunier doesn't want her children to travel the same path she did, so she's working harder than ever to finish school and set the right example.
The hard-working mother of four is proof no obstacle is too big to overcome, a perfect role model for her children and fellow students at CCRI working to achieve their dreams.
"I love school," Meunier said, "and I'm appreciative of everything I've learned here and all the opportunities CCRI provides."
Latest News
Upcoming Events