Center for Teaching Excellence
Save the Date:
Workshop on Creating and Scaffolding Research Assignments
Tuesday, August 23rd
10:00 - 12:00
The Center (KN 5579) and on Zoom
Come learn how to best use the CCRI Library's resources to create a research assignment and consider how to best scaffold your students through the process of conducting library research and writing a paper in this interactive workshop from Katie Holcomb and Brenda McGill.
This workshop will be worth 5 points toward next year's CTE Knights Certificates.
Recommended Reading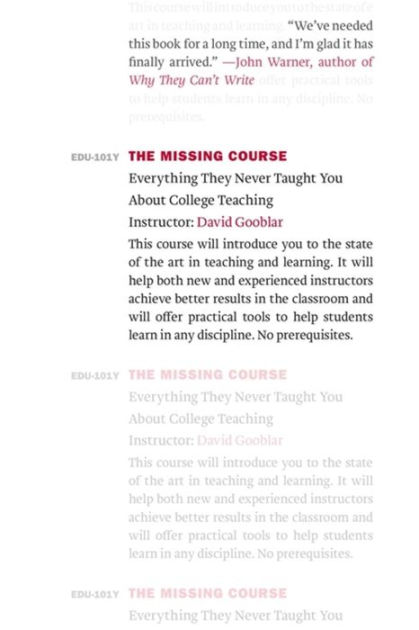 If you are planning on reading for professional development this summer, please consider "The Missing Course: Everything They Never Taught You About College Teaching" by David Gooblar. CTE will host book discussion groups when we return in the Fall.
If you need a break from everything this summer, don't worry. Electronic and physical copies of the book will be available to you in the CTE book collection in the Knight Campus Library from now on. You're also welcome to join the book discussion groups in the Fall to hear what others got out of "The Missing Course."
Project Incubator
CTE wants to help you get work done on a project you have in mind for this summer. It can be related to your courses, graduate classes, your professional development, a personal passion project – anything that you could work on in a library (sorry, I can't help with your home renovation project).
On Mondays and Tuesdays this summer from 8 am–4 pm, please join CTE in the Knight Campus Library for some goal setting, accountability, and focused work time. You can drop in for as little or as long as you like, as many times as you like. Stop by The Center (Knight 5579) to check in and grab a coffee, and then settle in to work!
---
---
Miss an event?
Check the Events page for recordings and files.
The Spring Symposium recording is now available to CCRI Community members!
Introducing Reflective Teaching Logs!
Download a digital copy of the Reflective Teaching Log here. Instructions: Download the .pdf file to your computer. Open and save with Adobe Acrobat Reader or Preview (on a mac) to type your reflections.
Request a printed copy of the Reflective Teaching Log here. Printed copies will be delivered to the first 98 faculty who complete this form.
---
CTE Knights
Earn points for taking part in professional development activities and applying the content to your classes.

The CTE Knights Certificates recognize faculty participation in, and application of, a variety of professional development activities. To earn the CTE Knight: Gold Level Certificate, faculty must accumulate 70 points in an academic year and have presented in at least one. To earn the CTE Knight: Green Level Certificate, faculty must collect 35 points in an academic year.
---
The Center for Teaching Excellence is a collaborative, faculty-led community that supports continuous development and champions high-impact, equitable teaching and learning practices for our diverse student body.
We Listen and Learn
We Respond and Lead
We Recognize and Reward