Center for Teaching Excellence
Article Club is Back!
This semester, Article Club readings will focus on Social-Emotional Learning.
Please join us on Monday, October 3rd to discuss the first article. You can meet Amanda Vanner in Lincoln from 12:00 - 1:00 in room FL 2363, or you can meet Lou Turchetta and Laura Picraux from 12:30 - 1:30 on the Knight Campus (room TBD).
The second article club meeting will be on Monday, November 14. More details to come soon! Each Article Club meeting is worth 3 CTE Knights points.
---
Book Discussion Groups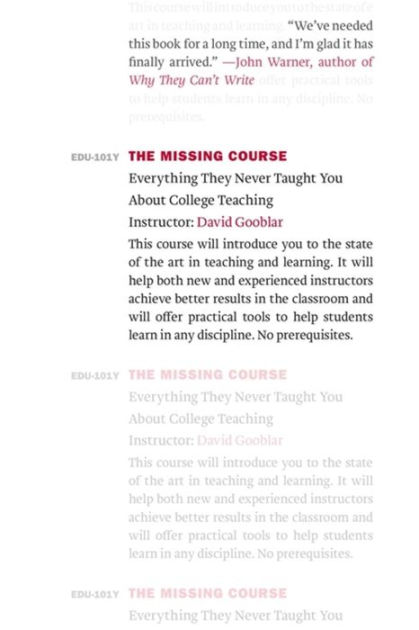 Over the summer, CTE recommended faculty read "The Missing Course: Everything They Never Taught You About College Teaching" by David Gooblar. This book is a crash course in teaching a college course, and is full of useful strategies. Attending a book discussion is worth 3 CTE Knights points.
Please join us for one of the discussions on the book!
Thursday, September 29th from 1-2 pm (zoom) in room KN 5579
Wednesday, October 5th from 2-3 pm (zoom) in room FL 2362.
---
Faculty Learning Communities (FLCs)
This semester there will be two FLCs hosted by CTE.
The first will focus on Gamified Course Design, and will run on select Thursdays starting on September 22. Click here to learn more. This FLC is worth 6 - 15 CTE Knights Points.
The second will partner with the Inclusive STEM Teaching Project, and will run on Mondays from October 12 - November 14. Register for the online course on the EdX platform here and email [email protected] to join the FLC. Full participation in the ISTP FLC is worth 10 CTE Knights Points
---
OSCQR Certification Info Session
Since COVID, there is about a 40/60 split in distance learning to on-campus courses at CCRI. Having this availability of DL classes creates equitable opportunities for students who might not be able to come to campus to take a class because of transportation insecurities or scheduling issues around work and family life. The new ratio of DL to on-campus class availability is likely not going to go away.
Therefore, there is a new need to ensure all DL courses at CCRI are high quality courses that follow effective online teaching practices. One way to achieve this is through OSCQR ("Oscar") assessment and certification. In this session we will discuss the many benefits to getting your DL course OSCQR certified from the faculty perspective.
Join us in person on the Knight Campus or via Zoom to learn more!
This event is worth 3 CTE Knights points.
---
Disaggregated Data Requests
In February 2022, I (Rachel) was able to see my course data for General Psychology (a course I have taught many times here at CCRI) disaggregated by race and ethnicity. The results were surprising and difficult for me to face. Despite that, I'm very glad that I did it, and I'm looking forward to trying some new strategies in my courses to try to close the equity gaps I found.
If you'd like to check out your own course data, request a meeting here to get started.
This is a confidential process and is for your professional development only. Results are not shared with chairs, deans, or the VPAA.
---
Miss an event?
Check the Events page for recordings and files.
The Spring Symposium recording is now available to CCRI Community members!
---
CTE Knights
Earn points for taking part in professional development activities and applying the content to your classes.

The CTE Knights Certificates recognize faculty participation in, and application of, a variety of professional development activities. To earn the CTE Knight: Gold Level Certificate, faculty must accumulate 70 points in an academic year and have presented in at least one. To earn the CTE Knight: Green Level Certificate, faculty must collect 35 points in an academic year.
---
The Center for Teaching Excellence is a collaborative, faculty-led community that supports continuous development and champions high-impact, equitable teaching and learning practices for our diverse student body.
We Listen and Learn
We Respond and Lead
We Recognize and Reward