CCRI alum, professor connects Shakespeare and social justice through hip-hop
CCRI alum, professor connects Shakespeare and social justice through hip-hop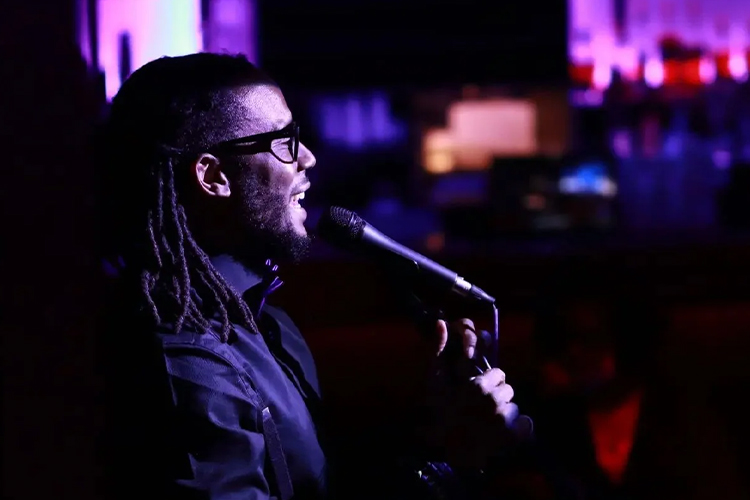 CCRI alum and adjunct Performing Arts professor Jay Are Adams created the What Fray Was Here?: Social Justice Shakespeare theatre company in 2021.
11/09/2023
The Community College of Rhode Island Players are teaming with the What Fray Was Here?: Social Justice Shakespeare theatre company and the Reverie Theatre Group this weekend for a free workshop presentation of Act 2 of I'm at Your Window, a hip-hop adaptation of William Shakespeare's Romeo & Juliet, at the Warwick Campus' Bobby Hackett Theatre.
Sponsored by the Sullivan Fund for the Humanities, the two-day run of I'm at Your Window begins Friday at 7:30 pm followed by an encore performance Saturday night. The cast and creative team will also participate in talkbacks following each performance.
I'm at Your Window is written by singer/songwriter Dan Pomfret of the bands The Morgana Phase and Toad and the Stooligans, and comedian and actor Jay Are Adams, a CCRI alumnus, creator of Social Justice Shakespeare, and an adjunct faculty member of the college's Performing Arts Department.
The concept of Social Justice Shakespeare, Adams said, is to create "fun, accessible" adaptations of Shakespeare's work "based on anti-racist practices and belonging and creating community." I'm at Your Window breathes new life into Shakespeare's classic prose with a unique twist to spark conversations around social justice.
Adams, who boasts a bachelor's degree in Business Administration from Trident University and a Master's in Theatre Education from Emerson College, came up with the concept for I'm at Your Window while studying at Emerson. After watching Hamilton, the 2015 musical written by Lin-Manuel Miranda, Adams began laying the framework for I'm at Your Window, officially launching WFWH in late 2021 and assembling a small ensemble of performers less than a year later to host a formal workshop in January of 2022.
Adams describes WFWH as a convergence of social justice, his love for Shakespeare, and "a theoretical play" he had to produce for his school project at Emerson. The title, I'm at Your Window, is based on Romeo & Juliet's famous balcony scene (Act 2, Scene 2) where Romeo and Juliet declare their love for each other and resolve to marry despite the feud between their families.
Adams' adaptation uses hip-hop as the vehicle while adding social justice themes to Shakespeare's work. While the link between hip-hop and Shakespeare isn't a new concept, according to Adams, most viewers are surprised at first, but soon realize how seamless the relationship is once they remember Shakespeare wrote most of his plays in verse in addition to more than 100 sonnets and a series of narrative poems.
Taylor Corbett, who stage-managed the first two workshops of I'm at Your Window and is directing this weekend's adaptation, says she is in an "interesting" position not only directing intention and the build of the story, but also choreographing movements that accentuate the music and intentions.
"The best part about Shakespeare is it is truly timeless," Corbett said. "Is the language somewhat challenging and flowery? Yes. But they are stories about human beings experiencing being humans and connecting to each other.
"Theatre is the oldest and truest form of human connection. From telling stories at the campfires thousands of years ago to Shakespeare to the modern day, there is an energy that we can all feel and tap into – an energy that has all of us on the edge of our seats going along for the ride of human storytelling."
The cast of I'm at Your Window includes CCRI students Tarique Mauricio of Woonsocket, RI, and Marsha-Rose Czepyha of Warwick, RI, an Irene Ryan Acting Scholarship nominee at this year's Region 1 Kennedy Center American College Theater Festival (KCACTF).
While the inclusion of hip-hop, R&B, and gospel in I'm at Your Window has helped younger generations of viewers better understand Shakespeare, the original intention behind the play wasn't to link Shakespeare with hip-hop, but rather link Shakespeare with social justice.
Adams, who appeared in Season 2 of the Comedy Central series Kevin Hart Presents: Hart of the City, used art to find his place during the social justice movement of 2020; I'm at Your Window works twofold in not only presenting classic Shakespeare works to new audiences, but also shedding new light on important social justice issues through the lens of a playwright many considered to have written "for the masses."
Share on Social Media