Aspiring theater student thrives despite visual impairment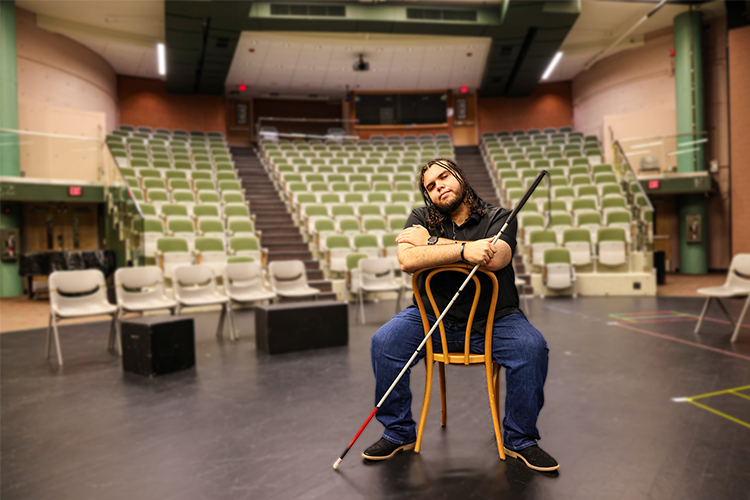 10/04/2023
He can no longer see out of his left eye and his right is only slightly functional – just enough to see silhouettes at a close distance.
Being visually impaired has presented myriad challenges for Community College of Rhode Island Theater major Jalen Rodriguez, but limitations haven't stood in the way of the 22-year-old Woonsocket, RI, native pursuing a career in performing arts – both on and off stage ­– while one day hoping to become an advocate for those following in his footsteps.
"I don't want any blind student who comes after me to have the same experience of struggling to see themself in a certain light or a certain space," said Rodriguez, who graduates in Fall 2024. "I want them to be able to point to me and say, 'He did it, so I could do it.' I want to be a role model. That's always been the goal."
Born with a degenerative eye disease that has caused him to gradually lose his vision since a young age, Rodriguez is now in his fourth year at the college, having attended on and off since 2019, and his first as a member of the CCRI Players, the college's student-run theater group.
Following a summerlong internship with the Spectrum Theater Ensemble (STE) – a Providence-based theater group comprised of neurodivergent artists like himself – Rodriguez is preparing for his first on-stage role with the Players in their upcoming production of The Laramie Project, a play based on the reactions to the 1998 murder of gay college student Matthew Shephard.
"I'm super proud of this one," Rodriguez said.
The youngest of three boys, Rodriguez is the only member of his family not born in Puerto Rico. After his siblings arrived, the family moved to Woonsocket, where Rodriguez was born and raised. When he was a baby, the family took a trip back to its native Puerto Rico, where an aunt noticed one of his eyes "drifting."
"One thing led to another" and Rodriguez was soon diagnosed with what has been a life-changing condition. "I can't remember a single time when I wasn't blind or on the blind spectrum," he said.
Doctors predict he'll be completely blind by the time he's 30. He began noticing the effects in second grade, at which point he started using a cane, and fully lost sight in his left eye as a high school sophomore.
Motivated to share his story with others, Rodriguez gravitated toward screenwriting in high school, and as his vision worsened, he began paying more attention to the voices of his favorite cartoon or video game characters, inspiring him to dive deeper into voice acting. After reading the autobiography of renowned voice actor Rob Paulsen, which detailed Paulsen's battle with throat cancer, Rodriguez decided to share his own experiences through acting and writing – "an opportunity," he said, "to put a smile on so many people's faces and just be a kid on stage."
Rodriguez enrolled at CCRI in 2019, drawn to its affordability and flexibility. While the college offers assistance through its Disability Services for Students (DSS) office, Rodriguez has thrived in what he describes as a more "casual" environment where can be himself and not stand out from the crowd. He eventually segued toward Theater after meeting professor and program director Ted Clement, who felt the platform was the ideal outlet for Rodriguez to pursue his passion.
In addition to his studies, Rodriguez has continued to work with the visually impaired; as a member of the National Federation of the Blind, he helped launch the state's first White Cane Safety Day celebration, which honors achievements of people who are blind or visually impaired. In 2019, he worked with the Rhode Island Association for the Blind (now known as IN-SIGHT) to host an Easter egg hunt for visually-impaired children on the State House lawn using beeping plastic eggs created by the R.I. Bomb Squad. His internship with the STE allowed him to work as a disability consultant for the company's cast, crew, and administrative team – an extension of the numerous screenplays and projects he's worked on through the years that provide an in-depth look at what it's like living with a visual impairment.
Rodriguez plans to transfer to a four-year college after graduating CCRI to finish his bachelor's degree. When discussing long-term goals, he thinks back to high school when a guidance counselor handed him a pamphlet profiling successful blind people, many of them chefs and business professionals.
"That was all well and good," Rodriguez said, "but the only recognizable household blind names are Stevie Wonder and Ray Charles. That's it."
With enough work, and a little luck, Rodriguez could one day join the list.
"If you hear my voice coming from your video game or your TV screen while you're watching cartoons and you dig into my story and you know that I'm blind," Rodriguez said, "suddenly the space doesn't seem so lonely."
Share on Social Media