CCRI Players launch 2023–24 season with production of The Laramie Project
CCRI Players launch 2023–24 season with production of The Laramie Project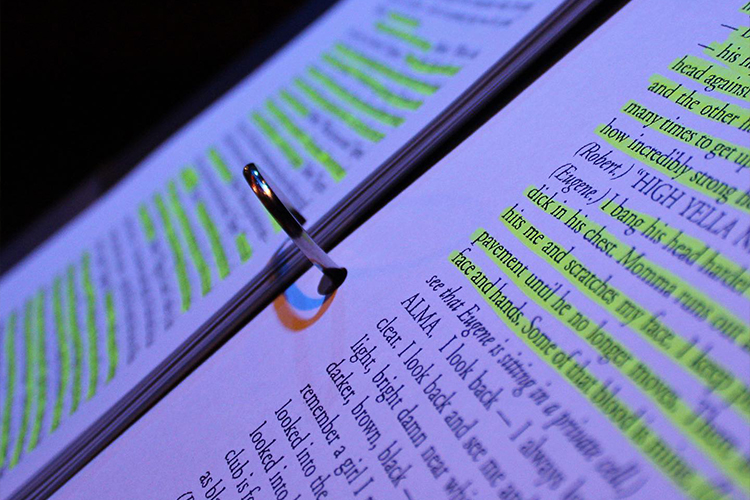 10/02/2023
On a day that has become synonymous with the American gay rights movement, the CCRI Players launch their 2023–24 theatre season with a production of The Laramie Project, a revealing look at the reaction to the 1998 murder of Matthew Shepard.
The Laramie Project opens Thursday, October 12, the 25th anniversary of Shepard's death, which occurred six days after the 21-year-old college student was beaten, tortured, and left to die by two men near Laramie, WY, because of his sexual orientation. Shephard's murder is one of America's most well-known hate crimes and over the past two and a half decades has brought national and international attention to hate crime legislation at both the state and federal level.
Written in 2000 by Moisés Kaufman and members of the Tectonic Theater Project, The Laramie Project is set in and around Laramie in the aftermath of Shephard's murder. Kaufman and the other company members visited Laramie on six occasions and interviewed residents, members of the police force, and Shephard's friends to get a better understanding of what happened and why. The finished product is a dramatization of the group's visit, using actual words from the transcripts to create a portrait of a town forced to confront itself.
The Laramie Project runs October 12–14 at 7:30 pm with additional 2 pm performances on October 14 and 15 at the Warwick Campus' Bobby Hackett Theater. Tickets are available online or at the box office.
"Not only is this play historical, but also it's still, sadly, increasingly relevant," said director and CCRI Performing Arts Adjunct Professor Kevin Olson. "We find every day when we're rehearsing that there's another contemporary reference or reality where we all just kind of put our hand on our forehead and go, 'Oh, that's still relevant.'
"For those reasons, the students are committed to telling this story. They really resonate with the themes and the ideas that this play explores."
CCRI student and Players' president Chris Dunlaevy of North Kingstown, RI – one of 10 cast members for The Laramie Project – says the play is particularly poignant for someone like himself who is a member of the LGBTQIA+ community, especially considering anti-transgender and anti-LGBTQIA+ legislation passed in recent years in many southern and Midwest states. Of the more than 525 anti-LGBTQIA+ bills introduced this past legislative session in states across the United States, more than 70 have been signed into law.
"This is such a moving piece, and I think it's done in response to some of the things being done to kind of minimize the impact of the LGBTQ+ community," Dunlaevy said. "As an actor, the biggest part for me has been realizing how lucky we are in some ways to be living in this time where things have progressed and you can be out without fear of retaliation.
"I also think these are things people need to see. If you don't show the experiences that happened in 1998, then we're in danger of repeating them. This is an important play. With theater, you're supposed to make people feel things and make them think. We wouldn't be doing our job if we didn't do that."
Joining Dunlaevy in The Laramie Project are CCRI students Jalen Rodriguez (Woonsocket, RI), Aliza Almonte (Johnston, RI), Mike Killilea (Warwick, RI), Gabriella Marie Seal (Cranston, RI), Nate Campbell (Johnston, RI), Marsha-Rose Czepyha (Warwick, RI), Kameron Threatt (Riverside, RI), Max Hayden (Warwick, RI), and Shelby Cray (Bristol, RI).
Because the play is based on a true story, it includes strong language and mature content (descriptions of homophobia, graphic violence, and death); paraphrasing one of The Laramie Project's most memorable lines, Olson says, "you need to do your best to say it correctly." In the years following Shephard's murder, his mother, Judy, launched the Matthew Shepard Foundation to promote education, outreach, and advocacy programs, and in 2009 President Barack Obama signed into law the Matthew Shepard and James Byrd Jr. Hate Crimes Prevention Act, which expands the 1969 United States federal hate-crime law to include crimes motivated by a victim's actual or perceived gender, sexual orientation, gender identity, or disability.
"Aside from the violence of the crime and the homophobia, there are some beautiful things that other characters in the play say about Matthew Shepard and about gay rights," Olson said. "When I hear that, I feel the responsibility that in our production we also have to say it correctly, and that includes talking about the state of our country – if not the world today.
"This story has a great deal of resonance."
Share on Social Media