Getting to know Dr. Costigan: A student's perspective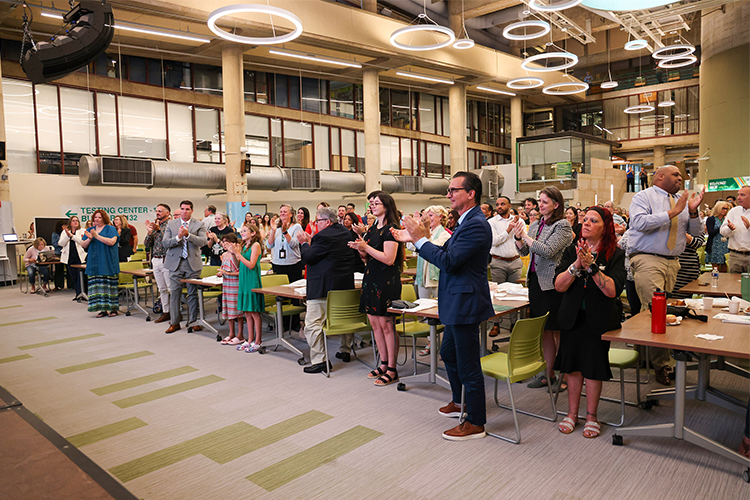 09/11/2023
By Kat Taylor
I considered myself fortunate last Wednesday to hear in the elevator that Interim President Dr. Rosemary Costigan would be speaking at CCRI's Opening Day the following morning at 8. I am not the most functionable early riser, however, missing this historic event was not an option. I awoke at 4 am so I could arrive early, assuring myself premium seating close to the stage. This would prove not to be an issue, however, as I arrived at 7:30 to only staff preparing for the day.
Needless to say, I chose the best seat possible – right next to the ones reserved for Dr. Costigan's husband, two of her five children, and three of her seven grandchildren. My first surprise of the morning was realizing speeches did not begin at 8, but rather, a lovely continental breakfast of pastries and fruit. Yet, if waiting half an hour for others to fill the large room wasn't excruciating enough, the horror I felt at realizing I had crashed a faculty event was!
Suddenly finding myself in the best seat in a room I was not meant to be in, I could not have felt more uncomfortable, but all I could do was own it; I was press, there on official business, and not one person questioned my presence. I even had the pleasure of sitting with the Chemistry Department Chair, Elizabeth Arendt, and left there looking forward to a course I had been dreading!
My seat also turned out to be the perfect vantage point for not only witnessing a poignant and inspiring speech given by CCRI's first alumnus to serve as Interim President, but to see how captivated the audience was. The passion behind Dr. Costigan's message resonated like a ripple through the crowd, evident by the tears filling many eyes at the conclusion:
"We have made tremendous strides and have come a long way over the past several years, and we are on par with our national peers for many success metrics, but we have decisions to make – do we take this college to the next level, or will we be content with the status quo? We need to decide as a community, here and now, if we're going to come together as a force of unity in service to our students and go down the path of excellence – and by this, I mean enabling our incredible student body of 16,000 Rhode Islanders to become the best version of themselves, or will we become mired in bureaucracy and indecisiveness?"
Dr. Costigan called on faculty to be proactive and to not settle for the minimum when it comes to their involvement in what happens within our college. She invited open discussion through round table meetings, asking to be invited to department or divisional meetings and even have lunch together. The main takeaways were the three key requests Dr. Costigan asked of CCRI's faculty: "share the responsibility of remaining informed and get involved, become comfortable with being uncomfortable, and continue to fiercely advocate on behalf of our students."
Setting forth plans for enhanced communication and a "Say Yes!" attitude, Dr. Costigan intends to implement strategies that will allow students to progress in their field of study as they earn their degree through stackable credentials.
The top priority on Dr. Costigan's agenda, though, seemed to be her desire for role models.
"I also was the first member of my family to go to college, I didn't know how to make my way through the higher education system and thought at times another route might be easier, but I had three professors who held me up and supported me every time I questioned myself and my path. I still know their names, I can still recall their faces, and every day I am grateful for their mentorship and their support because it changed my life, and the life of my family. We all have the opportunity to be that person, to have that impact and fight hard every day on behalf of our students."
It is through this compassion and relatability that Dr. Costigan really connects with faculty and students alike. After she gracefully exited the stage with many awaiting the opportunity to offer their congratulations, she went directly to her family, emotionally embracing each one of them. In that moment, I genuinely appreciated waking up so early to attend an event after previously feeling embarrassed to be there. Not only did I have the best viewpoint of this touching interaction, I also had the pleasure of my own as Dr. Costigan glanced up and remembered me from the brief conversation we had during CCRI Day at the State House last spring.
I was amazed as her face lit up with recognition and I found myself swept into an embrace as warm as the one she had just given her adorable grandson. Dr. Costigan recalled everything we had discussed from a day where she had been overwhelmed with hundreds of people eagerly vying for a moment with her. On yet another day with a crowd forming around us, Dr. Costigan graciously took her time talking with me, unfazed by the chaos. She made it clear she was excited to work with the Unfiltered Lens, and her office even reached out within the hour to offer assistance.
I feel strongly that the Community College of Rhode Island is not only in capable hands, but the future of our students, faculty, and their families will be enriched by the heart connected to those hands. Serving nearly eight years as Vice President for Academic Affairs, and with her background and experience rooted in healthcare, Dr. Costigan was central to CCRI's response to the COVID-19 pandemic by pivoting the college's instruction to remote teaching and learning within a span of just two weeks to keep the college community safe.
Dr. Costigan has led the college's work to expand courses online and invest in remote, accessible support to meet the ever-expanding needs of the student body; developed collaborative, faculty-led professional development that champions high-impact, equitable teaching, and learning practices; and helped enhance shared governance at the college with the launch of the Faculty Senate. In addition, Dr. Costigan facilitated the first formal academic master plan, along with faculty and instituted data-driven process to promote quality improvement within Academic Affairs.
Congratulations, Dr. Costigan, and best of luck!
Share on Social Media