Getting to Know: Carlin Weirick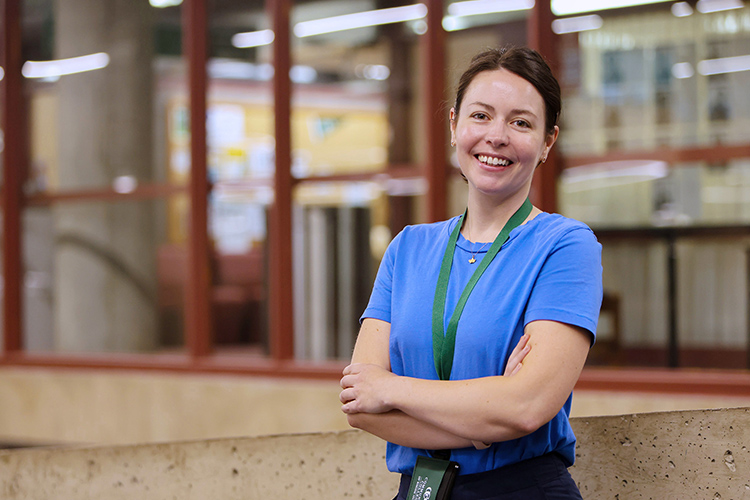 06/19/2023
Today we meet Carlin Weirick, one of the newest members of the CCRI community whose unexpected journey through the Human Resources field has led her to a rewarded career as a recruiter with a keen eye for talent.
Born in Louisiana, Carlin has called Rhode Island home since 2014. With a diverse background in several fields, she has brought her exceptional people skills and passion for helping others to CCRI, beginning her latest journey in May as the college's new Talent Acquisition & Diversity Recruiting Manager for the Department of Institutional Equity & Human Resources.
In this role, Carlin will use her love of processes and efficiencies to support the success and experiences of all employees and students by prioritizing the recruitment and retention of a diverse body of faculty and staff in addition to supporting a variety of CCRI's forthcoming DEI initiatives.
An accomplished ballet dancer and teacher, Carlin earned her Bachelor of Arts in Organizational Studies/Dance from Pitzer College and her MFA in Performing Arts Management from the University of North Carolina School of the Arts. With a dream of one day managing a dance company, she assisted in fundraising efforts for American Ballet Theatre, where she discovered her passion for helping others.
Her professional journey eventually led her to a role as the Assistant Director of Donor Relations for Amherst College, followed by recruitment and talent development roles for Rhode Island Interlocal Risk Management Trust, Kenzan, and Figure.
What is the biggest challenge in diversity recruiting?
It's such a broad question because it's a challenge that everyone is facing. There are things we can do from the process standpoint, but I think the biggest challenge is ensuring that efforts are tied into a greater strategic initiative. One of the draws to CCRI is that there is already a focus on those strategic initiatives, and I'm looking forward to partnering with the Office of Organizational Development & Diversity, Equity, Inclusion to positively affect the recruiting process.
How deep is your dance background?
I've been dancing on and off for more than 20 years. I even minored in dance, and it was the focus of my MFA. I had amazing opportunities to work on the fundraising side of organizations like American Ballet Theatre. This is what first brought me to higher education in the advancement field. Ultimately, I knew that I wanted to focus elsewhere, but I loved being able to work within higher education. This opportunity at CCRI has brought me back!
What made you transition into your current field?
The transition wasn't planned, but I knew that I enjoyed helping others and constantly improving. Through my network, I transitioned to recruiting and ended up really enjoying it. There's always something to work on, but at the end of the day, the focus on helping people, both from the candidate and hiring side, is immense.
What is the one characteristic that has allowed you to be so successful in multiple fields?
I think the openness to take on new problems and challenges has led me to work cross-functionally and understand how everything fits together. It's always helpful when you're looking at more localized change because whether or not you mean to, it affects so many other areas and people.
What do you enjoy doing in your spare time?
I still dance every so often, but I also love volunteering within my community and traveling. My most memorable trip was to Hong Kong. It is such a walkable city, but also the majority of the island is protected land with trails and hikes.
Share on Social Media