Unfiltered Lens editor, Class of 2023 graduate carves her own legacy at CCRI
Unfiltered Lens editor, Class of 2023 graduate carves her own legacy at CCRI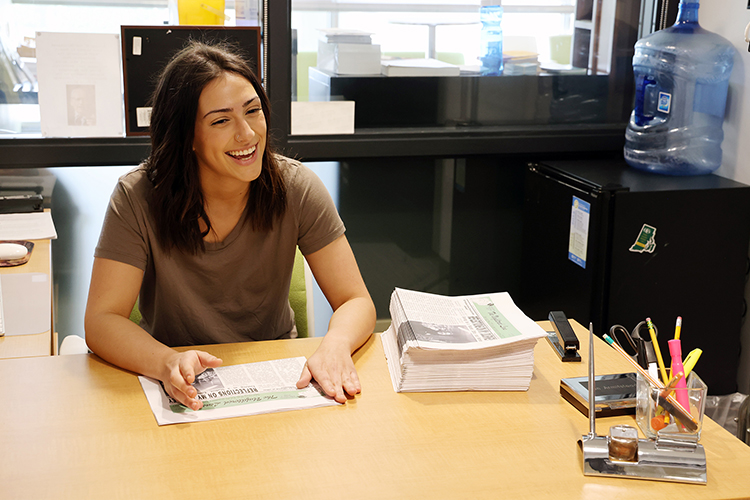 05/17/2023
After reviving the college's dormant student newspaper and overcoming hurdles in and out of the classroom, Community College of Rhode Island Class of 2023 graduate Nina Fauci is more than ready for the next step in her journey.
The 20-year-old Fauci; a Tiverton, RI, resident; Rhode Island Promise scholar, and departing Editor-in-Chief of The Unfiltered Lens; graduates Thursday with her associate degree in General Studies. A creative writing and poetry enthusiast who one day dreams of publishing her own work, Fauci will transfer to Emerson University in the fall to pursue her bachelor's degree in Writing, Literature, and Publishing.
After growing up in a small town with fewer than 8,000 people – "We only have one grocery store," Fauci says – living on her own in Boston next semester is a major lifestyle change, one made possible by the encouragement and support she received from the CCRI community.
"These two years at CCRI really allowed me to develop a sense of self at my own pace," said Fauci, who has dreamt of attending Emerson since high school. "Now I'm not moving into college at 18 – I'm moving to Boston at 20. I'm much more prepared than I would've been two years ago."
A Fall River, MA, native, Fauci attended Diman Regional Vocational Tech High School, where she studied Culinary Arts for four years in high school with the goal of becoming a chef. After working numerous food services jobs through the years, she rediscovered her passion for writing – a hobby from her youth – as a senior and soon decided to switch career paths.
Toward the end of the Spring 2022 semester, she was approached by English professor Eileen James about becoming the Editor-in-Chief of The Lens, which hadn't published since the Spring 2021 semester due to the COVID-19 pandemic.
Fauci immediately went to work in the fall assembling a small staff of six writers and editors. Recruiting was difficult at first since many students were still taking the bulk of their classes online, but Fauci and her staff worked overtime to publish The Lens' first issue in nearly two years in December. She even left her part-time job at a nearby café to dedicate her free time to developing story ideas, assigning writers, and rebuilding The Lens' social media and online presence.
The paper resumed publishing in March after the winter break and released its final issue of the semester on May 16.
"What I loved about being the Editor-in-Chief was being able to manage a publication where it's written by the students for the students," Fauci said. "We wanted something that was informative, but also fun to read. I'm so grateful and happy I was part of bringing it back at CCRI."
While The Lens flourished, Fauci struggled outside of the newsroom to juggle all her newfound responsibilities.
"I just found myself having difficulty concentrating. I was getting overwhelmed. Time management became a problem," she said. "I wasn't used to that."
Fauci soon realized she suffered from attention-deficit/hyperactivity disorder (ADHD). Her mother, both of her brothers, and even her adopted sister had it, too. Usually diagnosed at a young age, ADHD also affects adults, typically marked by extreme restlessness, difficulty staying on task and sustaining focus, or impulsivity.
Once Fauci understood her diagnosis, she began taking medication. "My mind went quiet," she said. "It's part of what transformed my way of thinking.
"In high school, I was a good student all around, but the thing about high school is your whole routine is laid out for you. In college, that changes. You're on your own. I didn't expect that to be such a big transformation and transition for me. I thought it would be seamless."
CCRI and everything the community offered through academics and extracurricular activities provided Fauci with the levity and support she never knew she needed. As part of the college's Communication and Film/Media Transfer program, she received automatic acceptance into Emerson, and her work with The Lens helped her balance various responsibilities while leaving behind a legacy as the Editor-in-Chief who helped revive an integral branch of the student body.
From the rural farmland of Rhode Island's East Bay to Beantown's frenetic pace and rich diversity, Fauci's next chapter begins now.
"The CCRI experience was so beneficial for me," she said. "I would recommend it to anyone."
Share on Social Media