As a voice for students, Class of 2023 graduate Spencer overcomes all odds
As a voice for students, Class of 2023 graduate Spencer overcomes all odds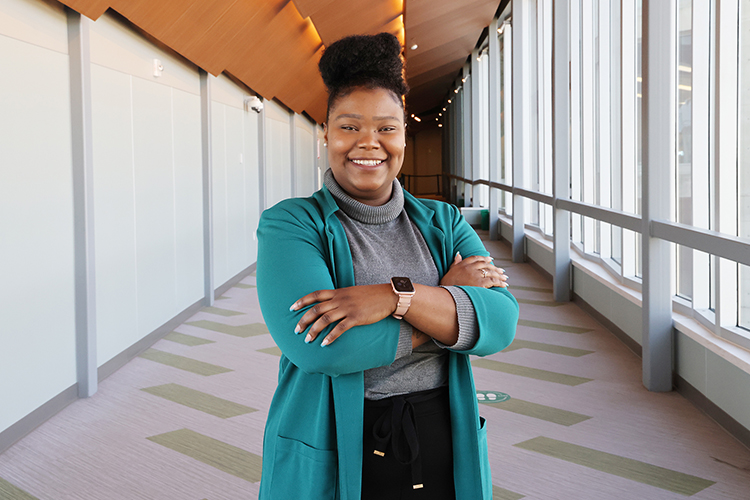 05/12/2023
The Community College of Rhode Island is where students of all ages and backgrounds come to find a clear path to a high-quality education.
Few travel the road faster or make a greater impact than Ana Duarte Spencer.
The 24-year-old Cape Verdean immigrant crosses the stage this year as a first-generation college graduate, completing the first part of a journey that began seven years ago when she immigrated to the United States by herself to discover her own voice – leaving behind a culture where women haven't always had that luxury.
From working three jobs at a time to make ends meet – unable to afford WiFi in her home – to testifying at the Rhode Island State House in front of finance committees in support of education reform, Spencer is now a staunch advocate for students like herself.
And her journey is just beginning; with her associate degree in General Studies from CCRI, the Central Falls, RI, resident will transfer to Rhode Island College in the fall to pursue her bachelor's degree in Business Administration and Accounting.
"I represent a lot of different students – women, immigrants, students of color, adult learners, people from low-income communities," said Spencer, who in her only year at CCRI served as a Student Representative on the Council on Postsecondary Education, where she worked as a liaison between students and administrators.
"When people see me, I want them to think, 'If she can do it, so can I.'"
Spencer's path to an education began when she immigrated to the United States at 17. Unable to afford college, she worked multiple jobs to survive – cleaning jobs, fast food restaurants, and anyone else hiring – only to find herself unemployed amidst the pandemic.
With her pursuit of an education losing momentum, she enrolled in 2021 at Year Up Rhode Island, a free one-year program that provides under-served young adults with a combination of hands-on skills development, coursework eligible for college credit, corporate internships, and wraparound support.
Since the program was full time, Spencer couldn't work as often, but she received much-needed help from RI Reconnect, a free service launched by the Rhode Island Office of the Postsecondary Commissioner (RIOPC) during the pandemic.
Through RI Reconnect, Spencer received financial assistance that helped her purchase a laptop, pay her rent, defray transportation costs, and install WiFi in her home for the first time. RI Reconnect's educational navigators also ensured her credits would transfer to CCRI, where she enrolled in the Fall of 2022 to earn her business degree.
With newfound confidence and a clear path to her degree, Spencer became a much more vocal advocate for higher education and the myriad programs that assist students who need help along the way. As her voice grew stronger, others took notice; Spencer was invited to speak at a CCRI Foundation board meeting and soon earned a seat on the Council on Postsecondary Education as a Student Representative in May of 2022, where she met monthly with other council members and college presidents to discuss important student issues. In March, she testified in front of the House Education Committee at the State House to share her story on how Year Up, RI Reconnect, and CCRI gave her the support and peace of mind needed to further her education.
"What I love about CCRI is they were very engaged with me from the beginning," Spencer said. "I am who I am because of the people I've met along the way. At CCRI, I had a mentor who helped me, explained the career paths to me, and helped me map out all the steps to get my degree and transfer seamlessly."
Amidst the pandemic, Spencer also worked part time as a Behavioral Therapist for Amego, Inc., a non-profit that supports people with autism, and a Residential Counselor for Saint Vincent's Services in Fall River, MA, before landing an internship in the Accounts Payable department Amica Insurance.
Working in business- and finance-related fields sparked a new interest for Spencer, whose growing passion for understanding and teaching financial literacy led her to Fidelity Investments, where she's spent the past eight months as a Brokerage Client Experience Operations Representative. In that role, she communicates with customers, teammates, and carriers to support investors' accounts. As someone who has lived on her own since she was 20 and did not understand financial literacy while working three jobs to pay the bills, she also volunteers her time with Fidelity to speak to people from underrepresented communities about the importance of proper money management and avoiding debt.
Spencer sees herself working many years at Fidelity, not only inspiring a new generation of college hopefuls who've walked in her footsteps, but also inspiring women back home in Cape Verde to face their fears and let their voices be heard.
"There are a lot of women who feel they're stuck, or that their opinion doesn't matter. That's just the mindset that's been instilled from a long time ago," Spencer said. "Some don't pursue their education because they don't think it's worth it. Things have gotten better, but there's still work to do, and I hope my story can inspire others to pursue their own dreams."
Share on Social Media