Grad Walk provides Class of 2021 the ultimate commencement experience
Grad Walk provides Class of 2021 the ultimate commencement experience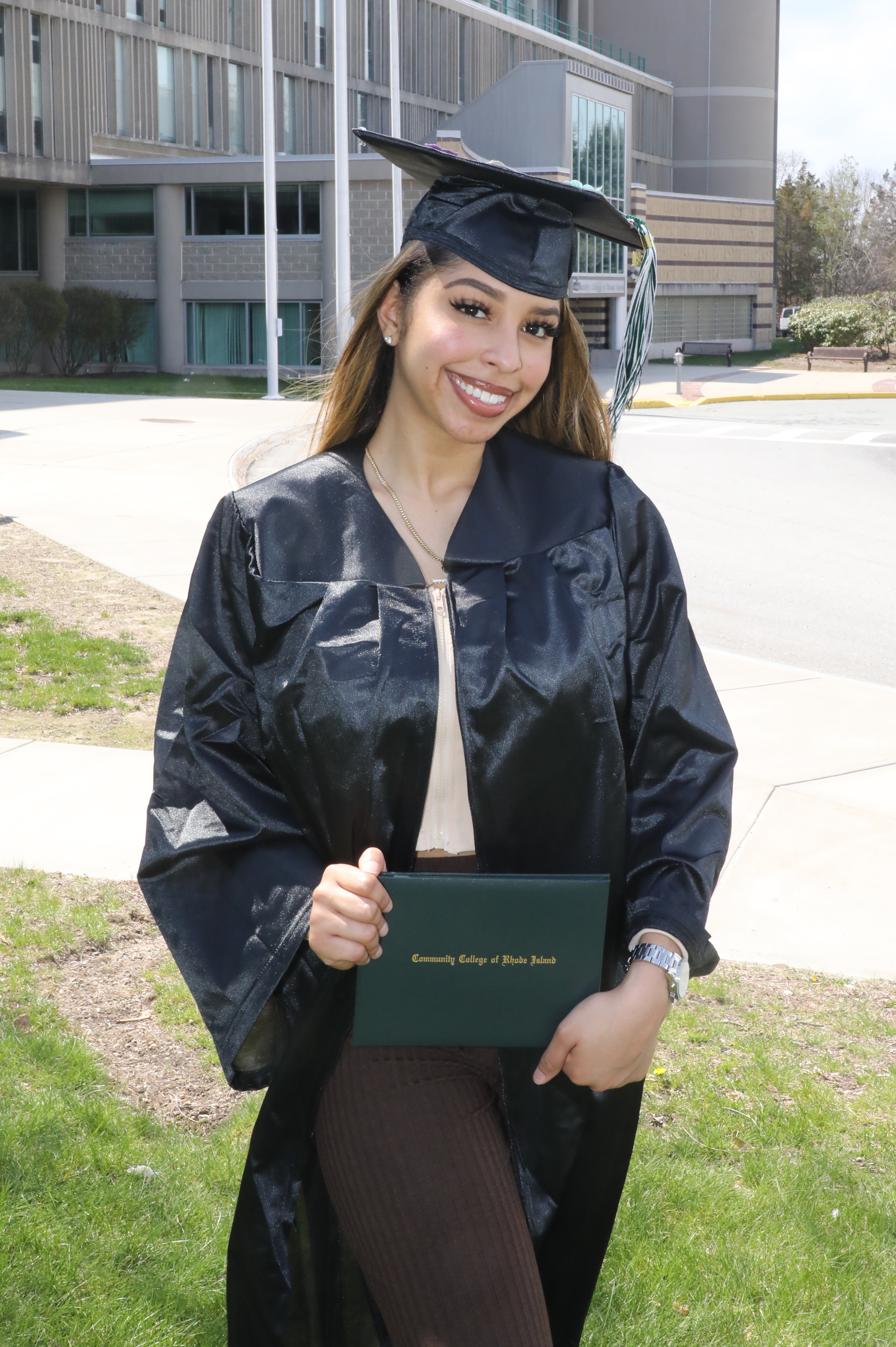 April 28, 2021
For more than 600 Community College of Rhode Island graduates, this year's Grad Walk was a small slice of normalcy in an otherwise abnormal year.
With the pandemic still prohibiting large gatherings, the Class of 2021 cannot assemble for a traditional commencement ceremony, so the college instead arranged its first Grad Walk, which is exactly what it sounds like – an opportunity for students to walk across the stage in their caps, gowns, and regalia to receive their diploma cover.
Over the span of six days at the Knight Campus' Great Hall, graduates of all ages and backgrounds crossed the stage wearing smiles as bright as the sun, many with guests in attendance to cheer, take photos, and commemorate a remarkable achievement in which many students had to shift gears more than a year ago with the sudden transition to online learning.
The Grad Walk is the centerpiece of this year's Virtual Commencement on May 21, which also includes a custom slide honoring each Class of 2021 graduate in addition to speeches from President Meghan Hughes, distinguished guests, and the 2021 student commencement speaker, Nursing graduate and president of the Alpha Delta Ny Nursing Honor Society Jeremy Servant. More importantly, it was a tangible moment allowing graduates to formally celebrate the end of a challenging journey that perhaps meant a little extra to this year's class, whether it was the adult learning returning to the classroom in search of a new career amidst the pandemic, or the recent high-school grad ready to continue his or her education at a four-year college.
Jennifer Angelo, a 37-year-old North Smithfield native and Special Education / Elementary Education major, wasn't sure the college would offer an option for 2021 outside of the virtual ceremonies that have replaced traditional graduations since the pandemic.
"This was pretty awesome to be able to come in with some family and walk across the stage and get a little video," said Angelo, who will transfer to Rhode Island College in the fall to pursue her bachelor's degree.
"The professors at CCRI were great with adapting the curriculum and making the best of a very strange situation."
Colleges throughout the country wrestled with a myriad of options for their 2021 commencement, some choosing to remain virtual while others opted for a more unique approach. Sacramento State University is hosting a drive-through commencement in which graduates remain in their vehicles for most of the ceremony. Many have opted for an outdoor commencement, and even those vary depending on whether or not public gathering limitations allow for family members to attend.
What made Grad Walk unique at CCRI is graduates were allowed to bring up to four guests, an important footnote for 32-year-old Kari Scholle of North Kingstown, a Business major with a concentration in Entrepreneurship, who attended with her youngest son, Caleb. Scholle did not finish high school and instead earned her GED more than a decade later at the age of 30 before enrolling at CCRI two years ago. She, too, plans to continue her education.
"For me, it was a big deal to walk the stage," Scholle said, "and it meant a lot to have my family here. A huge part of the graduation ceremony itself is having those who have supported you along your journey be a part of that."
Like Scholle, others never had the chance to embrace and experience a commencement ceremony until now. East Greenwich's Halima Ibrahim, an 18-year-old Art History major, Phi Theta Kappa member, and the Knight Campus Student Government President, was forced to drop out of high school due to the lingering effects of Lyme disease and other illnesses. She completed her GED in 2019 and enrolled in CCRI the following semester as a Rhode Island Promise scholar.
"When the pandemic hit, I was sad about the possibility that we wouldn't be able to cross the stage because I never really got that grad experience," Ibrahim said. "Part of my motivation was knowing at the end of my two years I'm going to be able to walk across that stage. For a while, I thought it might not happen, so this is awesome. When I finally got to that stage, I said to myself, 'This is real!'"
In some rare cases, graduates not only attended Grad Walk with family members, but actually crossed the stage with them. Twenty-year-old Emily Johnson of North Kingstown, a Wildlife Conservation Biology major, graduated alongside her mother, Jennifer, who returned to college following an eight-year absence to finish CCRI's Certified Nursing Assistant program. Walking alongside Emily was particularly important for Jennifer – "it's a mom thing," she said – considering the two motivated one another during an unusually challenging academic year.
Emily – a Promise scholar and one of three siblings in her family to graduate from CCRI – will transfer to the University of Rhode Island in the fall while her mother prepares to reenter the workforce.
"CCRI is a great stepping stone to a four-year university," Jennifer said. "There's no need to pay so much more money to get the same level of education."
College, for many, is also an opportunity to build lasting friendships through shared experiences, which often culminates with an appropriate celebration at commencement. Nursing students Zoila Nunez of Lincoln and Victoria Curran of Coventry met during clinicals and endured all the peaks and valleys together, including battling COVID in November. They've since been fully vaccinated and celebrated their achievement together at Grad Walk as they prepare for the next chapter in their journey.
"I'm just glad we had the opportunity to experience this," said the 35-year-old Nunez, who plans to continue her education in the fall, most likely at URI.
Curran, 30, credits CCRI with helping her rediscover her passion for learning and bouncing back at the onset of the pandemic. She also noted the one-of-a-kind essence of the Grad Walk and how it will be remembered for years to come once CCRI – and colleges nationwide – return to traditional, in-person commencement ceremonies.
"It was super important for me to walk the stage," Curran said. "It'll definitely be interesting in 50 years looking back at photos and seeing everyone in masks."
Latest News
Upcoming Events