Years removed from college, aspiring social worker finds her groove at CCRI
Years removed from college, aspiring social worker finds her groove at CCRI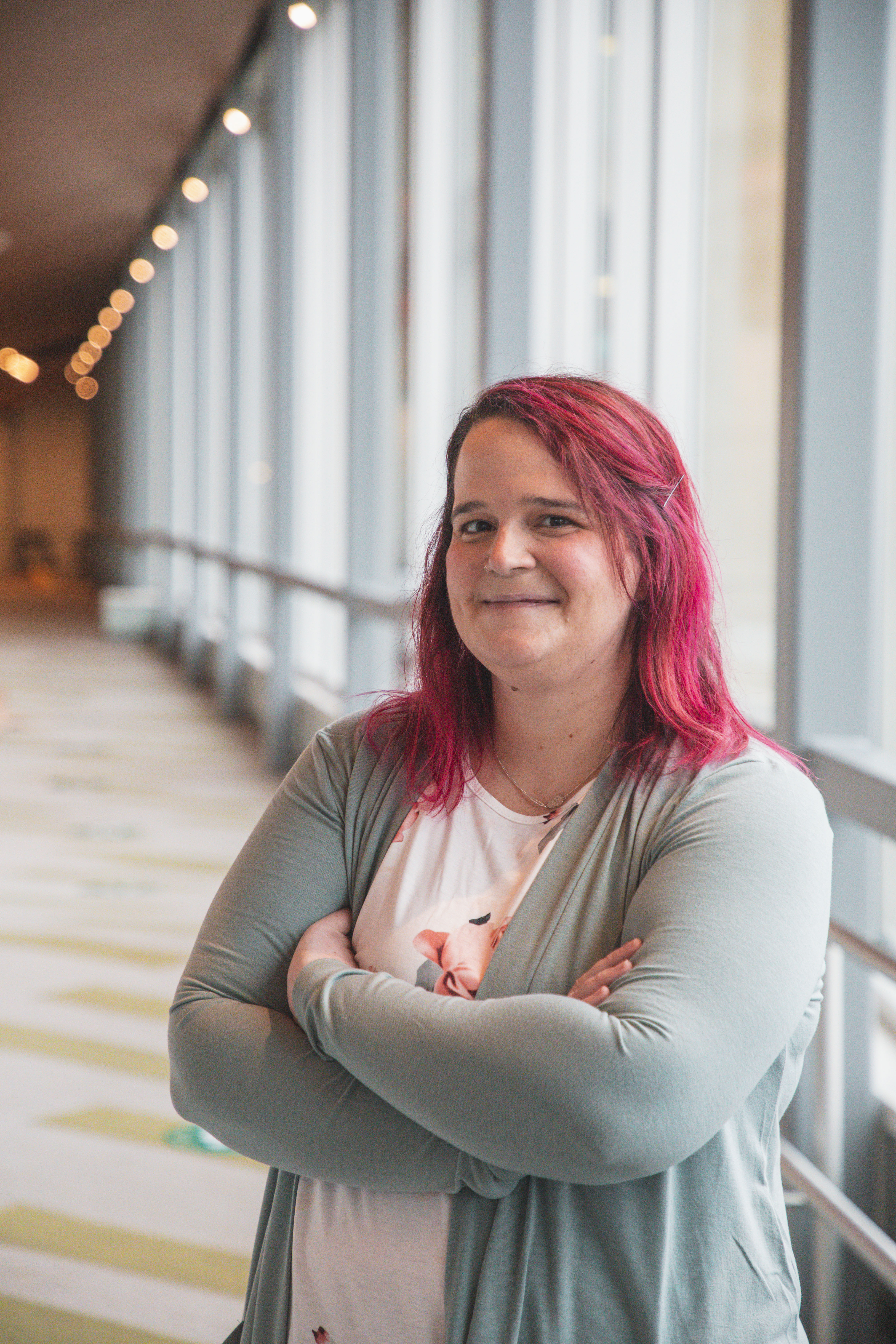 November 18, 2020
In assessing her time at the Community College of Rhode Island, Keri Giacomini echoes a sentiment familiar to anyone who's graduated from the college in recent years.
"I can't say enough about how the professors here truly want you to succeed," said the 37-year-old Riverside native and aspiring social worker.
As an adult learner reentering the classroom for the first time in more than a decade – all while battling Crohn's disease and raising a small child at home – Giacomini has taken advantage of every available resource at CCRI over the past three years, from Disability Services to the college's newest endeavor, TutorMe.
What proved to be the most impactful was the one-on-one time both in and out of the classroom with her professors, those who truly understood her passion for helping others and knew how to channel that desire toward a career that works best for her.
As she finishes up her final semester in anticipation of transferring to Rhode Island College in the spring to earn her bachelor's degree, Giacomini admits she's "sad" to leave CCRI behind, but excited – and thankful – for the opportunity to continue her education, something she never imagined would be possible in her late 30s.
"Even though I have been here for three years, I feel like it's flown by," she said. "CCRI has done so much for me, and I want to stay involved. I hate when people say it's just a community college. No. That's not how I look at it. CCRI gave me a really strong foundation and the confidence to move on to a four-year college."
Like many adult learners who return to the classroom later in life, Giacomini initially enrolled in college directly out of high school, spending a year and a half between Anna Maria College in Paxton, MA, and Roger Williams University. With no true passion for any particular field of study – and mounting tuition bills – she left college and began working a handful of part-time jobs.
Then, as Giacomini put it, "life happened." While Crohn's disease is a lifelong condition, it isn't continuously active, so there were times when Giacomini felt perfectly fine followed by bouts of extreme fatigue, a fever, or loss of appetite. The disease affected her ability to stay focused in college and led to a number of surgeries through the years, most of which prevented her from pursuing full-time work, or a career.
Everything changed in 2016 when Giacomini's 80-year-old grandmother passed away due to complications from pneumonia following open-heart surgery.
"She was like a mother to me," Giacomini said. "I promised her I would get my degree. I knew she would want me to."
While spending long hours at her grandmother's bedside for nearly six weeks, Giacomini closely observed the social worker assigned by the hospital to assist the family throughout the process – everything from acting as a liaison between her and the medical staff to bereavement counseling. They developed a close bond; the social worker spent time getting to know Giacomini and her husband, and even sat beside them at the hospital during long visits, sometimes in complete silence, just to provide emotional support. He also linked Giacomini to an outpatient clinician to help her cope with her "rollercoaster of emotions." His work inspired her to rethink her future.
"It was really admirable to see a person care so much about someone they didn't even know," she said. "I decided I wanted to go into the human services field for myself."
With its affordability and flexible class schedule, Giacomini chose CCRI as the starting point for her new academic journey. Intimidated at first – "I didn't know how I would be perceived by classmates," she said – Giacomini soon became immersed with everything the college offered, from its on-the-spot advising counseling to the accessibility of its professors, many of whom helped Giacomini through those initial periods of self-doubt while she readjusted to a traditional classroom setting. Once she decided to focus specifically on social work, particularly helping those with mental health issues, her advisors guided her down the correct path, detailing which courses she needed to take.
"They were extremely supportive," Giacomini said.
When her medical condition threatened to derail her, CCRI's Disability Services for Students helped her stay on track; during one particular summer session, she wound up hospitalized due to complications from Crohn's, so her professor released her work ahead of time so she could finish on her own schedule. With a two-year-old son at home, she also leaned heavily on TutorMe, a new program launched this fall that offers students 24-hour virtual access to a database of qualified tutors.
"I hadn't taken a math class in a very long time, but had to this semester," Giacomini said, "and because I have a two-year-old, I can only do work when he sleeps, which is usually at night. Having that availability through TutorMe has been very helpful. I logged on and was matched with a tutor within 10 seconds."
Shortly after narrowing her focus on social work, Giacomini began one of three internships at Community Care Alliance in Woonsocket, which allowed her to shadow clinicians, nurses, substance abuse specialists and peer specialists, and eventually manage a small case load of her own clients. Two years ago, she became a Certified Peer Recovery Specialist and worked for the next year at the BH Link Crisis Center in East Providence. The experience, she says, will put her ahead of the curve when she continues her journey at RIC.
From not knowing where life would take her to now navigating a successful path to a new career, it's been a long, winding road for Giacomini, who, like many adult learners before her, is "grateful" for everything CCRI has provided over the last three years.
"I never thought I'd be here," she said. "When I went to college right out of high school, I was majoring in communications because I was a good writer and figured, 'Hey, it's something.' Did I have a passion for that? No. I have a passion for this, and CCRI has made me a better student. I want to show my son when he gets older that it doesn't matter how old you are. If you're passionate about it, just go for it."
Latest News
Upcoming Events