Contact Information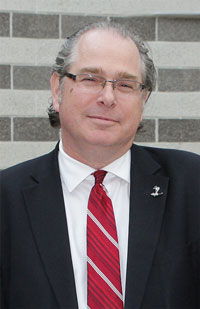 Dr. Greg Lamontagne
VP for Academic Affairs
Tel: 401-825-2142
glamontagne@ccri.edu

Carol Thompson
Executive Assistant
Tel: 401-825-2142
Fax: 401-825-2276

The Office is located in room 4226, Knight Campus, Warwick, RI

Donna Mesolella
Academic Affairs Coordinator
Website Content Manager
dsmesolella@ccri.edu
About the Vice President
Dr. Greg Lamontagne's extensive career in academic and administrative positions at two- and four-year colleges in the Northeast has uniquely prepared him to lead CCRI's Division of Academic Affairs. He has provided academic administration for a number of institutions of public higher education including Bunker Hill Community College, North Shore Community College, Salem State College, and Niagara County Community College, while his instruction in linguistics has served students at UMASS Amherst, Rutgers University, the University of Toronto, and the University of British Columbia.
Lamontagne's advancement of new programs that met employees' needs and provided student employment opportunities, development of grants that funded new and expanded educational opportunities for current and transitioning college students, and expansion of information technologies in college classrooms, as well as his own experience as a first-generation college student, have provided him with the experience and passion to provide Rhode Islanders with the skills and knowledge they need for lifelong growth in today's diverse and high-tech world. His priorities include expanding innovative teaching and learning practices, engaging and supporting students through alternative education opportunities and partnerships with faculty, building collaborations between CCRI and the community, and developing outcomes that measure and promote success for all students who enter CCRI.
Lamontagne holds a doctorate in linguistics from the University of Massachusetts and a bachelor's degree from McGill University.
This page developed and maintained by Office of the Vice President for Academic Affairs. Send comments and suggestions to dsmesolella@ccri.edu .