CCRI Players Present Antony & Cleopatra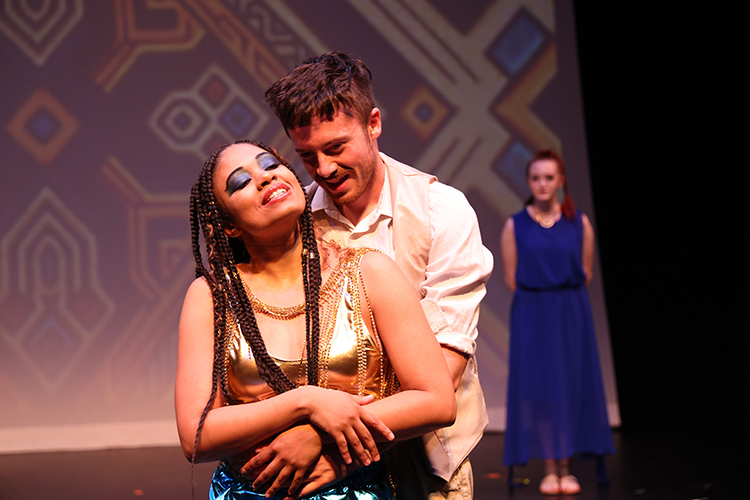 CCRI Players Present Antony & Cleopatra
The CCRI Players present Antony & Cleopatra, the epic love story that moved the events of ancient empire, as part of CCRI's Summer Repertory program at the Bobby Hackett Theatre in Warwick on August 3 – 6.
Directed by Ronald K. Lewis, this modern-day adaptation of William Shakespeare's Antony & Cleopatra is a tale of the tragic romance of one of history's greatest love stories which utilizes the convention of comedy to explore the absurd but real circumstances of the titular characters. At the heart of this myth and history are two important themes: the notion of African women as sovereign rulers, and the West's dependency on the non-West's resources, particularly to maintain world order. Egypt in 30 BCE was the breadbasket of Rome. Without Egypt and her grains, there would be no Rome. The love of Mark Antony and Cleopatra is ultimately bound to the absurd in that their love is doomed from the start as it is caught up in the power struggles of dominance, subjugation, allegiance and survival- something that neither character does. Shakespeare wittingly points the audience to the preposterous and tragic notion that in death, not in life, both Cleopatra and Mark Antony are ultimately free to love, and to be remembered across time as lovers.
Performances are scheduled for Thursday, Friday and Saturday at 7:30 pm with matinee performances on Saturday and Sunday at 2 pm. Tickets for Antony & Cleopatra are priced at $20 for general admission and $15 for students, faculty, and seniors. To purchase tickets, go to https://www.showtix4u.com/event-details/75718.
Check out the gallery of photos from the Antony & Cleopatra dress rehearsal.
Share on Social Media