Off The Cuff: Nursing Honor Society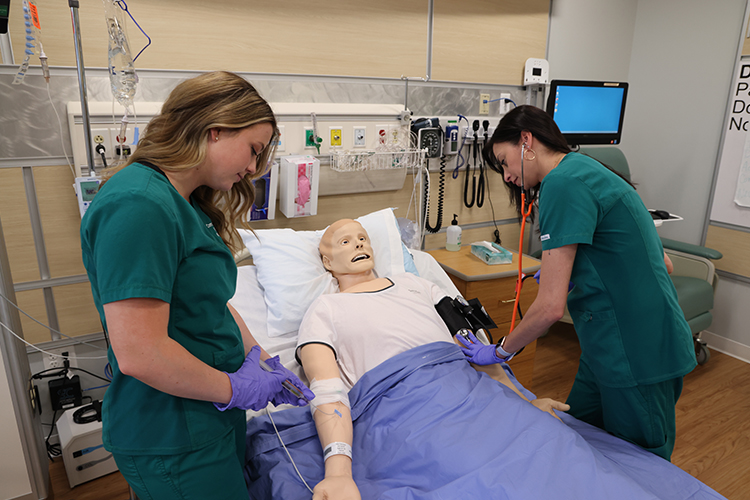 CCRI student nurses and Nursing Honor Society members Timmary Main, left, and Chantel Goncalves spearheaded this year's Nursing Honor Society Project.
05/01/2023
Our CCRI faculty, staff, and students are a diverse group with many fascinating hobbies and interests that keep them busy during their free time off campus. In "Off The Cuff, we profile a member of our CCRI family to find out what makes them tick. Hopefully, their stories inspire others and help us develop new connections and friendships within the CCRI community.
CCRI remains the state's only public associate degree-registered nursing program with seamless options to become a certified nursing assistant and licensed practical nurse, and one of the many benefits of enrolling at the college to pursue a nursing degree is the opportunity to join CCRI's Gamma Lambda Chapter of the Alpha Delta Nu Nursing Honor Society.
Alpha Delta Nu Nursing Honor Society aims to recognize the academic excellence of associate degree nursing students and encourage students to pursue advanced nursing degrees. To be eligible, students must maintain a minimum 3.0 grade point average, with at least a B in all nursing classes and demonstrate conduct on campus and in the clinical areas that reflects integrity and professionalism.
Each year, Alpha Delta Nu closes out the academic calendar with its annual Nursing Honor Society Project based on a topic the students pick themselves – anything related to health education or the recruitment of nurses into the profession. Students print flyers discussing the topic, which are distributed at all campuses, and share additional information via social media to initiate the conversation. This year, the students' topic is "Living Organ Donation," which explains the benefits of donating organs to benefit the more than 100,000 people in the United States currently on waiting lists for life-saving organ transplants.
In today's "Off The Cuff," we catch up with Assistant Professor of Nursing and Nursing Honor Society Faculty Advisor Julie Resendes and Alpha Delta Nu members Timmary Main and Chantel Goncalves for more on their chapter and the inspiration behind this year's Nursing Honor Society Project. Also, check out their official flyer for more on how you can help this cause.
How are students selected for Alpha Delta Nu and how do they choose a topic for their project?
JR: The national nursing honor society of the Organization for Associate Degree Nurses (OADN) is called Alpha Delta Nu and our CCRI Chapter is called Gamma Lambda. Each semester, I send invites to fourth-semester students who have a GPA of 3.0 or higher and have earned grades of a B and above in all nursing courses. The students who accept the invitation then vote on a President, Vice President, and Secretary each semester. For the project, the group chooses a topic they are passionate about; per the OADN, it must be geared towards health education or nurse recruitment.
How did the students settle on this year's theme?
CG: This year's theme was developed because of a family member that is in end stage renal failure on peritoneal dialysis and desperately seeking a kidney transplant. In doing research on becoming a donor, I discovered that there are many other organs and tissues that can be donated by a living donor, and in doing so decreasing the wait time for an organ and increasing the number of lives saved from organ donation. Most people are aware that they can donate their organs when they pass away, but many people do not know of their ability to donate while they are alive and that is why it is important to bring awareness to this cause.
Are there misconceptions about being an organ donor, and, if so, are you hopeful this project helps raise awareness?
CG: There are several misconceptions about being a living organ donor such as: donating an organ will reduce the life expectancy of the donor, out of pocket expenses of the donor will be too high, and that the donor needs to be a family member of the recipient. We are hopeful that our project will help to clear up these misconceptions as well as provide additional information that would encourage more people to become living donors.
What are some of the benefits of accepting an invitation to CCRI's Alpha Delta Nu chapter?
TM: Being accepted into Alpha Delta Nu is a life-changing experience. Some of the biggest benefits are building friendships and collaborating with students from different campuses, creating a project that will make an impact on your community, recognition for academic excellence, and standing out among your peers for scholarship opportunities. If you are fortunate enough to earn an invitation to Alpha Delta Nu, I absolutely recommend joining and taking advantage of all the benefits.
We would love to hear your story, too! Email us at [email protected] if you'd like to be featured in a future edition of "Off the Cuff" or want to nominate a fellow colleague or student.
Share on Social Media