Grad discovers passion, gift for performing
May 15, 2019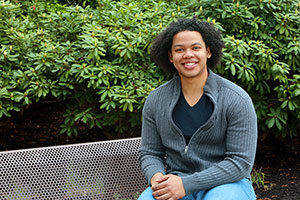 Luis Ramos Minaya grew up in the Dominican Republic, by no means wealthy, but blessed with the most positive role model anyone could ask for.
He watched his mother – one of 11 children in her family, forced to leave school at the age of 7 to take care of her siblings – raise him on her own, working tirelessly to make sure he had everything he needed.
The work ethic that defined his mother's life at a young age rubbed off on Ramos, who completes the first phase of his improbable journey this week when he graduates from the Community College of Rhode, becoming the first in his family to do so. He will transfer to Rhode Island College in the fall to study musical theater.
"I always saw the importance she placed on education," he said of his mother. "If I didn't have the right education, my life would be harder right now."
When his mother brought the family to the Rhode Island in 2013 after spending two years in Puerto Rico, Ramos Minaya could barely speak English. At the age of 17, he began taking ESL courses at CCRI so he could attend school full-time. He eventually enrolled through the college's Joint Admissions Agreement (JAA) program to pursue his passion for the performing arts.
That was only part of the journey. He also went to work within months of arriving in the United States to help support his mother and younger brother, who is autistic. He started at McDonald's and eventually earned a full-time job working overnight shifts from 11 p.m. to 6 a.m. six days a week at the Seasons Corner Market in Johnston, a position he kept despite his increasing workload at school. On top of that, he worked part time in the Admissions and Counseling offices at CCRI's Liston Campus in Providence during his final semester, all while continuing his commitment to the school's theater program.
Performing on stage at CCRI's Bobby Hackett Theater was an escape from his everyday routine. He realized he had the natural ability to sing at an early age when he performed a Mother's Day poem as part of a chorus in front of his classmates at school but, because theater wasn't popular in the Dominican Republic, he suppressed his passion for acting until he and his family arrived on U.S. soil. Once he discovered musical theater, he began studying intently, poring over popular works such as "The Phantom of the Opera."
"The songs were beautiful, and, at the same time, they told a story," he recalled. "I thought to myself, 'Oh my God, this is it. This is what I want to do.'"
At CCRI, he earned the lead role in the program's production of "Zanna, Don't!" and also landed a tremendous opportunity performing in the Gamm Theater's production of "Night of the Iguana," allowing him to work and learn alongside professional actors at the top of their craft. He is also in call-backs for the Gamm's season-opening production of "Assassins" and is working on upcoming performances with The Wilbury Theatre Group in Providence.
"The schedule was very overwhelming at first," Ramos said. "It took me a couple of weeks to get on track and learn to be more organized."
School always came first, and his mother made sure of that. One of her brothers in the Dominican Republic contemplated dropping out at the age of 13 to help support their father, who had health issues. Ramos Minaya's mother, 26 at the time, insisted he finish high school. He was the only one among 12 siblings to do so. Now he will be the first to earn a college degree when he crosses the stage this week at The Dunkin' Donuts Center.
"I knew I needed to get to the highest level I could," he said. "That was always a priority for me. I always valued the power of learning and education."
With support from his mother, and an infectious attitude that rubbed off on others, Ramos survived his difficult, sometimes exhausting, odyssey at CCRI to earn an associate degree in general studies. He thanks his mother – his "hero," as he calls her – and continues to push through those long overnight shifts and early-morning classes knowing there could be someone somewhere else going through the same thing he did. Perhaps he will be someone else's hero someday.
"Having a positive attitude is what got me through day by day," he said. "It gave me the energy to do all the things I try to do. You have to not only think about yourself, but the people you set an example for. I just want to purse that feeling of happiness, success and fulfillment. I'm just doing what makes me happy."