Promise Scholar heading to URI to study computer science
May 17, 2019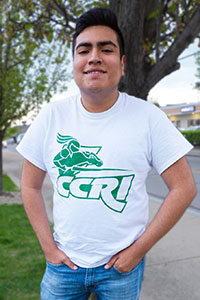 The Community College of Rhode Island's innovative Promise Scholarship plays an important role in strengthening the culture on all four campuses.
In addition to offering free tuition for two years to incoming high school students, the scholarship also offers faculty and staff the unique opportunity to shape the future of some of the state's brightest students, many of whom wouldn't have the chance to earn a degree without such financial flexibility.
Meet Brian Imana, a sharp, intuitive computer science whiz from Providence who found himself with no clear path to college despite graduating from Barrington Christian Academy with high honors. The possibility of accruing excessive student debt made him wary of attending an expensive four-year school, but he knew he couldn't waste such potential.
When his father told him about the Promise Scholarship, Imana enrolled as part of CCRI's first wave of new students in 2017. Two years later, he walked the stage at CCRI's 54th commencement ceremony Thursday at the Dunkin' Donuts Center, the first in his family to graduate college. He will transfer to the University of Rhode Island through the Joint Admissions Agreement (JAA) and continue studying computer science.
"CCRI has helped me so much," Imana said. "I don't know where I'd be without the Promise program."
Imana attended two high schools, both private. His first school, the Masters Regional Academy in Smithfield, closed after two years, forcing him to transfer to BCA. Once the initial shock of having to relocate wore off, Imana emerged as one of the top students in his class. His parents worked overtime to help pay his tuition, his mother working long hours at a factory in Warwick while his father handled multiple roles at Calise Bakery in Lincoln.
An active student at both schools, Imana excelled at math, taking Advanced Placement courses at BCA to prepare himself for a standard college course load. He had one school on his radar – Roger Williams University in Bristol – but decided to go in a different direction.
"My issue was paying back all my debt," Imana said. "What do I do? When my father recommended CCRI, I thought, 'Why here?' but I knew I couldn't pass this up."
The opportunity to attend CCRI on the Promise Scholarship not only gave Imana the chance to earn an associate degree without having to pay tuition, it allowed him to explore the college's expansive curriculum and find his true calling.
While math was always on the front burner, he eventually segued to computer science upon the recommendation of CCRI Computer Studies Department Chairman Michael Kelly, who felt it would be a better career move for Imana in the long run.
With help from his advisers, Imana made a seamless transition to his new area of study and, because he didn't have to work as many hours outside of the classroom to pay his tuition, he became more active on campus.
Imana worked as a New Student Welcome Day Leader and a tutor at the college's new Math Emporium, both of which allowed him to interact with classmates and break out of his shell. He offered key advice to incoming Promise students and helped others who struggled with math to get over the hump. Not having to maintain a rigorous work schedule also helped Imana excel in the classroom, which would've been a challenge without the benefit of the Promise scholarship.
"It was just easier for me to concentrate on my studies without having to struggle or worry about debt," he said.
"Getting involved on campus was important to me. I met a lot of new Promise students at Welcome Day. I told them what it was like for me. I'm really happy they heard my story. It made me feel better about myself."
The opportunity to attend CCRI on a scholarship gave Imana the chance to become an active member of the community, and those around him benefited from his wisdom. With a new career path and a bright future ahead of him, Imana is now a firm believer in everything CCRI has to offer to young students looking to write their own chapter.
"A couple of semesters were tough, but I made it through," he said. "I would encourage parents and recent high school graduates to choose CCRI. There are a lot of great opportunities to help out other students. I feel really accomplished. I'm happy my path began here."