Grad wants to use life experiences to guide others who have faced abuse
May 15, 2019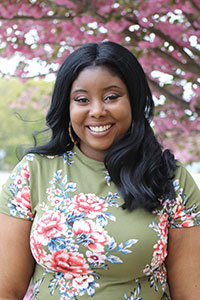 Jaylani Henderson's path to success started with a rather simple revelation: She learned to invest and believe in herself.
After spending most of her life helping others who didn't always have her best interests in mind, the 28-year-old Cranston resident graduates from the Community College of Rhode Island this week before transferring to the University of Rhode Island to study psychology, using her tumultuous childhood experiences to rescue those drowning in their own self-doubt.
"I am choosing me first," Henderson said. "That's the one thing that gave me courage and it will give them the courage, too. You have to realize, 'I am worth something.' It all comes down to self-respect."
Henderson didn't understand this concept growing up, mainly because of her surroundings. At age 4, she left her native New York with her mother and older sister and moved to Rhode Island to escape the physical and mental abuse of her father. They lived with her aunt until her mother could afford her own apartment. "Things were amazing," Henderson said, but by the time she started high school at Cranston East, her father had already "pushed his way" back into their lives. The situation worsened as her father's abuse continued to take its toll on the family, which now included Henderson's younger brother, born in 2000.
"Behind closed doors, nothing changed," she said, "He just became smarter about how he would abuse my mother, and as we grew older it became more verbal. Everyone was at his mercy. I lived my life in fear every day."
Henderson's grades slipped and she found herself with limited options after graduating from high school. She wanted to attend college in Florida to become a chef, but those plans fizzled, she said, when her father refused to help with tuition.
"I starting thinking school might not be for me," Henderson said. "I knew I was a good student, but I never had the opportunity to just focus on school."
Henderson packed her belongings and rode a bus to Ohio to live with an aunt. She tried to apply for financial aid to attend community college, but tax issues squashed that dream, so she decided to go back to work to save money.
When her aunt lost her job, Henderson's new living arrangements soured; she again found herself putting others first, quitting her job to help out around the house. As their money problems worsened, so did the relationship between her aunt and her aunt's fiancé, leading to added stress in the household. Henderson slowly slipped into depression, losing close to 30 pounds before her sister wired her enough money to leave Ohio and move back to Rhode Island.
"I wasn't going to go through with this anymore. I was tired of seeing men take advantage of women," she said. "I didn't know who I could trust."
Henderson worked several jobs before finding her true calling. She tried her hand as a certified nursing assistant after completing the noncredit program at CCRI in 2014 and even decorated cakes at Shaw's Supermarket, but when wrist pain slowed her down, her doctor told her to find a new profession.
A year later, Henderson, now 25, returned to CCRI intent on finishing her education. That was always the goal. She just didn't know what path she'd follow. Suddenly, it clicked: She wanted to help people who had gone through what she endured growing up.
"When I was screaming for help, no one ever took the time to say, 'What can I do for this child?'" Henderson sad. "After a while, I can look at a person and realize, 'Hey, you're off today, and when you're ready to talk, I will listen.' That's when I realized this is what I wanted to do."
Before she could focus on helping others, Henderson had to understand the battle going on inside her own head. She took advantage of CCRI's personal counseling program and was eventually referred to Deborah Ashe, a licensed mental health counselor in East Greenwich who diagnosed her with post-traumatic stress disorder.
"They provide you with everything you need to succeed," Henderson said of CCRI. "They have so many resources. Use them. I was one of the ones who did. I went on the website. That's how I realized they offered counseling; otherwise I would've never sought help for my mental health."
The clarity allowed Henderson to thrive at CCRI. Her mother had long since been separated from her father – even before she returned from Ohio – finally relieving the tension at home. She will be at The Dunkin' Donuts Center this week to watch her daughter walk the stage, a moment just as important for her as it is for her Henderson.
"This is our commencement," Henderson said. "It's going to be really emotional."
With a greater sense of self-worth, Henderson can now focus on helping others. She wants to counsel children, initiate charities and write books, using her life story to guide those in need down the right path. It all started with believing in herself when no one else did.
"I had so many bad experiences that I always expected the worst for myself," Henderson said. "I was tired of it and wanted to do something about. I didn't know what I had to do to get going, but I knew I wanted more. It took being an adult to finally realize it."