Emergency management grad to become border patrol agent
May 10, 2019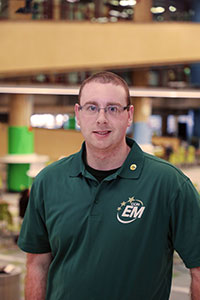 Kyle Dickson wasn't born with all the attributes necessary to pursue his wildest dreams. Vision problems kept him out of the U.S. Air Force. Allergies to specific medications curtailed his journey to become a military policeman.
Down, but not out, Dickson knew he needed to outwork the competition to succeed. This month, the 26-year-old Warwick native finally walks the stage at the Community College of Rhode Island's 54th commencement ceremony.
Two months from now, he'll depart for Artesia, New Mexico, to begin a six-month training course for his new position as a border patrol agent for U.S. Department of Homeland Security's Customs and Border Protection division.
"It's surreal," Dickson said, "but very rewarding."
When Dickson first enrolled at CCRI in 2014, he had no idea he'd pursue a career in emergency management and homeland security. He didn't even know such a degree existed. He was 21 years old at the time, "bummed out" from not being to chase his military dreams, with no backup plan in sight. He tried his hand at firefighting, volunteering in Scituate for a few years, but found it to be monotonous.
"It wasn't as satisfying as I thought it'd be," he said. "I hated sitting around the station waiting until we got a call. I wanted to do something different. I wanted to be up and moving and active."
Dickson decided to go back to school and ultimately chose CCRI. On his first day, he took home a course catalog, thumbed through the pages and put a star next to majors that stood out. Emergency Management seemed like a perfect fit, so Dickson enrolled in EMER 1020, Bioterrorism and Public Health Emergencies, and immediately fell in love.
"I really enjoyed it, especially the use of diseases as weapons, such as anthrax," he said. "That got my attention, so I decided to stick with it."
Dickson's next step was networking. He joined CCRI's Emergency Management/Homeland Security Club, where he went on a field trip to Washington, D.C., to meet with U.S. senators and sat in on lectures from guest speakers in various fields, including the Federal Emergency Management Agency and Transportation Security Administration.
Following a presentation from a homeland security investigator in 2016, Dickson introduced himself to the agent. The two exchanged contact information. Several months later, Dickson's persistence paid off when the U.S. Customs office in Boston contacted him, a byproduct of his chance encounter with the homeland security agent earlier that year.
The idea of working as a border patrol agent piqued Dickson's interest, but he was still at least two years shy of graduating. He was attending CCRI on a part-time basis, working outside of the classroom to pay his tuition, so instead of applying right away, he began researching the position, chatting with people in the industry via LinkedIn to get a feel for what to expect if he decided to pursue it as a career option.
In October, he officially applied for the job, beginning a rigorous process of interviews and evaluations that tested his mettle both physically and mentally. To further strengthen himself as a candidate, Dickson began taking Spanish classes and hired a personal trainer to work on his conditioning. He passed the physical fitness test and survived an interview with three senior agents in Boston – "by the skin of my teeth," Dickson said.
"On the flipside they said they hadn't seen anyone do as much prep work as I did," he said. "They liked my initiative."
Dickson said he didn't think he'd make it past the initial qualification process because of his lack of credentials, but his hard work paid dividends. He starts his six-month training course in July and from there will accept a position with U.S. Customs and Border Protection in Ajo, Arizona, just 43 miles from the Mexican border.
"My family will miss me, and they have their safety concerns, but they're proud of me," Dickson said.
Why wouldn't they be? Dickson arrived at CCRI five years ago unsure where he'd end up, but never allowed rejection or disappointment to keep him down for too long. He found his calling at CCRI, proving it's never too late to find what you're looking for.
"If you find a career you really enjoy, you'll never work for the rest of your life," Dickson said. "Find something that excites you."