Virtual Dementia Tour gives students better understanding of how to treat dementia
Virtual Dementia Tour gives students better understanding of how to treat dementia
May 31, 2019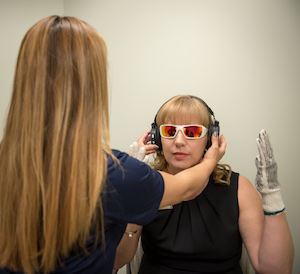 With an estimated 5.8 million Americans currently suffering from Alzheimer's disease, according to the Alzheimer's Association's most recent Facts and Figures Report, the Community College of Rhode Island is increasing its efforts to provide caregivers and healthcare professionals with a better understanding of how to treat dementia.
With support from the R.I. Executive Office of Health and Human Services Health System Transformation Project, CCRI purchased the components for the Virtual Dementia Tour (VDT), a groundbreaking instructional program that offers users a glimpse into the daily lives of those suffering from all forms of dementia. The numbers are startling: Between 2000 and 2017, the Alzheimer's death rate rose 145 percent nationwide, according to the Alzheimer's Association, and reports suggest the number of Americans living with Alzheimer's could more than double by the year 2050.
To provide better care for those suffering with dementia, author and gerontology specialist P.K. Beville created the Virtual Dementia Tour, which is used by more than two million people in 20 different countries worldwide. With its recent purchase of the software, CCRI is the only college in the state of Rhode Island to offer this technology.
"Our elderly are just growing exponentially. They're going to be our largest population, so we really need to understand their specific, complex needs," said CCRI nursing professor Donna Ashworth, one of the faculty members trained as a facilitator to administer the tour.
"The big push is to help us get people who are more aware of what these patients are going through, both the healthcare providers and the caregivers who are taking care of them."
The college plans to offer the tour to CCRI faculty, staff and students on an optional basis and will eventually expand its outreach into the community, allowing caregivers and healthcare professionals currently working in the field to experience it for themselves. Students are not required to participate, but are strongly encouraged.
The goal of the Virtual Dementia Tour is to help those treating patients with dementia to develop a better understanding of what they endure on a daily basis. Creating empathy among current and future healthcare professionals increases the quality of care provided and the quality of life for those who are suffering.
"The Executive Office of Health and Human Services is not only committed to expanding healthcare access to our residents, but also ensuring they receive high-quality, compassionate care," said Patrick Tigue, Rhode Island's Medicaid Program Director. "That's why we are so thrilled to support this unique Alzheimer's disease program. It gives healthcare students insights into this devastating disease and will inform their work as health professionals in our community."
Since the facilitators want users to experience the tour without having prior knowledge of what to expect, the specifics are kept under wraps, but the premise is simple – the technology is designed to alter the senses to the point where completing basic tasks and following instructions becomes difficult and frustrating.
Wearing sensory-altering items, participants are led into a dimly-lit room and are given a list of everyday tasks to finish within a short timeframe, but with impaired vision, hearing and sensation, most find it impossible to complete all of them – or, in some cases, any – in such a short amount of time.
Throughout the tour, many users unknowingly exhibit some of the telltale signs of dementia, from shuffling aimlessly around the room or staring blankly at specific objects, unsure of what they're supposed to be doing. They become disoriented and confused. As a result, some will just do what comes natural; several faculty who participated in CCRI's trial run of the software remember seeing a pile of clothes on a table, but because they couldn't fully hear the instructions at the start of the tour, they began folding the laundry, assuming that's what they were asked to do. That type of impulsive reaction, Ashworth says, is a common characteristic among those suffering with dementia.
"They feel the need to keep themselves busy," she said. "They think, 'There must be something I'm supposed to be doing.'"
The faculty who've taken the tour, some of whom work with the elderly on a daily basis, report a better understanding and more compassion for those living with dementia after struggling with otherwise simple tasks such as winding the hands on a clock or arranging silverware on the dinner table. As Ashworth points out, "We experience it for a few minutes. The patients experience it for the rest of their lives."
"It was very eye-opening," said assistant nursing professor Patricia Kelling, who has worked in the field for 17 years. "I take care of dementia patients all the time and it gives me a whole new outlook, especially with their anger."
Aggressive behavior, both verbal and physical, is one of many symptoms of dementia. During the tour, Kelling struggled with a relatively easy, everyday task and grew increasingly frustrated. She wore a heavy coat, so she started sweating as she fumbled through the assignment and eventually ripped off the jacket in a last-ditch effort to finish before time expired. Kelling used her experience as a teaching tool for her students going through clinicals, especially the ones caring for dementia patients with similar outbursts.
"When I explained to them what I went through with the Virtual Dementia Tour, they said, 'Wow, we never thought about it like that.' Neither did I," she said. "I think anyone that takes care of any type of patient with dementia needs to be go through this to have a better understanding of what they're going through."
CCRI nursing professor Leslie Faraone-Wolff says the tour can be beneficial for both professional healthcare providers – nurses, CNAs, etc. – and everyday caregivers such as sons, daughters or grandchildren whose family members suffer from dementia.
"When our sensory channels are blocked or diminished, we are not able to complete simple tasks," Faraone-Wolff said. "Now you combine decrease in sensory awareness with decrease in musculoskeletal functioning, which can lead to frustration and escalate to behavioral outbursts. Hopefully, this leads to improved care for dementia patients and an increase in empathy for all encountering a person with dementia."
The Virtual Dementia Tour allows healthcare providers in all fields, from doctors to nurse practitioners, to walk in the shoes of the millions of Americans living with dementia. As the number of patients continues to increase, there's a greater emphasis on providing proper care, along with the right mix of patience and empathy.
Once enough faculty members are trained as facilitators, the college can begin its community outreach in hopes that students and professionals will utilize the Virtual Dementia Tour as a useful teaching tool for working with the elderly.
"We can't cure the dementia," Ashworth said, "but we can make their lives more capable by being more understanding."