CCRI celebrates Women's History Month with traveling 'Conscience Quilt' project, presentations
March 6, 2019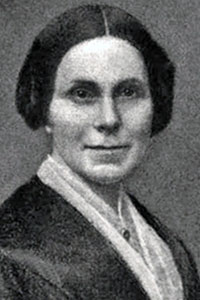 The Community College of Rhode Island will celebrate March as Women's History Month with a series of events at its four campuses.
A highlight of the celebration will be a traveling "Conscience Quilt," in which participants will help build a quilt acknowledging women who shaped their moral conscience. They will learn about Elizabeth Buffum Chace, who is called "The Conscience of Rhode Island" because of her work as an abolitionist, a suffragette and an educator who promoted instructing homeless children.
Those who want to participate in making the quilt will find pre-cut quilting fabric squares and fabric markers. After learning about Chace, they will be asked to write the name of a woman who has acted as a moral conscience in their own lives and why, if they wish. The squares will be added to a large sheet to create the colorful traveling quilt.
The quilt project will be at the campuses from 9 a.m. to 4 p.m. on the following dates: Tuesday, March 19, at the Knight Campus in Warwick; Wednesday, March 20, at the Newport County Campus; Thursday, March 21, at the Liston Campus in Providence; and Wednesday, March 27, at the Flanagan Campus in Lincoln.
Miranda Prescott, program coordinator in the Office of Student Life, which is sponsoring the quilt project, developed the idea after she was asked to think of an activity that would incorporate a Rhode Island woman.
Prescott knew Chace was the first woman to have a bust or portrait in the Rhode Island State House because she had been a tour guide there. After some online searching, she read about an interactive collage another school had created for an event.
"This got me thinking about a building a quilt, since those are associated with women, and how we could create an interactive quilt by having students and staff connect Elizabeth Buffum Chace with women who personally have been a moral compass or conscience in their lives," she said.
Other Women's History Month events include:
"Winning the Vote with Words"
1 p.m. Thursday, March 7, in Room 1130 at the Knight Campus in Warwick
This presentation by Claire Jerry from the National Museum of American History will explore how suffragists organized, spoke and wrote, and how they used their words to gain their right to vote. The event is sponsored by CCRI Gender Equity Initiative in partnership with the Rhode Island Historical Society.
Women in Work Series
1 p.m. Thursday, March 21, in Room 2229 at the Liston Campus in Providence
Brenda Dann-Messier, Ed.D, Rhode Island's commissioner of postsecondary education, will host an informal discussion about her experiences as a woman in the work world. This event is sponsored by the CCRI Gender Equity Initiative.
Salary Negotiations for College Women
5 to 7:30 p.m. Thursday, March 28, in Room 1304 at the Flanagan Campus in Lincoln (please note time and location change.)
The American Association of University Women will host "Smart Start," a dynamic workshop on how women entering a new job after college can best negotiate their salary. This workshop, which will include facilitated discussion and role-playing, is sponsored by the Office of Student Life.