CCRI hires alumnus as veterans resource coordinator
March 1, 2019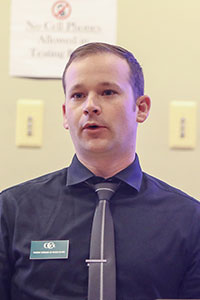 The Community College of Rhode Island has hired alumnus Dennis Cosmo of Cranston, who served in Iraq as U.S. Army Ranger, as veteran resource coordinator.
In this role, Cosmo manages the hiring, training, scheduling and payment validation for 15 student veterans in the VA Work Study program across four campuses and plans and executes college programming designed for military veterans, National Guard members, reservists and dependents who are using Chapter 35 education assistance.
"I look forward to developing the veterans' programming and building a sense of community among CCRI's student veteran population," Cosmo said.
With approximately 400 student veterans, CCRI is the largest student veteran higher education provider in Rhode Island. The college has an active Veteran Services Office whose mission is to assist veterans, service members and dependents in the pursuit of their educational goals by maintaining up-to-date information on collegewide programs and resources.
Cosmo, who expects to graduate from Bryant University with a degree in entrepreneurship/entrepreneurial studies this spring, graduated from CCRI in 2017 with an associate degree in business management and a certificate in entrepreneurship/entrepreneurial studies. He graduated with highest honors and completed the college's Honors Program. He served as president and vice president of the CCRI Student Veterans Organization and was a member of Phi Theta Kappa International Honor Society and Kappa Beta Delta Business Honor Society.
At Bryant, he is founder and CEO of the Bryant Veterans Professional Network, a recipient of the 2018 Jackson W. Goss Prize for Entrepreneurship and was inducted to Omicron Delta Kappa Leadership Honor Society.
Since January 2016, Cosmo served as a VA Work Study partner at CCRI, assisting student veterans applying for education benefits, responding to inquiries about VA education benefits and serving as a liaison between the student veteran, school faculty and the Department of Veterans Affairs.