Former MMA Star Returns to CCRI to Finish his Degree
June 21, 2019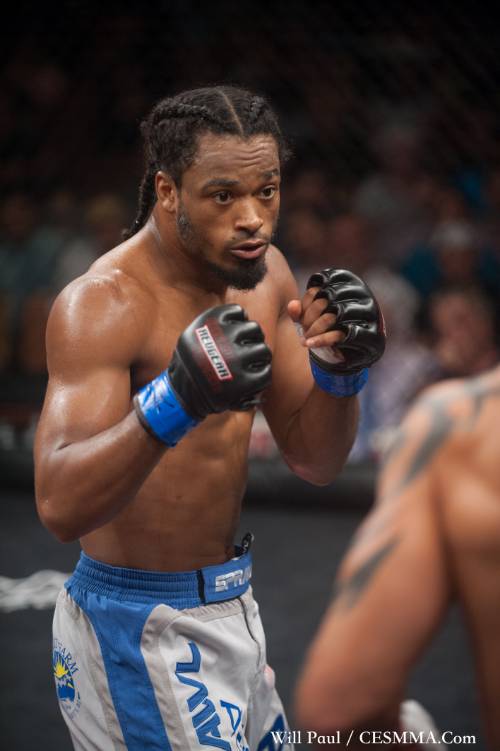 The long walk from the dressing room to the cage failed to unnerve Luis Felix during his decade-long career in mixed martial arts.
Walking across the stage at The Dunkin' Donuts Center to receive his college diploma brought about feelings unlike anything he ever experienced as a fighter.
"I don't get nervous," said the 34-year-old Cranston native, "but that put butterflies in my stomach. That was such a good feeling to step out there. The only thing I can compare it to is stepping out to a fight."
Sixteen years after graduating Cranston East High School, Felix finally earned his associate degree in general studies at CCRI's 54th commencement ceremony, ending a long, winding journey in which the former star wrestler thrived as one of the region's top fighters before finding his true calling as a youth mentor.
Toward the end of his career in MMA, Felix co-founded a non-profit after-school program to teach mixed martial arts to local middle-school students and also worked with children with autism through a partnership with Social Sparks, an emotional learning and therapy center in Lincoln.
Shortly after retiring, he opened Team Rockstar Sports in Seekonk, a sports development center geared toward teaching youth and young adults self-esteem and self-confidence through athletics.
An opportunity to continue working with youth at a higher level ultimately brought Felix back to the classroom. He applied for a position with the Rhode Island Training School in Cranston, which rehabilitates troubled youth detained or sentenced by family court. Despite his experience in the field – "They told me I was more qualified than anyone," Felix said – the state wouldn't hire him because he didn't have a college degree.
Felix attended college on and off after high school, including three years at CCRI in the early 2000s, but never finished, instead choosing to launch his professional MMA career in 2007. Upon learning he needed only one more class to earn an associate degree, Felix enrolled in an online business course this past semester, completed his necessary requirement, and walked the stage in May as part of CCRI's historic class of 2019.
"I always wanted to go back and finish," he said. "My brother also went to CCRI and then graduated from Johnson & Wales with a business degree. I didn't think it was a big deal, but, honestly, when I walked out and saw that atmosphere at The Dunk, it finally hit me."
An accomplished wrestler at Cranston East, Felix enrolled at a community college in New Jersey following high school to continue his career, but returned to Rhode Island after suffering a back injury and spent the next three years at CCRI, where he played baseball from 2005 to 2006. He left CCRI a few credits shy of graduating to again pursue wrestling, this time at Rhode Island College, but that, too, was short-lived, as he became further entrenched in mixed martial arts.
Felix officially debuted on the New England MMA circuit in 2007, scoring a second-round knockout victory on a small show in Worcester. Over the next decade, he won 15 of 24 fights, rebounding from a 2-4 start to become a national contender in the 155-pound lightweight division. In 2012, he fought on pay-per-view – coincidentally at The Dunk – and won what was then considered the biggest fight of his career before debuting on the Mark Cuban-owned cable network AXS TV in 2014.
A year later, Felix won a world lightweight title for Rhode Island-based promotion CES MMA, dethroning champion Julian Lane on national television. Trouble began brewing in 2016 when a knee injury sustained during a match at Twin River Casino forced him to tap out in the second round. Subsequent injuries limited him to just one bout over the next 15 months and he eventually announced his retirement in November of 2017 following a failed comeback attempt.
"It wasn't fun anymore," Felix said. "I was training hurt, then I'd schedule a fight and not be able to pull through with all the expectations and all the people coming to support me. I decided to take a step back."
Legendary Rhode Island boxer Peter Manfredo Jr. once said, "There really aren't many happy endings," for fighters once they can no longer physically compete. Former heavyweight champion "Smokin'" Joe Frazier, who fought wars against Muhammad Ali and George Foreman, earned millions during his career, but squandered most of his money and wound up living in a one-bedroom apartment above his gym before dying of liver cancer in 2011.
Felix didn't want to suffer the same fate, so he began laying the foundation for a career beyond mixed martial arts long before his final bout. The opportunity to work with children and young adults has always been his passion, even when he was at the peak of his MMA career. Just months before what turned out to be his final fight in 2017, he was also volunteering his time as an assistant wrestling coach at JWU.
His after-school program developed a partnership with eight middle schools in Providence and Central Falls, allowing Felix to teach teamwork, respect and discipline through combat sports. After parting ways with the company that helped him launch the endeavor, he decided to open his own business, partnering with licensed social workers and behavior specialists to assist kids of all ages regardless of skill level.
A former champion-turned-business owner, Felix can now add "college graduate" to his expanding resume. Though he hasn't ruled out a comeback in MMA – "I don't feel like I have a lot of miles on me," he said – Felix is dedicated to helping youth find their own path to success using the same principles he learned growing up.
"When I started fighting, I really didn't have anyone guiding me," Felix said. "Now I'm carrying out my dream in my way with the things I enjoyed growing up."