'Hedwig and the Angry Inch' show features CCRI students, alumni
Jan. 22, 2019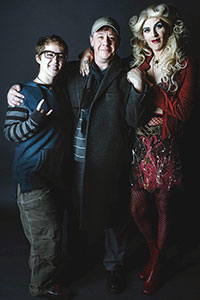 The Academy Players' production of "Hedwig and the Angry Inch," the rock musical playing through this weekend at the James and Gloria Maron Cultural Arts Center in Providence, features a number of Community College of Rhode Island students and alumni.
The show, about a transgender East German singer of a fictional rock and roll band, opened Off-Broadway in 1998 and won the Obie Award and the Outer Critics Circle Award for Best Off-Broadway Musical. Rolling Stone wrote, "In the whole long, sorry history of rock musicals, 'Hedwig and the Angry Inch' is the first one that truly rocks." The 2014 Broadway revival starring Neil Patrick Harris won four Tony Awards, including Best Revival of a Musical.
The cast includes four CCRI students: Vic Leo as Yitzhak; Tabi Baez as Schnitzel; Julia Egan as Strudel; and Erika Fay Greenwood as Bratwurst. Student Kyle Renee is projections designer and scenic designer.
CCRI alumni involved with the show include Associate Professor Ted Clement, director and sound designer; choreographer Laura Minadeo; stage manager Shoshana Adler; assistant director and costume designer Victoria Ezikovich; and assistant stage managers Trey Hendley and Katie Russell, who also is properties designer and painted the set's mural.
"This show has been on my wish list for a long time, and I'm thrilled to finally cross it off," said Clement. "To be able to direct it with so many of my amazing students doubles the thrill."
Leo said this show has been one of his favorite theater experiences to date. "As someone who is trans, this story is very important to me and to the LGBTQ community as a whole. Not only is it a blast to perform, but it gives an important message – to be the most genuine you you can be," he said.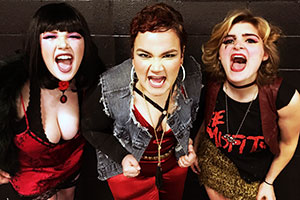 Greenwood, pictured on the left with Baez and Egan as The Wiggs, said the show made her appreciate "crypto-homo rockers" – Hedwig names Lou Reed, Iggy Pop and David Bowie as examples – and art pop. "It is so unique and funny and deep. Going in I didn't realize how much depth this show has, and it's truly a really beautiful and fun show."
Egan spoke about Kevin Broccoli, artistic director of Epic Theater Company, who stars as Hedwig Robinson. "This show is very raw. Not only is the music electrifying but the dialogue is so dry and Kevin does an amazing job interpreting that captivating, sad humor," she said.
Renee said the production provides hands-on professional experience outside of the classroom. "I've gotten to collaborate with fellow passionate artists and create a world of our own that I hope our community enjoys when they come see the show."
Remaining performances are at 7 p.m. Friday and Saturday, Jan. 25 and 26, and 4 p.m. on Sunday, Jan. 27, at the James and Gloria Maron Cultural Arts Center, 180 Buttonhole Drive (Building 2) in Providence. Tickets cost $25.
blog comments powered by

Disqus