'Edible and Poisonous' on display at Flanagan Art Gallery
Feb. 26, 2019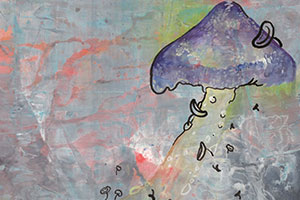 The Flanagan Campus Art Gallery will present "Edible and Poisonous" by Max Reinhard through March 8.
This solo exhibition represents Reinhard's interest in the diversity of mushrooms, plants and animals. His whimsical illustrations confront the themes of decay and regeneration in nature and integrate conceptual symbolism with mythology and folklore. The transformation of the seemingly ordinary into an ethereal extraordinary informs Reinhard's eclectic work.
Reinhard holds a Bachelor of Fine Arts with honors from Montserrat College of Art and has exhibited at the Crane Estate Art Show, the Bear Gallery, the Dorchester Art Project and New Urban Arts.
The gallery is located in Room 1527 at the campus, 1762 Louisquisset Pike, Lincoln. Hours are 10 a.m. to 4 p.m. Monday through Friday.