CCRI Players will present 'Crimes of the Heart' Feb. 28 to March 3
Feb. 18, 2019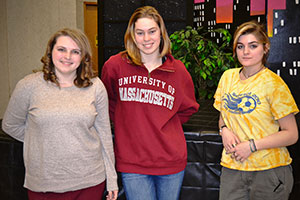 Inclement weather notice: Because of the storm, the 2 p.m. performance on Saturday, March 2, has been canceled, but the 7:30 p.m. show will be held as scheduled.
The Community College of Rhode Island Players will present the Pulitzer Prize-winning "Crimes of the Heart" by Beth Henley from Feb. 28 to March 3 at the Bobby Hackett Theater at the Knight Campus in Warwick.
Henley's most celebrated work is set five years after Hurricane Camille in the small town of Hazlehurst, Mississippi, in the kitchen of the Magrath sisters – Lenny, the eldest, Meg and Babe, the youngest.
The play begins on Lenny's 30th birthday, but it is not a happy one. She is her grandfather's caretaker, and he has been hospitalized for months. Babe has just shot her husband because she "didn't like his looks." This brings Meg back to town from Los Angeles, where she is unsuccessfully pursuing a music career.
"Crimes of the Heart" was first produced at the Actors Theatre of Louisville before transferring to Off-Broadway in New York and then to Broadway, where it ran for 535 performances. It won the 1981 Pulitzer Prize and New York Drama Critics Circle Award.
"While this play overflows with infectious high spirits, it is also, unmistakably, the tale of a very troubled family. Such is Miss Henley's prodigious talent that she can serve us pain as though it were a piece of cake," wrote the New York Times. The New York Post wrote, "It has heart, wit and a surprisingly zany passion that must carry all before it … it would certainly be a crime for anyone interested in the theater not to see this play."
The CCRI Players' production is directed by Professor Bert Silverberg. Set design is by Associate Professor Luke J. Sutherland, with costume design by Assistant Professor Marilyn Salvatore, lighting design by Steve Williams, sound design by Associate Professor Theodore Clement and technical direction by Justin Carroll.
The student cast includes Madison Ritchey of Portsmouth, Courtney Cassidy of Tiverton, Julia Egan and Charee Baez of Cranston, Deryn Leigh Ordway and Dan Garcia of Warwick, Andrew Lee and Kyle Dante of Coventry, and David Iacobbo of Rehoboth, Massachusetts. Erika Fay Greenwood of Cranston is the stage manager.
Show times are 7:30 p.m. Thursday to Saturday, Feb. 28 to March 2, and 2 p.m. on Saturday and Sunday, March 2 and 3. Open-seating tickets, available at the door, cost $12 for general admission and $10 for students, faculty and CCRI staff. For reservations, call 401-825-2219.