CCRI students display artwork in 'Mixed Media'
Feb. 15, 2019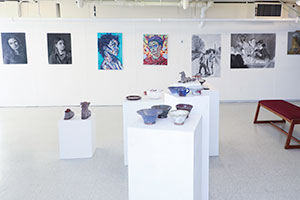 The artwork of several local Community College of Rhode Island students is on display in "Mixed Media" at the Knight Campus Art Gallery through Feb. 26.
Featured works in the exhibition include large-scale portraits in charcoal, a series of woodcuts from the printmaking studio, paintings in oil and acrylic, and short video and animation projects.
Featured students include:
Sarah Harper of Chepachet
Cory Bergeron of Coventry
Helene Ratanak and Vincent Saing of Cranston
Sabrina Stenberg of Johnston
Mya Ramirez of Pawtucket
Esther Alvarez, Gabriella Garzaro and Tayla Roberge of Providence
Eric Gosselin of Woonsocket
The gallery is located in Room 3500 at the Warwick campus, 400 East Ave. Enter through the library on the fourth floor. Gallery hours are noon to 7 p.m. Monday; 10 a.m. to 7 p.m. Tuesday and Thursday; 10 a.m. to 5:30 p.m. Wednesday; and 10 a.m. to 4 p.m. Friday. For more information, email the gallery.