Student helps revive nonprofit search and rescue league
Feb. 28, 2019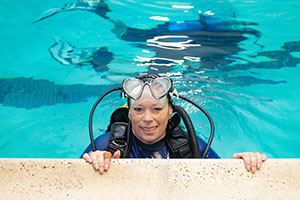 Working 40 hours a week, attending night classes at the Community College of Rhode Island and operating a local nonprofit organization leaves Vicky Rogers-Zion with little time to collect her thoughts.
With her diving tank strapped to the back of her wetsuit and her snorkeling mask pulled tightly over her eyes, the 49-year-old mother of three finds serenity beneath the water, even if for only a few minutes a day.
"You could have the most stressful day in the world, and then you enter the water and you can't be texted, you can't be called, you can't be emailed. Nobody can talk to you," she said. "The only thing you can hear is peaceful bubbles from your regulator. It's tranquility."
Rogers-Zion began snorkeling more than a decade ago at the behest of a close friend who often pushed her outside of her comfort zone. Now, she said, "You can't get me out of the ocean.
"I just fell in love with it," she said. "From that point on, I wanted to be in the water all the time."
The Middleboro, Massachusetts, native, who has worked full time as a phlebotomist for the past 13 years, soon took her newfound hobby to new heights by volunteering for the New England Search and Rescue League, a Rhode Island-based nonprofit that provides assistance to families whose loved ones are missing in the water.
She started as a secretary before working her way up to boat operator, but the organization, NESAR, fell on hard times when its president relocated to the Carolinas. The club remained dormant for more than two years, so Rogers-Zion took action. She teamed with the Connecticut Scuba Academy – New England's lone nonprofit training center – recruited new board members and officials and revived the nonprofit as its new president in November.
In three months, she's already increased the number of members and begun the process of guiding the club's volunteers toward becoming certified divers to further assist in water rescues.
"One of the things we pride ourselves on is community service," Zion-Rogers said. "I want people to know if they have an issue and we can help solve it, we'll solve it."
With so much on her plate, most days are a complicated whirlwind of long commutes and constant clamor. She continues to work 40 hours a week, traveling daily from her home in Pascoag to Sharon, Massachusetts, and volunteers most of her free time to NESAR while completing her current diving classes at Connecticut Scuba to become a licensed instructor. When she's not under water, she's at CCRI working on her associate degree in oceanography so she can eventually transfer to a four-year university to purse a degree in marine biology.
"There really aren't enough hours in the day," Zion-Rogers said.
CCRI's flexible schedule and low tuition costs have made the hectic workload more manageable. She attends part time and is in her third semester. With a consolidated work schedule, she attends classes on Wednesdays at Lincoln's Flanagan Campus from 5 to 9:30 p.m., allowing her to fulfill her other obligations during the remainder of the week.
Returning to school for the first time in three decades was overwhelming at first – "I was kind of scared to go back to school, to be honest with you," she said –but CCRI guided her through the enrollment process to make the transition as smooth as possible. She also receives financial aid to help alleviate tuition costs.
Outside the classroom, Zion-Rogers' long-term goal is to develop NESAR into a fully operational search and rescue team that can work hand in hand with law enforcement and first responders in the event of an emergency. NESAR cannot assist in a water search or rescue unless the family of the missing party reaches out. Most members are rescue swimmers, not divers, so they are not authorized to perform underwater searches.
Zion-Rogers has been on a half-dozen to a dozen searches herself, but only at the surface. That will change once she completes the last of her diving courses, starting with her Advanced Open Water Diver class in the Florida Keys, and becomes certified to teach current and future members. It's a process she said will take several months.
"With this team, I'm building more divers than anybody," she said, "because it's better for us to help you if we can search in a wider range."
Within five years, Zion-Rogers hopes NESAR doubles in size from its 16 members and can operate efficiently without her because she plans to relocate to someplace tropical, preferably the U.S. Virgin Island of Saint John, to work as an instructor and marine biologist.
"I want to be able to walk out of my back door and right into the ocean," she said.
Zion-Rogers' leap from phlebotomy to oceanography is as big a stretch as it appears considering she actually started out in cosmetology, working as a hairdresser fresh out of high school to pursue a career in theatrical makeup. She eventually segued to the insurance industry for a few years and also worked as a bartender and waitress to make ends meet before a friend suggested phlebotomy.
In her current field, Zion-Rogers has done everything from working in nursing homes and managing patient service centers to assisting in hospitals and processing samples in laboratories, but was always drawn to the peacefulness of the open water.
Working in the ocean, whether diving or working on boats studying endangered ocean species, is her true passion, overshadowed only by her dedication to volunteerism. Through the years, she's assisted with Providence Canteen, a nonprofit providing rehabilitation for first responders, and Project Night Vision, which aims to keep inner-city youth off the streets.
Under her guidance, NESAR has become more involved in community outreach. The goal, aside from assisting in water rescues, is to educate the public as a preventative measure.
"I really think public awareness is huge. That's why I want to get our name out there so people know they can teach their children to prevent these things from happening," she said. "Unfortunately, it's never going to be 100 percent foolproof. That's why there is a need for us."
Zion-Rogers recently implemented two youth programs at NESAR for children ranging from 8 to 18 and is also organizing two major fundraising events to help defray the costs of equipment and diving classes for its members. Zion-Rogers also plans to develop water safety classes and organize fundraising events with the March of Dimes and Pink Heals, the latter featuring a statewide cleanup at each of Rhode Island's beaches to further promote water safety and the importance of protecting endangered species.
Among the club's members is her oldest son, 25-year-old Brendon Rogers-Zion, who acts as an adviser to NESAR's junior rescuers. She also has two daughters, Miranda, 23, and Makayla, 13. Working in a field she loves can be as frenetic as it is tranquil for Zion-Rogers, but her efforts to bring NESAR to the forefront are already paying dividends.
This is the life she chose, and she's more than ready to dive in head first.
"I might be biting off more than I can chew, but I'm really persistent," she said. "If I want something, I will eventually get it. It just may take a little longer. I will keep busting my butt to get it, but I will do it."