CCRI students recognized at regional theater festival
Feb. 13, 2019
Community College of Rhode Island theater student Tabi Baez won an award for Outstanding Performance in a New Play Project Reading at the Kennedy Center American College Theater Festival Region 1 festival held at Cape Cod Community College from Jan. 29 to Feb. 3.
Baez, who lives in Coventry, attended the festival as a scene partner to a CCRI student who was nominated for the Irene Ryan Acting Scholarship.
"It was my first festival and I was really excited to do as many workshops and audition for as many opportunities as possible. Our acting coach, Anthony Goes, instilled such passion and work ethic in me that I was just excited to keep working after our first round of scenes in the Irene Ryans were over," Baez said. "Never in a million years did I think I would be cast in an NPP production, mostly because of the sheer volume of talent displayed by other theater students at festival and also the large number of other actors participating."
Baez was cast as three different characters, each with distinct personalities and traits, in "Night #3" by John Nordt. "It was such a challenge and an illuminating experience," she said. "But I greeted the challenge with excitement and didn't expect anything in return – certainly not an award!"
Baez has performed in two CCRI Players productions, playing Agnes in "When We Were Young and Unafraid" in fall 2016 and Favorite Son/Lady Liberty in "American Idiot" last fall, and played Titania in CCRI Summer Repertory's performance of "A Midsummer Night's Dream" last summer. She also has starred as a lead in the past two opera performances at CCRI.
Outside of CCRI, she recently starred as Schnitzel in The Academy Players' production of "Hedwig and the Angry Inch" and as Consuelo in Stadium Theatre's "West Side Story."
Baez, who hails from Atlanta, said her focus is predominantly music and she hopes to transfer to a four-year college or university to study musical theater.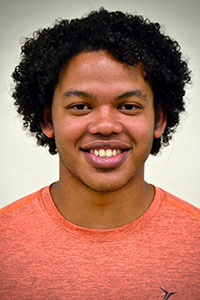 Also at the festival, Luis Minaya of Providence was a finalist for the KCACTF Richard Maltby Jr. Award for Musical Theatre Excellence.
"It was my first time going to the festival; I had an amazing experience," he said. "What made me the most proud was the opportunity to represent CCRI by being a finalist."
Minaya played Zanna in the CCRI Players' production of "Zanna, Don't!" last March and Pedro in The Gamm Theatre's fall production of "The Night of the Iguana." Next month, he will perform in Counter-Productions Theatre Company's world premiere of "The Married Name."
"I'm very excited for this play. The content is deep and challenging, which is just going to make me work harder to give the best performance I can give."
blog comments powered by

Disqus