CCRI Players present pair of one-act plays this week
April 9, 2019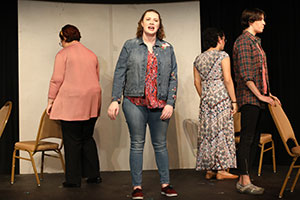 The CCRI Players will present a pair of one-act plays – "The American Century" by Murphy Guyer and "The Most Massive Woman Wins" by Madeleine George – from Thursday to Sunday in the auditorium at the Liston Campus, One Hilton St., Providence.
Adjunct instructor Kevin Olson, who directs "The American Century," described the play as an outrageous fantastical comedy he chose from a collection of one-act plays the Actor's Theater of Louisville commissioned and produced.
"Its generational themes around the American Dream appealed, and any play that made me laugh out loud when I read it is something I am most interested in working on," he said. "I picked it as well because I thought it provides CCRI students with a chance to perform a comic piece."
In the play, which the Philadelphia Inquirer called "a social satire of real bite," World War II has ended and Tom returns to his wife, Margaret, upon his discharge from the Army full of hope and dreams for the future. They are soon joined by a brash young stranger who explains he is one of the children they will have. In the most casual manner, he tells of all of the disasters in store for America, for them and their other future children.
In "The Most Massive Woman Wins," directed by adjunct instructor Kira Hawkridge, four women of various shapes and sizes sit in a liposuction clinic waiting room. The play is "a powerful and thought-provoking glimpse into the lives of four drastically different women engaging with body image," she said.
"Each wrestles with deeply personal internal and external pressures to conform to societally established standards of beauty. 'The Most Massive Woman Wins' opens the door to think about, engage with, and openly and unapologetically discuss and question our relationship to eating and to our own bodies," Hawkridge said.
"This production starts a conversation that will last long after the performance is over. It was important to me personally to choose a script that offered a unique perspective on body image. This piece is not just about the experiences of these women, but about starting an expansive conversation around this topic," Hawkridge said. "How stories are told and what lenses we engage with them through is incredibly important, and the more expansive the opportunities are to present a wide range of stories told through a wide range of lenses, the more opportunities our community and student body will have to engage with socially charged topics like body image."
The student cast includes Tabi Baez of Coventry, Ashley Bouthillette and Sabrina Gallego of Pawtucket, Erika Fay Greenwood of Cranston, Cameron Hare of San Antonio, Deryn Leigh of Warwick and Jess McDonnell of Middletown.
Shows are at 7 p.m. Thursday to Saturday, April 11 to 13, and at 2 p.m. on Saturday and Sunday, April 13 and 14. Admission costs $12 for the general public or $10 for students, seniors, CCRI faculty and staff. For reservations, call 401-825-2219.