Great Hall pillar graphics reflect college's core values
April 15, 2019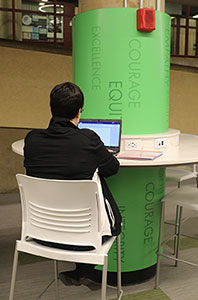 The words splashed across the decorative wraps on the pillars of the Great Hall at the Community College of Rhode Island's Knight Campus are more than just clever catchphrases.
Integrity, empathy, excellence, collaboration, courage and equity – these are CCRI's core values, part of the school's Culture Initiative, a communitywide commitment to strengthen the culture on all four campuses.
"Those statements reflect what we believe in as an institution that is focused on student success, equity and opportunity for all students and being in an environment where there is respect for others," said Lizzie Pollock, associate director of employee engagement and organizational effectiveness.
The words were chosen by the newly formed Culture Task Force at CCRI, a group of 25 staff and faculty members who began collaborating more than a year ago to develop ideas to strengthen the school's organizational culture.
Asked to develop a set of guiding principles – statements that describe effective culture at CCRI – the Task Force held workshops, formed focus groups and conducted surveys at each campus encouraging employee feedback. They heard a strong emphasis on celebrating diversity, empowering students, encouraging respectful dialogue, and cultivating a community both in and out of the classroom.
When the administration reached out to the Task Force to help with ideas to use the space on the pillars in the Great Hall, the group took the opportunity to promote its new guiding principles.
The concept for the pillars is one of many initiatives implemented by the Task Force, which formed as a response to feedback from faculty and staff. During the college's recent strategic planning process, discussions at open forums at each campus in 2017 revealed a need for more collaboration, respect and communication among staff and faculty. Based on this feedback from the community, the 2018-21 Strategic Plan now includes a specific goal to strengthen the culture at the college. In early 2018, CCRI's Office of Institutional Equity launched a series of workshops to discuss the school's culture.
This month, the college hosted OneCCRI, a professional development workshop promoting collaboration among faculty and staff, and is planning an employee appreciation event in May to celebrate notable work anniversaries and awards. The task force has also formed a smaller subgroup of nine members, the Diversity, Equity and Inclusion Committee, to spearhead efforts to strengthen cultural competency and promote inclusiveness.