CCRI, RINI partner to provide seamless pathway, increase diversity in state's nursing workforce
April 23, 2019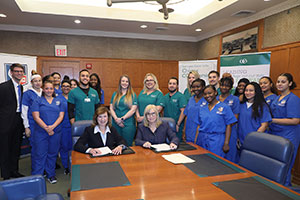 The Community College of Rhode Island and the Rhode Island Nurses Institute Middle College Charter High School (RINI) entered a partnership today to provide a seamless transition from RINI to CCRI's nursing associate degree program and expand the program's diverse population.
This partnership, supported by a $110,000 grant from the Rhode Island Executive Office of Health and Human Services Health System Transformation Project, pairs RINI, the first public charter high school in the United States focused on preparing a diverse group of students to become the highly educated and professional nursing workforce, with CCRI, the state's sole community college with the largest nursing program on the East Coast.
Under the partnership, students who want to enroll in CCRI's nursing program after graduation and who have met the admission requirements will receive additional support and guidance from a CCRI advisor specifically assigned to the RINI "cohort" who will make personal connections with each of the students.
The CCRI nursing program will reserve seats for RINI students who are eligible for enrollment in the program.
This process will remove barriers related to the college application process to help low-income students and students of color continue their education. Student cohorts can begin their program at CCRI with distinct academic and career pathways. The advisor will continue to support members of this cohort until they graduate and through their transition to a bachelor's degree program.
"By introducing the CCRI nursing pathway to these RINI students, we are offering the opportunity of seamless transition from high school to the CCRI nursing program and then onward to bachelor's degree programs," said CCRI Vice President for Academic Affairs Rosemary Costigan. "Students will receive the support they need to succeed throughout their academic and career path."
"We are thrilled about this partnership that provides this opportunity uniquely to RINI students," said RINI CEO Pamela McCue. "Because our students begin their college preparation toward a nursing degree in high school, this partnership allows them to become registered nurses two years after high school graduation and gives them the ability to earn a bachelor's degree in nursing in less than four years. This is an innovative educational model to ensure that Rhode Island has the highly educated and diverse nursing workforce that it needs."
The May 2017 Healthcare Workforce Transformation report projects 3,603 openings for registered nurses and 524 openings for licensed practical nurses in Rhode Island between 2016 and 2026 attributed to growth and replacement.
This highlights a need to graduate a greater number of nursing students and presents an opportunity to produce a more diverse health care workforce that is representative of the Rhode Island population, which has been shown to positively affect health outcomes.
"Increasing diversity among health professionals is a way to achieve greater cultural and linguistic competence, which is known to have direct benefit to quality of care, patient experience and health outcomes," said Rhode Island Medicaid Director Patrick Tigue.
Research shows that the cohort model is important for minority student success in postsecondary education. RINI students who have a clear vision of their pathway, a solid connection to their cohort and are dedicated to their program will be more successful in completing any college program.