Student shares passion for photography with youths he mentors
Oct. 26, 2018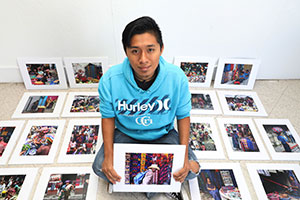 The eclectic mix of colors and textures leap off the page and draw you in, and for a brief moment it's almost as if you, too, are standing in the middle of a marketplace in Guatemala thumbing through fresh produce under the warm summer sun.
As a shy, somewhat unmotivated, student at Tolman High School in Pawtucket, Edwin Pastor used photography to process his wide range of emotions and communicate with himself. Now his photography offers a peek inside the creative mind of a 22-year-old "starving artist" with a powerful lens and an even more powerful desire to share his experience with others.
"The camera is like a pair of glasses," said Pastor, a first-generation college student and art major at the Community College of Rhode Island. "It helps me see."
A part-time student balancing school with freelance work outside of the classroom, Pastor is part of CCRI's Access to Opportunity program and hopes to transfer to a four-year university to continue studying photography after he graduates in 2020 or 2021. Rhode Island College, UMass-Dartmouth and Harvard's School of Arts and Sciences are among his top choices.
He sees himself working as a youth mentor or photojournalist, perhaps one day opening his own studio, but photography, for now, remains Pastor's window to the outside world.
He put his most recent collection – the product of a monthlong journey through several towns and villages in Guatemala, some more than six hours apart – on display at AS220 in Providence, his first photo gallery exhibition. The photos ranged from vivid, colorful snapshots of everyday life in Chichicastenango to candid, black-and-white portraits of indigenous townsmen in Panajachel hauling lumber through cobblestone streets.
To create a more authentic, vintage vibe, Pastor used a traditional film camera and developed each photo by hand in a darkroom.
"When I photograph with film," he said, "it's like going back in time.
"I appreciate the process and element of making art besides going on a screen and uploading it from a chip or SD card. It's a process, but for me, as an artist, I enjoy process-making. I enjoy making things with my hands, with my mind, with my creative mindset. It's been a wonderful exposure to get this kind of work and make it come to life, put it on a paper and talk to my audience about the story behind it."
Within the past year, the Pawtucket native has turned photography from pastime to passion. The second oldest of four in his household – he has a twin brother born minutes before him as well as a stepbrother and half-brother – Pastor recently created his own website and continues shooting weddings and family portraits while working with urban youth as part of the Providence Boys & Girls Clubs' Princes to Kings Mentoring Program, where he teaches a darkroom photography class.
The young students he works with at the Boys & Girls Club remind him of himself when he was a teenager.
"They were like me," Pastor said. "They didn't have the resources at their school. They didn't have the inspiration. They didn't have a role model. They didn't have guidance. Sometimes the school didn't give them enough."
At Tolman, Pastor struggled with dyslexia, which affected his grades and caused other students to bully him. He stayed afloat through assistance from an Individualized Education Program (IEP), but still had no idea what he wanted to do beyond high school.
"We would have people come to school to talk about career day and I'd hear other students say, 'I want to do architecture,' or, 'I want to work in business,'" Pastor recalled. "I didn't have that drive."
The arts intrigued him the most. He read a lot of books in school – comic books, Japanese manga, illustration books – and watched Sci-Fi films and crime movies. He marveled at fictional characters such as Superman, whose alias, Clark Kent, worked as a newspaper reporter, and Spiderman, who, in the 2002 film, doubles as Peter Parker, a freelance photographer.
"I'd get inspired by those scenes of people working in a darkroom making the work happen," Pastor said. "I liked the vibe of journalism where people can get the scoop and talk about a story. I'd get so inspired by seeing those photographers out in the field working, getting the story through the portraits of people."
Knowing his interest in photography, Pastor's guidance counselor at Tolman gave him a camera and told him to "use this as a tool to talk about how you feel." His high school photography teacher, Roberta Uhlmann, encouraged him to sign up for an after-school youth program at AS220, where he met coordinator Scott Lapham, whom he now considers a mentor. Lapham also coordinated the recent "One Gun Gone" project at CCRI's Knight Campus.
Pastor eventually began assisting Lapham on various projects and in the classroom at AS200 and the Rhode Island School of Design. He now serves as Lapham's apprentice, using the information he learned through the years to guide others dealing with the same inability to express themselves or find their purpose.
"The stuff that I learned, I'm giving it back," he said. "I'm mentoring, I'm teaching and learning from these students as well. They're giving me their feedback and their perspective, their visual, their ideas, and we collaborate.
"The thing I love about my jobs, especially when it comes to working with urban youth, is that when I meet people from my own culture or people similar to my culture we talk about similar traditions. Then we come up with projects."
Pastor always had the passion and the drive for photography, but still needed to learn the basic skills. He enrolled at CCRI four years ago and began attending classes part time while working outside of school to help pay for his tuition and purchase new equipment.
"CCRI has been very beneficial and a strong asset for me as a student because they've provided me with the classes and the hours I want," Pastor said. "I've met some great faculty and staff members who've helped me work around my schedule. They always accommodated me."
Once he felt comfortable with the fundamentals, Pastor decided it was time to work on his own art show. After years of photographing his backyard in Pawtucket, he flew to Guatemala with his father, younger brother and stepmother earlier this year to capture the imagery of everyday life in Central America. The eye-popping detail and blend of colors offer viewers a comprehensive look at Guatemala's working-class culture and provide insight on Pastor's family values.
In many ways, photography has always been his voice and, while he may eventually move on to become a professional working with models or commercial businesses, teaching and mentoring others will always be a top priority.
Without the support of his teachers, guidance counselors or mentors, Pastor said, "I probably would've been a dropout, or I would've been another statistic. I'd be somewhere, but not here. Not in school."
"When I'm working with people who are going through a lot of stuff at home or going through a lot in general, I can help them. I feel like I'm a mirror and I can look at myself from years ago when I didn't have that support system and felt like I was alone.
"Photography, for me, will always be an expression of art. When I teach to my students and they're happy and they're doing productive things with their life outside of school, it makes me feel good about myself because I know I'm really changing my community."
blog comments powered by

Disqus