CCRI student stars in Gamm's first production at new Warwick location
Oct. 10, 2018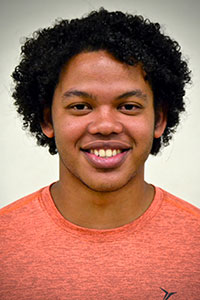 An opening in the Gamm Theatre's production of "The Night of the Iguana" turned into the opportunity of a lifetime for a young performer at the Community College of Rhode Island.
Twenty-two-year-old Luis Minaya of Providence, now in his second year studying musical theater at CCRI, plays the role of hotel employee Pedro in the Gamm's adaptation of the 1961 play written by Tennessee Williams. It's just the second on-stage performance for Minaya since he discovered his love for theater on an impromptu trip to New York City.
"The Night of the Iguana" opens the 2018-19 season and is the first production at the newly located Gamm, which moved from Pawtucket to Warwick and now occupies the space formerly known as the Ocean State Theatre on Jefferson Boulevard. Directed by longtime Trinity Repertory Company member Fred Sullivan, the production runs from Oct. 11 to Nov. 4.
"It's pretty exciting," said Minaya, who was born in the Dominican Republic and moved to the United States when he was 17. "I never thought I'd be part of a professional performance so fast like this."
Gamm Theater artistic director Tony Estrella, who has appeared in more than 30 productions and plays the role of main character the Rev. T. Lawrence Shannon in "The Night of the Iguana," spent nearly five months searching for a young, Latino, Spanish-speaking actor to play the role. He estimates they interviewed between 150 and 200 actors and actresses to fill out the entire cast but hit one roadblock after another.
"We spoke to a few people, but those we talked to weren't available, and then we had someone drop out," Estrella said. "By the end of the summer, we were still having trouble."
CCRI theater program coordinator Ted Clement caught wind of the open audition and contacted Estrella to recommend Minaya, who performed in CCRI's production of "Zanna, Don't!" in March.
"Ted gave a very enthusiastic endorsement, which was clearly backed up by Luis' talent," Estrella said. "We're very lucky to have him."
"Right away, I thought of Luis," added Clement. "He is a terrifically talented kid, really wonderful. I had him in my acting class and he did a wonderful job. He gave a star performance in 'Zanna, Don't!' Between my experience with him in class, which was stellar, and my experience with seeing him on stage, I was very comfortable recommending him for the part."
Minaya is the youngest member of the cast, which ranges in age from 22 to 89, with the oldest being Gamm veteran Sam Babbitt. He is working alongside several professional actors, many of whom have performed for decades, including Jeanine Kane and Tom Gleadow, who each starred in separate episodes of the long-running television series "Brotherhood." The play also includes musical elements, so Minaya will have the opportunity to sing and play guitar.
After auditioning privately in August, Minaya learned two days later he got the part.
"I felt confident," he said. "I knew I did my best, and you always have your doubts, but I felt pretty confident, especially since my Spanish was pretty good because I lived in the Dominican Republic for 15 years.
"This is a big opportunity in my musical theater career and theater career. I want to give it my best. At the end, everything came out beautiful. The whole play, crew and cast is amazing."
A first generation college student and member of CCRI's Joint Admissions Agreement (JAA) program who will transfer to Rhode Island College, Minaya is the oldest of two in his family. His mother had 11 brothers and sisters but never attended college despite being the only one in her family to finish high school.
Minaya actually entered the seminary for three years in the Dominican Republic intending to study for priesthood, but withdrew when he arrived in the United States, deciding that despite being an "amazing experience," it was not meant for him.
While in the Dominican Republic, Minaya also learned to sing and play guitar – "a very fundamental part of my life," he says – which initially fostered his passion for the arts. After high school, he completed two years' worth of English as a second language classes at CCRI before enrolling in the theater program. Soon after, he reunited with a classmate from the seminary who since had relocated to New York. He took Minaya to two musicals in the city.
"That's when I definitely said to myself, 'This is what I want to do. This is where I belong,'" Minaya said.
"Every time I go to a play, it strikes me. It gets me every time. The story, the music – I can't stop watching. It's an experience that I love to see and love to be a part of."
Though he considers himself more of a singer than an actor, Minaya has broadened his horizons in recent years and aced his audition at the Gamm to earn a significant role in what will be just his second live performance.
"This is part of the craft," Estrella said. "It happened to me when I was a young actor, too. You have to be good enough. Usually, in smaller roles you learn your craft with professionals. That's really important to grow and punch above your weight a little bit. That's how you gain experience. There's nothing like the production itself to advance your skill set as an actor."
With the Gamm now located closer to the Knight Campus, Clement is hopeful Minaya's role in this year's season opener will help build a stronger relationship between the Gamm and CCRI's theater program.
"We're looking forward, hopefully, for more of our students to have opportunities to build their professional résumés through this experience," he said. "This is a really exciting opportunity for Luis and an exciting development for the theater program at CCRI."
blog comments powered by

Disqus