CCRI Players open season with 'Green Day's American Idiot'
Oct. 4, 2018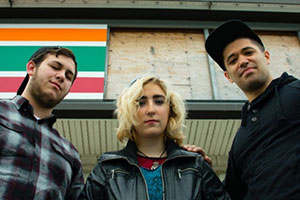 The CCRI Players will open the 2018-19 season with "Green Day's American Idiot" at the Knight Campus in Warwick this month.
The Tony Award-winning hit musical, based on the Grammy Award-winning multi-platinum album, takes the American musical where it's never gone before. The show includes every song from Green Day's album "American Idiot" as well as several songs from its follow-up release, "21st Century Breakdown."
Set in 2005 against the backdrop of post-9/11 America, the play explores the journey of three young adults as they navigate life after high school. They dream of getting out of "Jingletown" and escaping to the big city. Johnny, played by Katie Russell, is an aspiring musician who, having made it out, falls into the dark embrace of heroin addiction. Tunney, played by Frank Gilleese, is swept into military life and finds himself a victim of the war in Iraq. Will, played by Sebastian Shoup, remains trapped at home, failing to fulfill the obligations of an unplanned pregnancy.
"As a huge fan of Green Day, I am thrilled to be able to stage this production – first and foremost because of the music, which was groundbreaking when it was released," said Associate Professor Ted Clement, who is directing the show.
"Crafted in the tradition of The Who's 'Tommy' and Pink Floyd's 'The Wall,' 'American Idiot' was the defining 'concept album' of my generation," said Clement. "It's an earnest dissertation on the relationship between baby boomers, Generation X and millennials, and the ways that 9/11 changed our shared world."
The production contains adult content, strong language, and portrayals of drug use and domestic violence.
Show times are 7:30 p.m. Thursday to Saturday, Oct. 18 to 20, and 2 p.m. Saturday and Sunday, Oct. 20 and 21, in the Bobby Hackett Theater. Tickets cost $15 for general admission or $12 for students, seniors, faculty and staff. For reservations, call 401-825-2219.
blog comments powered by

Disqus