CCRI Players present 'Bad Jews,' a comedy about faith, family, friction
Nov. 27, 2018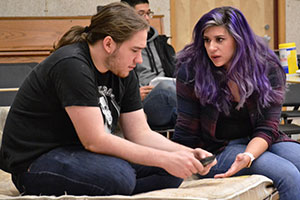 The Community College of Rhode Island Players will present Joshua Harmon's comedy "Bad Jews" from Dec. 6 to 9 at the Liston Campus in Providence.
The play takes place in a studio apartment on the Upper West Side of Manhattan. The patriarch of a Jewish family has died and his three grandchildren – brothers Liam and Jonah and their cousin Daphna – are fighting over a treasured piece of religious jewelry that belonged to their beloved grandfather.
But who is most deserving to inherit their grandfather's Chai ornament? Liam is a declared atheist, while Daphna has ferociously attached herself to every aspect of her Jewish heritage, including using her Hebrew name instead of Diana. Jonah, on the other hand, does his best to keep the peace and to stay out of any arguments. Trying to keep an open mind, Melody, Liam's gentile girlfriend, searches first for the good in people, rather than jumping immediately to judgments.
When the play opened at the Laura Pels Theatre in 2013, the New York Times called it the best comedy of the season, writing, "There's nothing like a death in the family to bring out the worst in people. This unhappy truth is displayed with delectably savage humor in 'Bad Jews,' a zesty play by Joshua Harmon."
The New York Daily News gave it four stars, writing, "Watching Bad Jews, you may change your mind about who the title refers to. But you'll also be consistently impressed by this fast and funny, pungent and poignant comedy by Joshua Harmon."
"Bad Jews is delicious, nasty fun," wrote the New York Post. "Equal parts brains and brawl, Joshua Harmon's play isn't a textbook comedy of hostility, but a smart, divisive conversation starter."
CCRI students performing in "Bad Jews" are Ashley Bouthillette of Pawtucket as Daphna; Julia Egan of Cranston as Melody; Francis Gilleese of Voluntown, Connecticut, as Liam; and Isaac Larosee of North Smithfield as Jonah. Understudy for Jonah is Dan Garcia of Warwick. Direction is by Associate Professor Luke J. Sutherland, scenic design is provided by Kyle Newport of Portsmouth, costumes by Assistant Professor Marilyn Salvatore, lighting by Steve Williams and dramaturgy by Linda Sutherland. Katie Russell of Newport is stage manager and Shoshana Adler of Cranston is assistant stage manager. Technical direction is by Justin Carroll.
Shows will be held at 7:30 p.m. Thursday to Saturday, Dec. 6 to 8, and 2 p.m. on Saturday and Sunday, Dec. 8 and 9, in the Liston Campus auditorium, 1 Hilton St., Providence. Tickets cost $12 for general admission and $10 for students, CCRI faculty and staff. For reservations, call 401-825-2219.
blog comments powered by

Disqus