Class of 2018 grad changes course after career-ending injury
May 15, 2018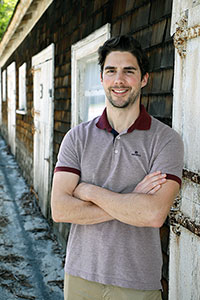 As someone who stepped outside his own comfort zone and replotted his course in life more than a decade after graduating from high school, Stephen Susi is the ideal ambassador to teach others you don't need be restrained by boundaries of any kind.
The 30-year-old ex-firefighter from Cumberland, who graduates from the Community College of Rhode Island this month with his associate degree in General Studies, hopes to implement programs designed for children around the world to communicate with one another more frequently and effectively through modern technology.
The idea is to break down barriers, teach acceptance of other cultures and languages, and perhaps create a safe haven where new friends from other countries can eventually meet one another face to face.
Inspired by his wife, who was born in Portugal, and his 1-year-old son, Nico, Susi and his family are moving to Portugal following commencement to begin working with children to help develop what he describes as a "virtual pen pal" program.
"I think it's really important for kids to know that, yes, we live in Rhode Island, a small state," he said, "but there's a pretty big world out there. You don't have to just be limited."
His new objective differs from the harrowing, life-saving missions he grew accustomed to as a firefighter for nearly a decade. His father was a fire chief in Cumberland, so he grew up wanting to follow in his footsteps. After graduating from Cumberland High School in 2006, he began taking fire science courses the next year at CCRI. But once the Cumberland Fire Department hired him full time, he dropped down to just one course per semester.
"That was a heavy workload for a bit," he said. "I did that for quite a while, just trying to plug away and get some courses done."
Everything changed in 2011 when Susi suffered a near-tragic accident on the job. A ceiling beam in a burning house landed on him and knocked him unconscious during an otherwise routine call. His co-workers dragged him out just in time.
"That was a pretty scary situation," he said. "I basically woke up in the rescue on the way to the hospital, so there was a gap of me not really knowing what happened."
Susi dealt with post-traumatic stress disorder during his recovery. There were times over the next two years when he'd have flashbacks whenever he'd get the call to enter a burning building or put out a house fire. He ultimately bounced back, thanks to support from his family, friends and co-workers. Walking away from the job never crossed his mind.
"When someone needs you or when a house is burning or there is a situation, you need to do your job. You have to do your job," he said. "I genuinely enjoyed what I was doing and I think that's really what got me through it, too."
Just when it appeared he had cleared his most difficult hurdle, Susi suffered a major shoulder injury in 2013 lifting a chainsaw to his partner during another routine call. Over the next three years, he underwent surgery three times in an attempt to repair the damage to his rotator cuff. In fall 2017, doctors said his shoulder would never be 100 percent to the point where he could do his job without risk of further injury – or worse – so he was placed on permanent disability, effectively ending his career as a firefighter.
Thankfully, by the time he learned his fate, he had already begun thinking about a new course in life. With time off because of his injury, he re-enrolled in 2014 and switched his major to General Studies. He had just met his future wife and become immersed with her culture, prompting him to take up Portuguese studies at CCRI. In 2015, they wed in Portugal and welcomed their first child a year later. At 5 months old, their son was diagnosed with epilepsy following a brief bout with seizures.
With everything going on life from marriage, to surgery, to his son's medical issues, Susi couldn't put all his energy into his studies until the last two semesters, when he knew firefighting was no longer an option. He picked up the pace dramatically, taking three to four courses per semester and now graduates this month with a whole new outlook.
On commencement day, his mother, CCRI English Professor Holly Susi, will present him with his diploma cover as she did for her daughter 14 years ago. From there, it's off to Portugal, where Susi and his family will travel the area and get involved with volunteer projects teaching English to Portuguese children. Susi's wife and son are dual citizens and he will gain his dual citizenship in the spring.
"This was not in the cards," Susi said. "My wife and I thought maybe way down the road in our retirement years this would be something we would consider, but with my son being diagnosed with the epilepsy, me having to retire due to the injury, it opened up our eyes to, 'Let's do what we want to do and let's enjoy our time with him now before he goes to school and enjoy our time together.' It helped put things into perspective. It's just a good opportunity to have at this time."
With no more restraints and no limits on what he can accomplish next, Susi is taking life one day at a time. Thanks to CCRI's flexibility, allowing him to take courses at his own pace, he never gave up on his dream of finishing his education. Now he's ready to make the most of his second chance and teach others to do the same.
"CCRI helped make this possible for me. There's so much to study and so much to learn," Susi said. "I feel like I work well with kids and I think I have a different perspective now after dealing with injuries and PTSD. It's a big change from what I used to do, but it's really something I enjoy and want to pursue."
blog comments powered by

Disqus