CCRI Players' Summer Repertory program returns with 'Midsummer,' 'Macbeth'
May 23, 2018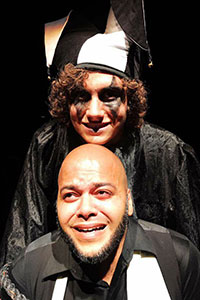 The CCRI Players will stage two production of classic Shakespeare works – a comedy and a tragedy – in its second Summer Repertory season at the Knight Campus in Warwick starting in July.
The summer rep program offers high school, college students and members of the community an opportunity for a six-week summer intensive working theater experience, modeled after the professional environment of summer stock theater.
"A Midsummer Night's Dream" will be performed from July 18 to 22, and "Macbeth" will be on stage from Aug. 15 to 19 in the Bobby Hackett Theater.
The productions are produced and designed entirely by students under the direction of program coordinator, Associate Professor Theodore Clement.
Once again, CCRI Players members toured local high schools this spring to introduce the program, presenting work from their most recent season and answering questions about the summer rep process and experience.
CCRI Players President Victoria Ezikovich said the shows are produced in such a way that students are given extensive opportunity to be creative not just as performers, but collaborators working as a team to realize the artistic concepts of their work. She said the program provides an invaluable opportunity in professional development, networking, creative expression, skill training and community building.
"In our past season, students involved were given the chance to partake in workshops and process with other esteemed local theater artists, such as director and movement specialist Kira Hawkridge of Out Loud Theatre Company and stage combat master Jim Beauregard of Dean College," she said.
Students recruited via the Players' high school outreach visits last year have spoken positively of their experience.
"The best part about summer rep wasn't just the people I met and the friends I acquired, but how lovely everything came together in such a short period of time," said Erika Greenwood, an alumna of Cranston West who enrolled at CCRI this year. "We put two brilliant pieces of art together through the hard work and dedication of every person. We were like a machine with multiple working parts that came together and created something great."
Clark D'Agostino is a senior at Scituate High School who is enrolled in CCRI's Running Start high school partnership program. "CCRI's summer rep took the two-week rehearsal period of professional theater and used it to build a cast relationship and show the likes of which I've never experienced," he said. "Summer rep was far and away the best theater experience of my life."
Show times for "A Midsummer Night's Dream" are 7:30 p.m. Wednesday to Saturday, July 18 to 21, and at 2 p.m. on Sunday, July 22. "Macbeth" will run at 7:30 p.m. Wednesday to Saturday, Aug. 15 to 18, and at 2 p.m. on Sunday, Aug. 19. General admission costs $12; the cost is $10 for students, seniors, and CCRI faculty and staff. For reservations, call 401-825-2219.
blog comments powered by

Disqus