Grad enlists in U.S. Navy to pursue her medical career in neuroscience
May 9, 2018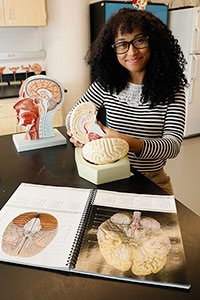 Jasmine Monteiro experienced her first patient death in the health care field during her final semester at the Community College of Rhode Island.
Her client, a retired neurologist and dermatologist who served in the Navy, died in her arms at the age of 96 following a brief bout with pneumonia.
Two days later, she received a phone call from a Navy recruiter with whom she had left her phone number at a career fair nearly two years earlier. She found the timing a bit uncanny.
"I thought that was weird," said the Cape Verde native who moved to the United States in 2005. "I thought it was a sign."
Monteiro's original plan was to transfer to the University of Rhode Island through the Joint Admissions Agreement (JAA) program to pursue neuroscience after graduating this spring with an associate degree in psychology. The impromptu phone call from the Navy rerouted her course.
She visited a nearby recruiting office later that week and eventually enlisted to become a hospital corpsman, inspired by her late patient's work in the health care field.
"He was my first home care client ever. We were really close," Monteiro said. "When he passed away, I thought, 'I want to do something to make him proud,' because he gave me a lot of tools."
Her first stop is Chicago for a two-week boot camp, followed by six months in Houston before her yearlong deployment – anywhere from Hawaii to South Korea – where she will work on a Naval base while taking night courses, all of which will provide her with more transferrable credits when she eventually transfers to URI.
Her excitement from walking the stage at this year's commencement, though impossible to contain, will be short-lived. She ships out on May 29, less than two weeks after graduating.
"I have no preparation whatsoever," Monteiro said. "I'm just jumping right in."
Taking the path less traveled is nothing new for Monteiro. She moved to Boston with her mother and two sisters when she was 8 years old. Inspired by her grandmother, who raised her in Cape Verde and was diagnosed with Alzheimer's shortly after the family left for the United States, Monteiro decided to pursue a career in the health care field.
While she plans to study all aspects of the brain, she hopes to one day find a cure for Alzheimer's and other neurological disorders, or help reverse the deterioration process so patients suffering from such illnesses can live longer, more productive lives.
"That age is when you want to reflect on your life and see what you've done for your community and your family, but with that brain disorder you can't look back because you don't have memory anymore," Monteiro said. "I don't want that for future generations. It's really sad to see."
Monteiro's mother was as an economics professor in Cape Verde, but had to start over in America, so she worked in factories and cleaned homes on the side in order to make ends meet. At 14, Monteiro went to work at a local Boys & Girls Club to help provide for the family and soon enrolled in the health careers program at Davies Career and Technical High School in Lincoln, where she earned her CNA license.
She also interned as a pharmacy technician at CVS while working in the dementia care unit and participated in Brown University's Pathways to Medicine program (formerly known as the Pipeline), establishing strong connections with medical students, some of whom have gone on to become doctors.
"You get to work in the cadaver lab. You hold a brain. That's when I was like, 'This is what I want to do,'" Monteiro said.
After graduating from Davies, Monteiro was accepted to UMass-Amherst, enrolled in classes and was prepared to enter the school's pre-med program. Three days before her scheduled move-in date in 2016, she again changed course, deciding to stay closer to home and attend CCRI.
In addition to being more affordable than UMass, CCRI provided her with the curriculum she needed and gave her a more concise, direct path to a four-year institution through the JAA program.
"It just made sense for me," she said. "A lot of people I know that went to CCRI said it was the best decision they made. I have cousins that have a lot of student debt and I don't want that."
While at CCRI, Monteiro worked for Home Instead Senior Care in North Kingstown, often logging 36-hour weekend shifts at patients' homes. The flexibility at the Flanagan, Liston and Newport County campuses allowed her to schedule classes between work shifts to stay enrolled as a full-time student despite her job responsibilities.
She also volunteers for the Rhode Island Blood Center and is a member of the planning committee for the Alzheimer's Association Rhode Island Chapter.
"It's a lot more than just the tuition-assistance here," Monteiro said. "The dean and the advisers here, they get you on board. There are a lot of opportunities here you don't think about when you come. There's also advising and counseling. People think, 'Oh, it's just a community college,' but they offer a lot more."
As a hospital corpsman for the Navy, Monteiro will work with soldiers injured in combat, providing everything from first aid to bedside assistance. Night classes will keep her on track so she can transfer to URI for pre-med within a year and graduate in 2020.
Monteiro's road has always been a bit winding, but she has drawn inspiration from every stop along the way, from her grandmother, now in the third stage of Alzheimer's, to fellow students, many of whom have helped prove there's more to CCRI than a less expensive education. The community college experience prepared Monteiro for the next exciting – and, most likely, unpredictable – chapter in life.
"I see students who have kids they go home to and tuck into bed. Or they go to work right after class. It's really inspiring. It gives you a taste of the real world," she said. "There are a lot of perks at CCRI other than just financial."
blog comments powered by

Disqus