Scholarship helped Class of 2018 grad cross the finish line
May 10, 2018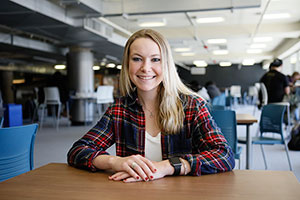 Forced to play catchup after switching majors in her second semester at the Community College of Rhode Island, Amanda Jarret knew she needed to graduate as soon as possible, but couldn't seem to find the light at the end of the tunnel.
"I didn't really know when it was going to happen," said the 20-year-old Blackstone, Massachusetts, native. "I kept telling myself I had to, but I didn't know how I was going to achieve that."
Thanks to the Last Mile Scholarship, Jarret got the help she needed to get over that hump and is graduating this month with an associate degree in Paralegal Studies.
Established in 2017 from a $500,000 donation by local philanthropist Bhikhaji Maneckji, the Last Mile Scholarship provides funding for students who are least halfway to graduating so they can attend CCRI full time and complete their studies faster. Jarret had no idea the scholarship existed until she received an email last year. She did her research, realized she was eligible and quickly completed the application process. Shortly thereafter, CCRI offered her $1,000 for the fall 2017 semester.
Jarret used the scholarship to increase her workload, enrolling in seven courses last fall while balancing a 30-hour-per-week job at TD Bank. The leftover money went toward textbooks. Her daily schedule in the fall left her with little to no free time outside of the classroom, but because she pushed herself to add the extra credits, she now must take only five courses this semester to graduate in May with an associate degree in Legal Studies.
Jarret will transfer to a four-year school in the fall, either Assumption College or Worcester State University, and work as a paralegal while pursuing her law degree – her "dream plan," as she refers to it.
"Without the Last Mile Scholarship I probably wouldn't have been able to take as many classes and then I wouldn't be able to graduate this semester," Jarret said.
"I really didn't know what I was doing at the time. I didn't know if I was going to take all of those courses. I didn't even know if that was possible or if I could do it or not. The Last Mile Scholarship really helped, especially because once you get it, it encourages you to try even harder to make sure you use it to your full advantage."
Jarret's journey began in fall 2015 when, as a 17-year-old high school graduate, she enrolled in CCRI's noncredit certified nursing assistant program. After one semester, she realized nursing wasn't for her, so she switched to legal studies the following spring, motivated by a family member in the legal field – also a CCRI alumna – who encouraged her to pursue a career in law.
CCRI was always a logical choice for Jarret because even though she originally intended to enroll at a four-year institution after graduating from Blackstone-Millville Regional High School, she didn't want the financial burden of having to pay off heavy student loans upon entering the workforce. One of four children in her family, Jarret received some scholarship money for participating on the School Committee, but not nearly enough to defray all the costs.
With several friends already on course to graduate next year with bachelor's degrees, Jarret entered the 2017 spring semester feeling pressure to pick up the pace and get her associate degree as soon as possible. The Last Mile Scholarship couldn't have come at a better time. Balancing school and work was challenging, but Jarret perfected the art of time management and completed the fall semester with impressive grades.
On Mondays and Wednesdays, she attended class from 8 a.m. to 6 p.m. On Tuesday and Thursdays, she worked full time at the bank and then headed back to campus for night classes from 6 to 10. Friday was her "day off," but she still had to work a normal shift at the bank. She also worked Saturday and Sunday because TD Bank is the only one in the state open both days.
Free time was rare, but having that light at the end of the tunnel while knowing she had the financial support of a generous donor prevented her from straying off course.
"I knew I couldn't do bad, because I had so much going on that I always had to be there studying or at school," Jarret said. "I feel like when I took fewer classes, I would slack off and not do my homework until the end, but being at school all day on Monday and Wednesday, I had an hour between so I would just work on the other classes between that. It's not like I was going to go all the way home."
Having completed a demanding, yet rewarding, workload in the fall, Jarret is at ease this semester knowing the hard part is finally behind her as she closes in on the finish line before graduating in May. Thanks to the Last Mile Scholarship and the lift it provided both mentally and financially, she's prepared to handle whatever comes her way when she continues her studies next fall.
"Now I know the responsibility and pressures. You only have a certain amount of time to finish everything," Jarret said. "When someone else is helping you out, you want to make sure you do everything you can to succeed in what you're doing so that it's not a waste for them or you. Knowing there's someone out there who's invested in CCRI and its students is actually really cool, and knowing CCRI wants to see its students succeed means a lot."
blog comments powered by

Disqus