Grad will pursue career in higher ed, helping other first-generation students
May 10, 2018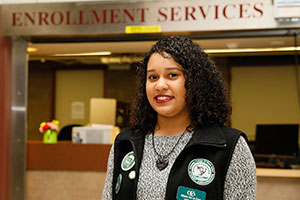 Like many college freshmen, Mileiry De La Cruz had no idea what she wanted to do with the rest of her life when she enrolled at the Community College of Rhode Island in 2016. Two years later, she joins the thousands of graduates who found their purpose through the power of the CCRI experience.
A first-generation college graduate, De La Cruz enjoyed CCRI so much she now wants to pursue a career in higher education, preferably working in admissions, to help guide future students through the same process that seemed so foreign to her two years ago.
"I want to stay in academics and help students, especially first-generation college students like myself, because I know how it is to come right out of high school not having that guidance and support," said the Providence native. "I want to help those students, mainly."
Next fall, De La Cruz will transfer to Rhode Island College through the Joint Admissions Agreement program to study communications with a focus on public and professional studies. Her transition from a shy, withdrawn high school student to one of the more recognizable faces among this year's graduating class is nothing short of remarkable.
As a student ambassador at CCRI, De La Cruz served as one of several tour leaders on the Knight Campus in addition to providing assistance at various campus events, whether for Rhode Island Promise or the recent P-TECH open house. She also worked part time in Enrollment Services, where she truly honed her newfound leadership skills and realized she wanted to remain in higher education to help other students like her.
"I think it's important to be involved in any college you go to because you get to network with the staff. Being a student ambassador has given me so many opportunities," De La Cruz said. "You never know when you need that reference in the future or when you just need a recommendation for a scholarship. I've met a lot of people here at CCRI and it's been a true blessing."
At Classical High School in Providence, De La Cruz failed to realize her full potential, mainly because her school and work schedule left her with little time to interact with students or faculty beyond the classroom. She went to school from 8 a.m. to 3:15 p.m., then worked from 4 to 11 at KFC.
"I'm not going to lie; I was stressed," she said.
Since she hadn't really found her niche in high school, De La Cruz decided CCRI was a logical choice because she could fulfill her general education requirements and then decide what she wanted to do next. Neither of her parents graduated from college, so she qualified for CCRI's Access Program, where she met adviser Stephanie Cruz, whom she credits with helping her break out of her shell during her freshman year.
"I honestly didn't know what to expect when I came here to CCRI," De La Cruz said. "It was very new to me.
"First it was a tough transition. Not having either parent go to college was tough because they didn't know how to guide me in that sense. I do have some great friends, but they were also in the same boat as me. They came right out of high school. They didn't know what to expect, either."
Cruz's faculty recommendation helped De La Cruz land her job as a student ambassador while counselor Lisa Mallozzi helped her get into the JAA program. She also received enough money in Pell Grants to pay for her classes and books, but still worked part time at Walmart for more than a year in addition to her part-time job in Enrollment Services so she could save enough to buy her own car and avoid taking the bus.
She had suddenly gone from an average high school student with no time for extracurricular actives to one of CCRI's most driven, outgoing undergraduates with a clear goal in sight.
"I honestly wish I could've done more in high school," she said. "I wish I could take it all back and get more involved, but, at the same time, things happen for a reason. Although I didn't do well in high school, I kind of got that fresh start at CCRI and I did very well here and I plan to do well at Rhode Island College."
At first, De La Cruz took an interest in sonography, but quickly changed her direction once she began working in Enrollment Services and gained a better understanding of the admissions process. Her dream job is to work as a dean of students, or perhaps a director of a program such as TRiO or Upward Bound, which are aimed at helping students who are first generation or come from a low-income background, much like she did following high school.
Commencement day will be bittersweet – "I wish I could work in Enrollment Services forever," she said – but it also marks a major accomplishment in De La Cruz's life as a first-generation college graduate. The CCRI experience changed her life and proved it's never too late to find your calling regardless of your background. You never know who, or what, you may become.
"I would say to definitely come to CCRI because here you're able to explore your options. You're able to save money as well, and, overall, I think it's just a fresh start for those who didn't do well in high school, like myself, to get that second chance, take classes and get involved," De La Cruz said. "It actually serves as a foundation, I feel, for when you go to a four-year college.
"I definitely think I'm a different person because I feel like I've grown here at CCRI. I've built some leadership skills here."
blog comments powered by

Disqus