'Landmark' Class of 2018 celebrates college's 53rd commencement
May 21, 2018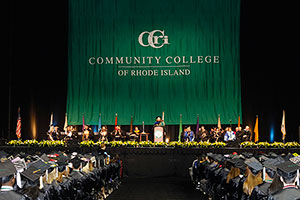 Addressing a historic graduating class at the Community College of Rhode Island's 2018 commencement Thursday at The Dunkin' Donuts Center, President Meghan Hughes urged students to lead a meaningful life through the power of perseverance and positive thinking.
She referenced the teachings of University of Pennsylvania professor Martin Seligman, who founded positive psychology, described as "a theory of optimism as a way of building personal resilience."
"There's a fancy word for this in academic circles and it's called a 'growth mindset,'" Hughes said. "Most basic abilities can be improved through dedication and hard work – brains and raw talent are just the starting point.
"In my experience, the single best example of people who demonstrate a growth mindset are community college students. It's you. It's all of you sitting before us this afternoon.
"You show us every day that you're smart, that you can grow, that you can build a life that gives you and your family meaning and happiness."
The Class of 2018, said Hughes, represented a "landmark class," with the highest graduation rate of any class in 18 years. Coupled with this year's ceremonies being held off campus at The Dunk for the first time in school history, CCRI's 53rd commencement broke new ground as more than 2,100 received degrees and certificates.
"That's a big deal for you," Hughes said, "and that's a big deal for CCRI."
The theme of perseverance was a common refrain Thursday as guest speakers and faculty shared stories of triumph against all odds.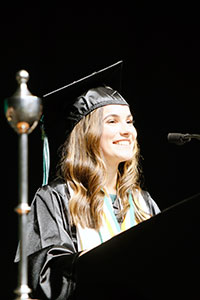 Student commencement speaker Mariela Lucaj, a nursing student who emigrated from Albania and will transfer to the University of Rhode Island with the dream of one day working to effect change in public health, admits she nearly dropped out, burdened by financial issues and self-doubt. A first-generation college student, she drew inspiration from fellow students, using their stories and persistence to push through her final semesters at CCRI.
"I came to realize that my stories of immense perseverance and immeasurable hope for the future begin and end with the stories I have found within all of you – my graduating class," Lucaj said. "It is your stories that not only have inspired me, but proved to me that true resilience is nowhere more prominent than within the students at the Community College of Rhode Island."
Barbara Cottam, chairwoman of the Rhode Island Board of Education, shared the well-documented story of New England Patriots quarterback Tom Brady, who was a backup on his winless high school freshman team and a backup for two seasons at Michigan before finally getting selected by the Patriots in the sixth round with the 199th pick in the 2000 NFL Draft.
Where most players would've given up, Brady remained determined and confident despite having so many bumps in the road on his journey to the NFL.
"On his first day, he walked up to [Patriots] owner Robert Kraft and said, 'Hi, Mr. Kraft. I'm the best decision this organization has ever made,'" Cottam said. "The rest is history."
Eighteen years later, Brady is a five-time Super Bowl winner, three-time league MVP and universally lauded as one of the best quarterbacks – if not the best – in NFL history, a remarkable achievement for a player considered an afterthought on draft day.
"Tom Brady persevered," Cottom said. "Everyone finds failure at some point in their lives. That much is inevitable. It's how you respond to failure that will define your success."
The Class of 2018 included students with myriad backgrounds, some returning to school as adults to change careers and others enrolling fresh out of high school to pursue their education while balancing multiple jobs and responsibilities.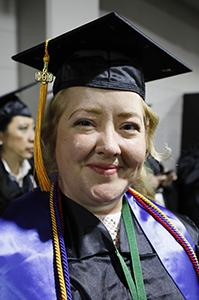 Elizabeth Lubera, 41, of South Kingstown spent her entire life as a chef before deciding to transition into the health care field. CCRI offered her the option to continue working while taking courses to earn her associate degree in business administration. She graduated with highest honors and will transfer to URI with the goal of working with the elderly in an administrative capacity, preferably as the director of an assisted living facility.
"Very flexible, affordable, great teachers, smaller class sizes – all those things you hear about CCRI, they're all true," Lubera said. "They give you an opportunity to change your life."
Providence's Jan Michael Jorge, 37, worked in retail management for more than a decade until he was laid off three years ago. Wanting to "stay productive" and broaden his horizons, he enrolled at CCRI and earned an associate degree in business. He started as a full-time student, but eventually transitioned to part time as he reentered the workforce. CCRI's flexible scheduling allowed him to balance both schedules so could finish in just under three years. He is open to the possibility of one day starting his own company.
"It's a gratifying feeling, a sense of accomplishment," Jorge said. "It's been a really good experience, not only with the professors, but the staff at the Community College of Rhode Island."
Julia Rossi, 22, of Scituate, now in her second year as a Patriots' cheerleader, started her college career at URI with an eye toward working in dentistry. With limited options in Kingston beyond health sciences, she transferred to CCRI because its dental hygiene program allowed her to earn her degree in two years along with giving her the flexibility to continue cheerleading while taking courses.
As a rookie on the 2017 cheerleading squad, she traveled to Minnesota for Super Bowl LII in February and walked the stage three months later with high honors as a graduate of the Class of 2018.
"I'm really glad I made the move. It was the right fit for me," she said. "It feels like a long time coming. It's great to know that all of your hard work paid off."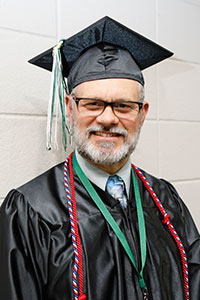 Others used CCRI's extensive curriculum simply to further their education. Patrick Lunt returned to school five years ago despite working two decades as a production controller at the Naval Facilities Engineering Command (NAVFAC) base in Newport to learn skills applicable to his current position. He graduated with a degree in technical studies with highest honors, enrolling part time while working full time on the naval base. He also developed a program with Thomas Sabbagh, CCRI's dean of Business, Science, Technology and Math.
"This helps me already in my job as it is and it was kind of a refresher course, in a way, from what I had before," Lunt said. "This program allowed me to tailor my credits and my classes toward my needs at my own pace."
President Hughes left the graduating class with three pieces of advice toward achieving the goal of living a meaningful life – don't think, just do; do what comes easy; and imagine the end. She encouraged students to set goals, use their strengths to find their niche and, most importantly, realize what matters most to them as a starting point when envisioning their future.
"Each of you had different challenges," Hughes said. "You all pushed yourselves to get here today, to earn your college degree or certificate. And pushing yourself is really the very heart of what Professor Seligman is talking about with positive psychology.
"As you transition to your next challenge, your new job or your new school, I know you have what it takes to be successful."
blog comments powered by

Disqus