CCRI's New Century Scholar is an advocate in the fight against opioid addiction
May 10, 2018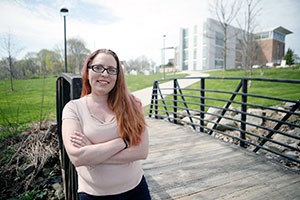 Jennifer Bryan describes herself as an open book, willing to share her story with anyone who might benefit from her remarkable journey from the confines of drug court to the top of her class at the Community College of Rhode Island.
As an advocate for the fight against opioid addiction – and a former addict herself – the Barrington native has slowly and steadily put her life back together over the past four and a half years. She recently received two of the nation's most prestigious academic scholarships through her membership with Phi Theta Kappa. She will use the scholarship money to enroll next fall at Roger Williams University to pursue a career in the legal field.
She earned $2,250 as a 2018 New Century Transfer Pathway Scholar, which awards one community college student from each state – a pool of more than 2,000 students from more than 1,600 colleges – and an additional $5,000 as a member of the All‐USA Academic Team. She is one of only 20 students nationally to earn this distinction.
With a 3.99 GPA, the 30-year-old Bryan is sharp as a tack in the classroom and exceptionally self-assured and composed when sharing the details of her harrowing plunge into drug addiction and her recovery.
To help eliminate the stigma associated with addiction, Bryan has participated in roundtable discussions, spoken at the Rhode Island House of Representatives to push for alternative forms of treatment, and joined Gov. Gina Raimondo's Overdose Prevention and Intervention Task Force as an expert adviser.
According to Raimondo's Task Force, more than 1,000 Rhode Islanders have died over the last five years because of drug overdoses, prompting Raimondo to sign an executive order in 2017 to help curb the number of overdose deaths.
"I meet so many people and I tell them, 'I used to be a drug addict,' and they can't believe I used to be in that place because I'm doing so well for myself now," Bryan said. "We need to show that these are regular people that have a problem, not the idea that all addicts are junkies or bad people.
"I think being in addiction has kind of given me the in-depth ability to look at somebody and discern whether they are a good person in a bad situation or whether they're just trying to take advantage of the opportunities given."
Bryan one day hopes to work for the Rhode Island Attorney General's Office, where her experience can benefit others in danger of falling into the same web of abuse and addiction.
"I feel so proud," Bryan said. "I feel like I've come so far from where I was prior to this."
Bryan is finishing up her second associate degree – one in General Studies and one in Paralegal Studies – despite a decade gap between high school and college.
After graduating from Barrington High School in 2005, she landed a job as a secretary and consultant for a tax law firm in Providence that paid more than double minimum wage.
Two years later, she became an administrative assistant for a job placement agency before landing a similar position in 2008. Around this time, she met her future husband, Bobby, with whom she would share several highs and lows over the next decade.
She briefly attempted to go back to school, enrolling at Johnson & Wales University, but eventually decided it was impossible to juggle both.
With a boyfriend and a steady job in her mid-20s, everything was falling into place for Bryan until 2010 when her grandfather died.
"He was the glue that held my family together," she said. "Everybody took his death kind of hard."
Over the next two years, Bryan sank into a deep depression. She began abusing opioids – first prescription medication, then heroin – to numb the pain. Soon, both she and Bobby developed an addiction, which put unwelcomed stress on their family relationships.
As her addiction worsened, her performance at work suffered and she lost her job after more than four years with the company.
"That was one of my low points," Bryan said. "I felt like I disappointed my boss, who was like a father to me."
Watching his soon-to-be wife "wither away to nothing" – "I was 95 pounds," Bryan said – pushed Bobby to begin intake services at CODAC in Cranston for medicated-assisted recovery. Bryan soon joined him because, "I knew one of us couldn't get clean without the other doing it."
He wanted to enroll in drug court, an alternative counseling program that forces addicts to submit regular drug screenings and appear periodically before a judge to monitor their progress, but was denied because of a prior arrest in Massachusetts for possession.
Shortly after beginning methadone treatments, Bryan kicked her heroin habit but still used other drugs from time to time. One night she was arrested after trying to fill a fake prescription bottle at a pharmacy. Facing two years of probation, Bryan opted for drug court instead while she and Bobby, who married in 2013, continued their treatment at CODAC.
"I spent 15 hours in a Pawtucket holding cell and I realized that was not where I wanted to be," she said.
One year later, Bryan "graduated" from drug court without incident, passing every drug screen with flying colors, and both her and husband overcame their addictions.
Her next step? Welcome to CCRI.
During her treatment, Bryan was surprised to learn she had been diagnosed with adult onset ADHD. She was a solid, yet unspectacular, student in high school – "I was never really noticed," she said – but wondered what might've been had she been diagnosed at an earlier age.
"My doctor was like, 'You could've been a straight-A student,'" she said.
Drawn to CCRI because of its low-cost tuition and commitment to adult education, Bryan initially hoped to do well enough to earn a degree and get a better job, but her newfound diagnosis pushed her to new heights.
"Coming back to college with the proper medication, I flourished," she said.
With their addiction behind them and Bryan prepared to begin her long overdue college career, the couple faced one more difficult hurdle. During their first year of recovery, her husband was diagnosed with testicular cancer.
The diagnosis, along with the challenges of her first semester at CCRI, tested Bryan's ability to continue focusing on her individual goals while providing her husband with the physical and emotional support he needed.
"One hand held my husband's, supporting him during his aggressive, eight-hour long chemotherapy treatments," Bryan said, "and the other held books, study guides and a pen. My homework accompanied me everywhere I went."
Through it all, Bryan exceled in the classroom and, after a severe round of chemotherapy, her husband beat cancer that had metastasized through his neck, stomach and lungs.
The thrill of succeeding beyond her expectations in her first semester pushed Bryan to set the bar even higher academically.
"Once I started getting A's, a B wasn't good enough anymore," she said. "It inspired me to want to do better and to know I can do better and to push on to do greater things."
Bryan became a member of Phi Theta Kappa in her second semester, joining the world's largest and most prestigious honor society for students at two-year colleges, and eventually served as the vice president and president of the Pi Omicron Chapter.
Taking advantage of every resource available, she also completed the CCRI Honors Program, began tutoring English students, earned her Peer Recovery Specialist Certification for Rhode Island's Parent Support Network and even served in the Student Government at the Knight Campus.
Earning an associate degree would've been more than enough to validate Bryan's remarkable road to recovery, but she felt a greater sense of purpose, committing herself to fighting the opioid epidemic and offering help – help that wasn't always available to her in her time of need – to others struggling with the battle.
The CCRI experience brought her out of her shell and encouraged her to share her story with others, helping her realize she was quickly becoming part of something bigger than herself.
"It's turned my life around," she said.
Bryan was recognized for her recent academic achievements April 30 during the American Association of Community Colleges Convention in Dallas. With help from her Phi Theta Kappa adviser, Laurie Sherman, Bryan was able to attend with her husband instead of traveling alone.
These days, Bryan continues to open her arms – and, in some cases, her home – to those struggling with addiction. She remains an open book, unapologetic about her life experiences with the understanding that everything she went through has made her who she is today.
"I look back on it and think that if I hadn't gone through all I went through, I'd probably still be working without the opportunity to continue on in college and get a degree, stuck in a dead-end job where I'd be getting a 1 percent raise every year for the next 30 years," Bryan said, "which probably would've been fine, but now I have an opportunity to follow my dream."
blog comments powered by

Disqus